Margo Martindale from 'Justified': Wanna buy some whiskey?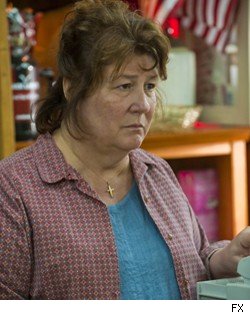 'Justified's' Margo Martindale's a series regular this season, and she's enjoying the ride.
Margo Martindale from 'Justified': Wanna buy some whiskey?
Jonathan Storm, Inquirer Television Critic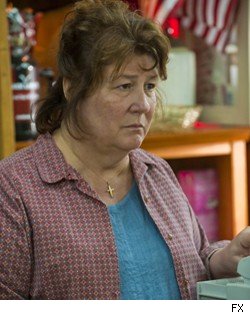 Riding into the 2011-12 fall season, with a big role on a CBS drama, Margo Martindale is enjoying a successful period in her career. The actress, who has appeared in more than 75 movies and TV shows, did a crackerjack job as Kentucky family crime boss Mags Bennett on FX's Justified. This fall she plays the assistant to a hotshot surgeon who gets advice from his dead wife about lightening up and paying more attention to his patients.
The show is called A Gifted Man, and will air Fridays at 8 p.m. on CBS, TV's top slot for well-meaning ghosts and the people they help. Martindale's a bit in the background in the pilot, but executive producer Neal Baer promised she'd have a bigger influence as the show progresses.
"I know how good she is," Baer told TV critics Wednesday, "because when I did SVU, she put Elle Fanning in a cage and told her to set Connie Nielsen on fire."
That's a little more demented that Bennett, whose homemade "apple pie" whiskey was famous throughout Harlan County, Ky., in Justified. She slipped some deadly nightshade into the moonshine to kill an associate who was talking to police. "It was in the glass, not in the jar," she told him as he gasped his list gasp while she kept on sipping. She repeated that line, her last in the show, after Timothy Olyphant's marshal Raylan Givens put her crime enterprise, and her family, into shambles, and she took a poison drink.
Martindale, Emmy-nominated for the role, is enjoying the ride. "It just feels fantastic," she said. "I mean, I turned 60, and everything fell into place. It's great. I've been working, honestly, as an actor professionally since I was ... 23, I think. And, you know: poor, some money, poor, counting pennies on the floor. It's great to go from that fabulous, wonderful part where I had to die, to a luxurious, spa-like existence with another good looking man. What can I say?"
"When you go out now, are people afraid to take apple cider from you?," asked a critic who was confused about the nature of her homemade beverage.
"I sell it on my blog," she said.