Jon & Kate: Sep-ar-ate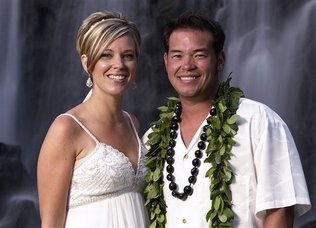 Copy lede here.
Jon & Kate: Sep-ar-ate
Jon & Kate fascinate. Their show returns Monday (Aug. 3), at 9 p.m., not 8. The interest in them does not abate. But TLC won't complicate. So if you want to talk about them, you'll have to wait. Even if they do carry the network's freight. By far the show that's most highly rate(d). So here are tidbits that aren't so great. But they are all that wound up on the critics' plate. "I thought I would give a brief update," said TLC president and general manager Eileen O'Neill.
"It was certainly something we never expected, nor planned to have happen," said O'Neill about the marital breakup in TLC's reality show about Jon and Kate Gosselin and their twins and sextuplets. "But it has resulted in unprecedented televison."
And unprecedented attention for the network, which, as much as any other, make its money off the supposedly "real" life of people at the fringes.
When Jon & Kate Plus 8 returns, the title characters will be sitting in separate chairs, not the trademark couch, as they talk to the camera, O'Neill said. "You're going to see two parents that love their kids more than ever.And you will be seeing them parenting separately. You will see what it is like when Kate has to put a tent up for the first time for her kids who like to camp in the backyard. And she gets a little advice from the daughter that doesn't think she does it quite as well as Dad.
"And you will see Jon struggling in the kitchen trying to make pizza for his kids.
"As far as new people and places that may be cycling into Jon and Kate's lives, we are taking it on a case-by-case basis. This is real life. It's important to remember that our cameras are only there for moments in time. And those moments do have limits."
Dang. Guess we won't be watching when our paragons introduce their new sex partners to each other, and the catfights and smackdowns that may ensue.
"We will continue to capture this family's journey in a respectful and sensitive way," said O'Neill.
Borrr-ring. Thank goodness we have 9 million other media outlets to keep us apprised of the juicy stuff.