I'm a Gleek. So Sue Me.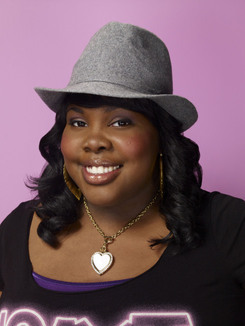 Copy lede here.
I'm a Gleek. So Sue Me.
The diehard critics who are still left on the Press Tour rode around in a bus Monday, hanging on the sets of Modern Family and How I Met Your Mother and Chuck and The Middle.
Snooze patrol.
Then it was off to the biggest soundstage in the world (at least that's what they said) on the Paramount lot, the only place large enough to contain the hearts and souls of the kids from Glee.
Amber Riley (who plays Mercedes) sang "Don't Make Me Over," and Lea Michele sang "Maybe This Time," and executive producer Ryan Murphy talked about how cool it was that the show was turning young people on to Burt Bacharach-style pop and Cabaret-style show tunes, at the same time it was turning older folks on to hip hop.
The cast was all there getting ready for the "Madonna" episode. Madge won't show up, as far as we know, but she's a Gleek, too, and she has given the show the rights to her entire catalogue. We won't say who spilled the beans, but you can listen for "Vogue" and "Like a Prayer," among others.
Jennifer Lopez, on the other hand, is in Murphy's sights. Jenny from the Block "would make a really great cafeteria lady," Murphy said.
As if they're not busy enough, the whole cast has a "small summer tour" on the drawing boards, cities to be announced in the next couple of weeks. And, Murphy and perhaps some of the kids are lining up to testify before Congress about the importance of high school arts programs. "Arts education really saves lives," Murphy said.
The kids (and I don't care if Mark Salling, who plays Puck, and Cory Monteith, who plays Finn, are both 27) say they have no qualms about the newbies who will be picked this summer as part of a televised national search.
"We're a family," said Michele. "A family grows. That's what a family does."
Tip to would-be Gleesters: Singing is important, but it's not the most important thing. The finalists will have to screen-test with the current cast. "We're looking for a very certain level of chemistry," Ryan said.