Glee: On the Cover of the Rolling Stone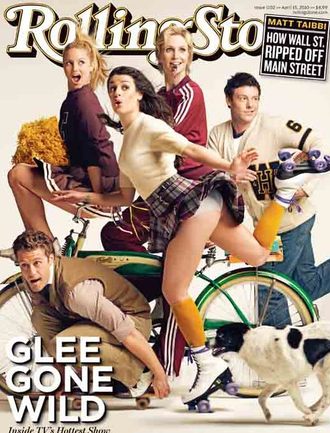 Copy lede here.
Glee: On the Cover of the Rolling Stone
Less than two weeks until the return of this season's best new show (and that's saying a lot): Glee! Yippee! It has heart, soul, hi-jinks and great music, so why shouldn't the show about high school choristers in Ohio get top billing in Rolling Stone?
Being the noted investigative rag that it is, RS gets the dirt of some of the stars. Corey Monteith, who plays the quarterback and the big boy talent in the choir, didn't have much of a high-school life. He admits to arrests both for drunk and disorderly conduct and low-grade criminal activity. "I mean I wasn't killing people," he tells RS's Erik Hedegaard. "Look, I dropped out of school when I was 14 to go [mess] around with my friends and live a lifestyle of crime and pay no mind to authority figures."
Showrunner Ryan Murphy had a happy, if unconventional high school career. Murphy says he was molested when he was 8 by a football player twice his age. "He was popular, and it was very innocent. I felt like Lolita in some way, like I wanted it. It wasn't terrible. I've always known I was gay. In high school, I felt loved. I was weird. I was a hell-raiser. But I was happy."
It shouldn't surprise Gleeks to hear about this dark stuff. The show itself, Murphy said, is "four acts of darkness that take a turn and have two acts of sweetness. It's about there being great joy to being different, and great pain."
A lot of that darkness comes from the twisted cheerleading coach Sue Sylvester, but the actress who plays her, Jane Lynch, is really a pussycat, as she demonstrates in a Rolling Stone video with film critic Peter Travers, reminiscing about her days at Cornell and trilling the alma mater, before she talks about some of her movie faves.
It has been a wonderful year for new series. What a variety of excellence has actually found a footing. To have one or two shows as good as Fox's Glee, CBS's The Good Wife, ABC's Modern Family or FX's Justified would be great. To have all four is extraordinary.