Dr. Who, I presume? No, it's not Matt Smith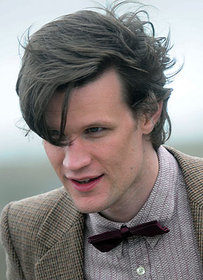 BBC America staged an impressive party for TV critics, complete with two Dr. Who's and a bevy of synchronized swimmers.
Dr. Who, I presume? No, it's not Matt Smith
If you're BBC America, and you want a proper venue for your critic-impressing star party, what better spot than the rooftop pool of Hollywood's posh London Club, just off the Sunset Strip?
Not a lot of recognizable stars, since most of the network's stuff is imported and original, but Idris Elba, formerly of The Wire, currently Emmy-nominated for his stunning work in the psych-mystery cop-shop thriller Luther (second installment coming Oct. 5), was chatting. He's big, handsome and smart.
A couple of reporters went up to Matt Smith, who plays the title role in the long running cult fave Dr. Who. (He's No. 11 for those keeping score.) Except it wasn't Smith, but a lookalike. It wasn't clear if the guy had been invited specifically to take pressure off the real star, and he wasn't explaining. Smith himself dined on the superb prime prime rib (fancy tacos also available, all supposedly whipped up under the direction of wildman Brit chef Gordon Ramsay), but was declining interviews. "Let's just have a conversation," he told one reporter.
No matter. There was plenty of diversion for all, when the synchronized swimming squad popped out of the penthouse doors, with their cute pink bathing caps and parasols. Folks, I've been to more than 40 of these Television Critics Association L.A. gatherings, and there ain't a lot that rivets my attention. But I've never seen anything like this before. And, thankfully, the chlorine pool water that splashed all over my pants as I was filming (or whatever you call it) the event didn't leave unsightly bleach marks, nor was I inclined to take the advice of fellow critics and jump in with the gals.