Dick Wolf on Leno-Conan: Mum's the Word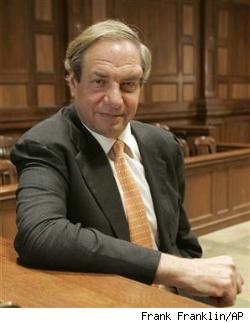 Copy lede here.
Dick Wolf on Leno-Conan: Mum's the Word
Executive producer Dick Wolf, granddaddy of Law & Order and all its relatives, could be a major beneficiary of the NBC late-night confusion, filling the 10 o'clock hole left by Jay Leno with one, or two, or four of his shows.
At the Television Critics Association meeting, he showed up to plug his PBS movie about the Doors, which was nice, but some people had questions about other things. Unusually, they were held until after the session, which was when Wolf pulled out a piece of paper with his prepared remarks on the topic, and tried to read them to reporters.
They started with "no comment," and wound their way through the same phrase in Spanish, Italian, French, Russian, Swedish and German. By the time Wolf got to Armenian, his pronunciation was hopeless. He missed "O-nay omment-kay."
Wolf's shows are produced by NBC Universal and run on NBC and its USA sister cable channels. It's not hard to understand at least one reason why he has been so successful in the business for such a long time.