Buffy's back: Sarah-Michelle Gellar gets a CW show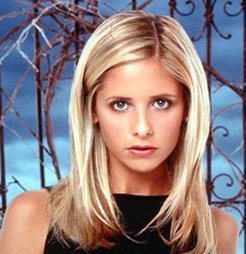 Lots of news about the new fall schedules: The Event, V, Brothers & Sisters, Law & Order: Los Angeles all gone. Sarah-Michelle Gellar back on TV, along with Tim Allen and "Charlie's Angels" re-make.
Buffy's back: Sarah-Michelle Gellar gets a CW show
A crazy quilt of leaks, announcements, confirmations and general static has made the normally semi-organized Upfront Week, when the networks announce their new fall schedules, somewhat of a shambles.
Huge news (courtesy of Deadline Hollywood's Nellie Andreeva): Buffy the Vampire Slayer's Sarah Michell Gellar will return to her roots on the CW, not CBS as originally planned, in Ringer. She plays a twin posing as her identical sister to escape the mob.
Other developments Friday:
Canceled at ABC: Brothers & Sisters, Off the Map, Detroit 1-8-7, Better With You, Mr. Sunshine and V. Somewhat surprising pickup: Friends rip-off Happy Endings, starring Elisha Cuthbert. Less surprising pick-up: Dana Delany's Body of Proof, a favorite of new network entertainment boss Paul Lee.
Canceled at NBC: The Event (there is talk the show may move to cable), Outsourced and Law & Order: Los Angeles. Surprise non-starter: David E. Kelley's take on Wonder Woman.
Known quantities usually generate the most interest, but there are a few old friends returning to the tube next fall in new projects. At ABC, Tim Allen has a new sitcom, Last Man Standing, and the alphabet will revive Charlie's Angels, with Rachel Taylor, Minka Kelly and Annie Ilonzeh, as the blonde, brunette and African-American angels. Everwood's Emily Van Camp (late of Brothers & Sisters) will star in Revenge, about a mysterious young woman who arrives in the Hamptons to take down the people who destroyed her family. Cristinia Ricci stars in another one about '60s pilots and stewardesses who are also spies.
Over at NBC, it's Laura Prepon from That '70s Show playing late-night loudmouth Chelsea Handler, while Chelsea herself plays her sister.
There will be lots more news as the networks actually announce their plans starting Sunday.