Bristol Palin: She's Not the Best Dancer, But Why Shouldn't She Win?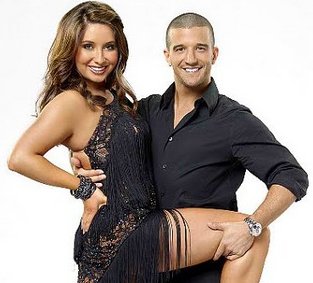 Copy lede here.
Bristol Palin: She's Not the Best Dancer, But Why Shouldn't She Win?
The Bristol Stomp is not one of the big numbers on Dancing With the Stars. But it's very popular off the show, as folks speculate about political conspiracies and dirty tricks working to support an deserving contestant with a controversial mother. But they ignore that she's a perfectly nice young woman who's proudly clipping her way through the show and seeming to do at least a little better each week. (And if you've never heard of the 1961 Dovells' classic tune about dancing in lower Bucks County, you're probably too young to be watching DWTS in the first place.)
Why shouldn't a kid who three years ago hadn't been south of the Arctic Circle and is now clearly having the time of her life on TV's biggest show capture a few hearts in America? (And before you start clucking about what know-nothings TV critics are, that Arctic Circle thing is a little blogger's license. OK?)
Maybe she should have held her tongue instead of saying, "No offense to anyone else, but I'm not fake. ... I think I'm definitely relatable to the audience out there." And then describing herself as "untouched and raw and vulnerable."
Brandy and Kyle Massey are as enthusiastic and also as real as you can get on this sort of basic entertainment, where everything, even genuiness, gets overblown. Jennifer Grey is the only one who seems a little fake, but is that just because she's been around so much longer, suspicious minds wonder about her spontanteity?
Bristol and her partner, Mark Ballas, rightly, wound up at the bottom of the judges' pile once again Monday, but there's so much more to DTWS than, well, dancing. (And stars, for that matter. Whatever happened to them?)
Let Bruno Tonioli, who knows as much about TV entertainment as any of 'em and can work it like a rock star, sum up the opposite poles of DWTS.
"Luscious, languid, voluptuous, full of flavor, great emotional depth." -- That's how he described Brandy's second dance.
To Bristol Palin, he said: "I'm telling you, you really had a journey."
People watch the show, and vote, because they're looking for both those qualities, not to mention a little of what judge Len Goodman described as "bionic bum."
Is Bruno's past-tense comment to Bristol a sign of things to come? Don't bet on it.
Host Tom Bergeron said it at the end of the show: The votes this season have been as unexpected as they've ever been. It's still anybody's game.