Al Sharpton joins MSNBC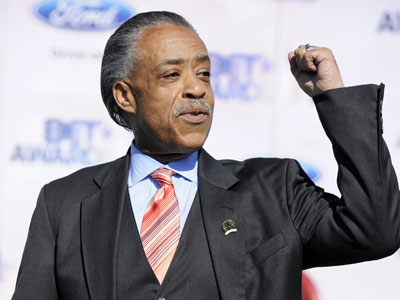 After weeks of speculation, MSNBC announces Al Sharpton will host the 6 p.m. hour weekdays on the network.
Al Sharpton joins MSNBC
It's official. The Rev. Al Sharpton will take a full-time gig on MSNBC, beginning Monday.
Sharpton will host the 6 p.m. hour, called PoliticsNation, weekdays on the network, joining the 7-to-10 p.m. lineup of Chris Matthews, Lawrence O'Donnell and Rachel Maddow.
"I am very happy and honored to join the MSNBC team as we collectively try to get America to 'Lean Forward,' " Sharpton said in a statement, echoing the network's official motto, which, executives swear up and down the flagpole, has absolutely nothing to do with the word progressive, or, heaven forfend, liberal. They swear up and down. You decide.
"It is a natural extension of my life work and growth," Sharpton said. "We all learn from our pain and stand up from our stumbling, and one must either learn to lean forward or fall backwards. I'm glad they have given me the opportunity to continue my forward lean."
MSNBC President Phil Griffin met Sharpton more than 20 years ago when Griffin was a Today Show producer and the reverend was a guest, and they've been buddies for years. Sharpton has been filling in in the time slot most of the summer.
Black journalists have complained that Sharpton himself is not a journalist, a profession they see as more appropriate for the 6 p.m. hour. Lots of people have complained that Sharpton helped lobby in favor of the deal that allowed Comcast to purchase NBC-Universal, which owns MSNBC, and many more are sure bring up the Tawana Brawley mess from days gone by in arguing that Sharpton shouldn't be a TV host. His reference to pain and stumbling may refer to that.
No matter. He's the new man in town. "I'm thrilled that he's now reached a point in his career where he's able to devote himself to hosting a nightly show," Griffin said.