AMC's 'The Killing': Are you furious?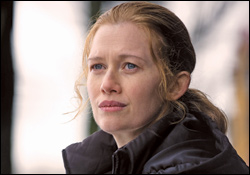 The brains of some TV critics are still smouldering after Sunday's season finale of AMC's 'The Killing.'
AMC's 'The Killing': Are you furious?
The brains of some TV critics are still smoldering after Sunday's season finale of AMC's The Killing.
SPOILER ALERT: If you still have it on the DVR, you might want to stop reading here, though there's not a whole lot of specific plot rehash.
I'm easy, but I do understand how people feel jerked around by the show and by AMC, which kept promoting the "Who Killed Rosie Larsen?" theme and failed to deliver any answer in the end. "Come back next year," the show asks, after throwing so many curve balls and red herrings into its last five minutes that even Seattle, with the American League Cy Young winner and a big fishing industry, seemed overwhelmed.
There will be piling on. And I would not like to be Veena Sud, who executive-produced the show, if she's asked to sit in front of a big batch of scribes at this summer's annual Television Critics Association meeting. Nor would I like to be the AMC executives, who almost certainly will be there.
Maureen Ryan, from Aol TV , says, "I hated the season finale of The Killing with the burning intensity of 10,000 white-hot suns." Alan Sepinwall, from Hitfix.com, calls the finale, "a mess, and an insult to the audience who have stuck around for the last three months." Time magazine's James Poniewozik calls it "a stunningly contemptuous psych-out of its audience" here (after the ad goes by).
I'm almost a generation older than those leading lights, whom I admire substantially. Maybe those extra 20 years have accustomed me to be jerked around. I am much less upset at being tricked and played with than I am sick of watching shows and knowing who did it in the first five minutes. Been doing it since I was 11 or 12 and would consistently predict the killer on Perry Mason, much to the wonder of Mommy and Grandma, because it was always the person with the least face time before the trial.
I enjoyed the jumping during The Killing finale, knocked from a smug perch knowing that Billy Campbell's councilman character really did kill Rosie. And knocked around again after knowing for sure that his lover/campaign assistant did it. And again, after figuring out that it was his other assistant, the young Jamie Wright. I enjoyed the many minutes of "What the????" after the episode closed. And I'm also enjoying even more that this show fooled me completely, a guy who figured out that Bruce Willis was a ghost pretty early on in The Sixth Sense.
Those other critics are right. The fooling was unfair, with little foundation. Just a fake out. Which is why it faked me out. And I don't mind. And I will be back next season to see what happens. But you should also know that I loved Ally McBeal until the bitter end, never liked Friday Night Lights and thought David Chase's blank-screen ending of The Sopranos was brilliant.
I know most people think I'm nuts on this one, so fire away. I can take it. But no swearing.