Archive: August, 2010
Jonathan Storm, Inquirer Television Critic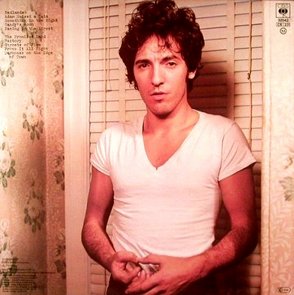 Get ready to rock with the Boss into the past on HBO. The premium network Saturday announced it had landed a documentary based on 30-year-old film made by Bruce Springsteen and the E-Street Band as they recorded one of their key albums. The Promise: The Making of "Darkness on the Edge of Town" will be televised in October.
"They filmed the artistic process and put it in a vault," said HBO co-president Richard Plepler. "It's absolutely riveting, whether you're a huge Springsteen fan or not."
"Utterly mesmerizing," echoed president of programming Michael Lombardo.
Jonathan Storm, Inquirer Television Critic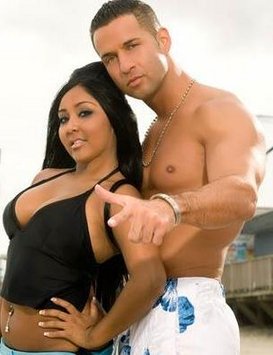 Gov. Christie, the invitation's out in Seaside Heights. "He's welcome every Sunday afternoon," Mike "The Situation" Sorrentino told awestruck TV critics at their summer press tour Friday afternoon. That's when The Situation, who's a bit of a chef in addition to having those incredible abs, makes his signature sausage and peppers.
"Yeah," said Vinny Guadagnino. "He can see how good his boardwalk is doing, how good his economy is doing."
That's about as close as MTV's Jersey Shore cast came to hating on anybody, pushing positives the whole news conference, even as some of the more curmudgeonly critics (not me) tried to put them on the spot. In an unusual move, they stood before the journalists – more authority than sitting, plus it would be Snooki, bar the door, if those girls ever sat down in thier teeny-weeny tight skirts on the elevated stage.
Jonathan Storm, Inquirer Television Critic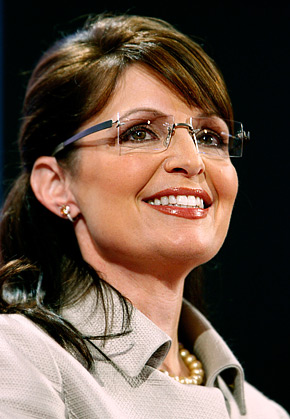 The big news from the TV critics Press Tour Friday morning: Sarah Palin's Alaska premieres Nov. 14 on the freak show that is cable's TLC network, and, going for a little cross-promotion, the network has invited the Gosselin family for part of the ride. They'll go camping with Sarah and Todd and who knows what other Palins. (The Gosselin family these days, TLC President Eileen O'Neill confirmed, is just Kate and the kids.)
O'Neill dropped the bombshell just before a panel with the latest TLC family of weirdoes, the adults in a gaggle of Utah fundamentalist Mormons that features four wives and one husband, and enough children to make Jon and Kate's Plus 8 seem tiny. The show is called Sister Wives. Several critics were mortally disappointed after a wildfire rumor that Sarah Palin herself was going to be the TLC "talent."
In addition to hanging with the Gosselins, said O'Neill, Sarah and Todd, and perhaps some of their children, too, will be "showing off their beloved state." They hike glaciers and meet up with its "fascinating human and animal" denizens. They've encounterd brown bears and kodiaks, said O'Neill, "and are still looking for grizzly mamas." No word on whether they found any of Alaska's elusive liberals.
Jonathan Storm, Inquirer Television Critic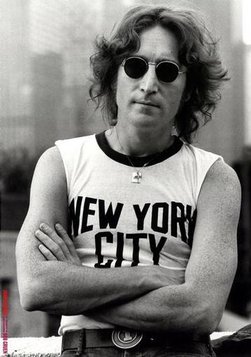 "Lennon NYC" is the American Masters offering on PBS Nov. 22, and from the clips shown to the critics Thursday evening, it looks like the specialized bio of the most complex Beatle will be a doozy.
It contains all sorts of intimate moments in the studio, hitherto unreleased music, etc. Lennon was constantly worried he'd be banned from the United States. "Maybe they could just ban me from Ohio," he says. He worried he'd suffer the same fate as Charlie Chaplin and not be allowed back until he was an old man. "They'll wheel me on at 60 and give me a plaque for 'Yesterday,' and Paul wrote it."
Lennon appeaered on album rock radio WNEW-FM and was goofing around with the weather report on a sultry summer's day. "Somebody said the air was unacceptable, but it's acceptable to me."
Jonathan Storm, Inquirer Television Critic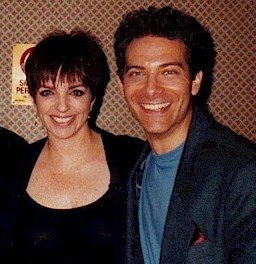 Michael Feinstein may know as much about classic American songs as anybody. Obsessed with collecting old recordings and sheet music, he does about 150 concerts a year, singing the standards and not-so-standards from the likes of Johnny Mercer, Cole Porter and Jule Styne and Sammy Kahn. But he can't stand American Idol, and not because of the caterwauling of its contestants.
"I have problems with American Idol," he told the critics Wednesday night after a boffo performance in support of an October PBS special, Michael Feinstein's American Songbook, "because I think that we live in a time where it is essential to connect with other people in a way of kindness. To see the bashing of young souls on television for the sake of sport and ratings and a witty line, I think, is unconscionable. I think of how generations of kids are watching this program and are gaining permission to treat other people that way, to judge them and to say nasty things to them. Absolutely, I think that's a terrible thing."
Backed by a 17-piece band (and these guys were the real-thing old pros; the woodwind players each had a flute, a clarinet and a saxophone), Feinstein belted out several songs, including Rodgers & Hart's "The Lady Is a Tramp" and Johnny Mercer's "I Thought About You."
Jonathan Storm, Inquirer Television Critic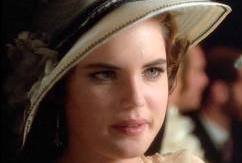 The kids are all right at PBS, which is going everywhere to try to entertain and educate them, says network boss Paula Kerger.
"We have completely rebuilt our kids' lineup over the last five years, focused on creating programming for young children because those are the ones who need us most," she told the critics Wednesday morning. PBS is trying to reach those who may not ever get any formal pre-kindergarten education, she said.
"There's a ton of research that shows that if kids don't know how to read by third grade, they wont achieve in school," she said, adding that California bases its projected need for prison space on current third-grade reading levels.
Jonathan Storm, Inquirer Television Critic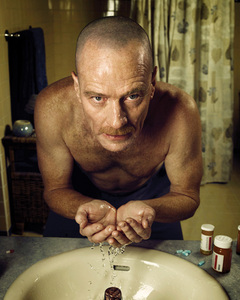 Sony has a unique position in the TV biz. They make the shows, and they make the sets.
Tuesday afternoon, a horde of stars descended on Bar 210 in Beverly Hills, drinking the free beer, wine and vodka and eating strange but tasty chemical food. I can't explain the exploding pomegranate spheres, except to say they were different. But the dragon breath Rice Krispie treats were off the charts. Cooled in liquid nitrogen (watch your fingers), they caused you to breathe white smoke from you nostrils while you chomped on their tasty coldness.
Quite a stable of stars made the scene. Matthew Perry was talking about his mid-season ABC show Mr. Sunshine. David Spade from Rules of Engagement was in the house, lamenting his latest feature film, Grown Ups. When I commiserated with him, it became kind of obvious that he was allowed to say it was a stinkeroo, but I wasn't. Bryan Cranston, affable as always, from Breaking Bad, admired some of the leggy scenery in the joint. Community's Chevy Chase reminisced about his days with Steely Dan at Bard College.
Jonathan Storm, Inquirer Television Critic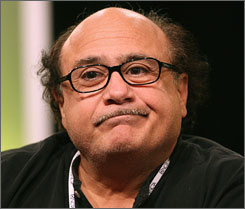 Weather forecast: Sunny. No chance you're raining on my parade.
Danny DiVito laid a big "score" on me when I asked the crew of It's Always Sunny in Philadelphia if they were getting near the end and sometimes stuck thinking, "Oh, God, I've got to think up another ridiculously horrible thing that I can do to make myself debased even further"?
"What is he? Looking in the mirror?" joshed DeVito.