Archive: July, 2011
Jonathan Storm, Inquirer Television Critic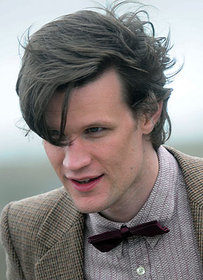 If you're BBC America, and you want a proper venue for your critic-impressing star party, what better spot than the rooftop pool of Hollywood's posh London Club, just off the Sunset Strip?
Not a lot of recognizable stars, since most of the network's stuff is imported and original, but Idris Elba, formerly of The Wire, currently Emmy-nominated for his stunning work in the psych-mystery cop-shop thriller Luther (second installment coming Oct. 5), was chatting. He's big, handsome and smart.
A couple of reporters went up to Matt Smith, who plays the title role in the long running cult fave Dr. Who. (He's No. 11 for those keeping score.) Except it wasn't Smith, but a lookalike. It wasn't clear if the guy had been invited specifically to take pressure off the real star, and he wasn't explaining. Smith himself dined on the superb prime prime rib (fancy tacos also available, all supposedly whipped up under the direction of wildman Brit chef Gordon Ramsay), but was declining interviews. "Let's just have a conversation," he told one reporter.
Jonathan Storm, Inquirer Television Critic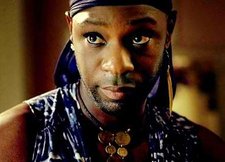 Poor Sookie Stackhouse, that cute little thing. Not only does she have to deal with plain old vampires, but werewolves and werepanthers get thrown at her, along with shape-shifters and now wacko witches, too, not to mention the shall-we-say "eccentric" human residents of her Louisiana neighborhood.
Is it fair, Anna Paquin, that your boss, Alan Ball, keeps putting all this trouble in your path?
"Is it fair?" Paquin responded at the HBO session for her popular True Blood show Thursday. "I'm having the best time of my life. Are you kidding me? And I'm not just a little thing, thank you very much! I can hold my own."
Jonathan Storm, Inquirer Television Critic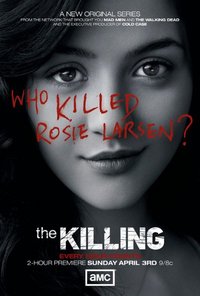 Oh, they're still complaining that nobody knows who killed Rosie. So if I hadn't asked the AMC senior V.P. of original programming about the unresolved season finale of The Killing, somebody else would have. AMC loves the show. They're sorry if viewers were momentarily disappointed. They promise to reveal the killer next year.
"We hear you," said Joel Stillerman. "We certainly would have taken a different approach with respect to managing expectations." Like maybe not using "Who Killed Rosie Larsen?" scrawled across the lead poster for the show. But Stillerman said the network was still proud of the series and hoped to continue it for several seasons.
"We never intentionally meant to mislead anybody," he said. "Our goal was to create a brilliant piece of character-based storytelling, mixed with a genre we all love, the murder mystery. We think we got there, but didn't manage expectations."
Jonathan Storm, Inquirer Television Critic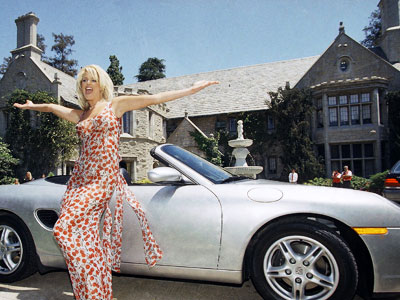 As you can see by the picture, I was agog Wednesday night when Playboy invited TV critics to the famous mansion. Or maybe it was just jet lag. I'll be reporting from Beverly Hills for the next couple of weeks about all the goings on at the Television Critics Association Summer Press Tour. At times Wednesday, it felt as if my eyeballs were going to fall out on the beautifully manicured lawn.
I'll have at least a daily report for the next few days and pick up the pace when the broadcast networks show up next week to publicize all their new fall shows. It's a decent crop this year -- not too many clunkers though no Good Wife, either.
The beautiful person in the picture is, of course, me. The stunning one is Neferteri Shepherd, Miss July 2000. That's a long time ago, but Shepherd is still only all of 31, a Louisianan who came west in 1998 for fame and fortune and never went home. She's now one of the Playmate Dancers, who perform at charity events, and she does the former Playmate thing with promotional appearances a few times a month, as well. Her day job is in marketing and media at a Santa Monica real estate firm, and she's writing a book, called Playmate.
Jonathan Storm, Inquirer Television Critic
Casey Anthony got six more days in jail Thursday, watched by a fraction of the hordes who saw the verdict in her murder case during prime-time workday hours.
But CNN's Headline News, which is now called HLN because screechy talk-show hosts attract way more viewers than real news, continued to poke the bees nest of viewers hooked to the perfect cable news story.
"There's really a crowd," said HLN's Jane Velez Mitchell, whose variegated dye job and dark eye circles made her stand out in the gathering of protesters outside the Orlando, Fla., courthouse.
Jonathan Storm, Inquirer Television Critic
CNN.com had more than 1 million on-line video viewers Monday with its live coverage of the Casey Anthony verdict. That's 30 times more than usual, and a number that eclipses virtually the ratings of virtually any cable TV network on a normal afternoon.
The verdict in the no-way-you-can-look-away trial was a boon to all the cable newsers. Hulu polished up the ABC News courtroom coverage and released a 9 1/2 - minute video with all the shock and tears -- and an ad or two. Nice analysis from Dan "Wrong-o, Sherlock" Abrams.
Are you outraged, either about the verdict, or the analysis and advertisements?
Jonathan Storm, Inquirer Television Critic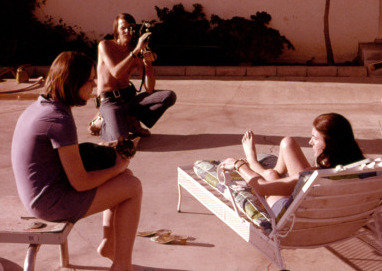 An American Family caused the kind of sensation in 1973 that Charlie Sheen's antics kicked up a couple of months ago. Considered the first reality show, even though it was actually a cinema verite documentary, it spent months following the wealthy, dysfunctional California family of Pat and Bill Loud.
The PBS show ran 12 hours back then, and it was riveting stuff, as Mom and Dad carried on affairs and separated, and one of the sons became the first major openly gay person on American TV.
Filmmakers Alan and Susan Raymond, who live in Gulph Mills, have cut down the original 12 into a two-hour show: An American Family: Anniversary Edition. It's the 28th anniversary, which is kind of weird, but who's counting? It airs Thursday at 9 p.m. on WHYY TV12. The film and its promotion got a little bit lost in the lead-up to Independence Day weekend, but it's great stuff on lots of levels.