Tennis (W)
Temple Athletics
NEWPORT NEWS, Va. - Temple's Rebecca Breland (Las Vegas, Nev./Canyon Springs) has been named the Atlantic 10 Conference Women's Tennis Rookie of the Week, the league office announced on Monday. It is the first award of her career.
Breland went 2-0 in singles action and 1-1 in doubles play in a 2-0 week for the Owls. In TU's important 7-0 win over Atlantic 10 foe George Washington, Breland helped the team to the sweep with her come-from-behind 6-7(6), 6-0, 10-7 win at number five. The rookie moved to sixth singles against Buffalo and was the deciding point in a narrow 4-3 defeat of the Bulls. She cruised by her opponent in straight-sets for the 6-4, 6-1 win.
Temple Athletics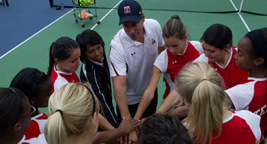 NEWPORT NEWS, Va. – The Temple women's tennis team has been selected to finish second in the 14-team Atlantic 10 women's tennis conference. After capturing its seventh title in the past eight seasons a year ago, Richmond has been selected to win its fourth-straight championship in 2012, according to a vote of the league's head coaches.
Temple, which finished third at the 2011 A-10 Championship, has been chosen to place second at this year's event. The Owls, guided by veteran head coach Steve Mauro, will rely heavily upon the services of sophomore Yana Mavrina, an All-Conference second-team pick from a year ago. Mavrina finished the 2011 campaign with a 17-10 singles record – primarily playing at the number-three position – that included a 12-7 record in dual action. Mavrina also paired with classmate Alicia Doms to boast a team-best 17 wins in doubles play.
Temple Athletics
NORFOLK, Va. – The Temple women's tennis team is in action for the last time this fall at the USTAITA Women's Atlantic Regional Championship, being held at Old Dominion on October 21-25, 2011. The Owls sent four players to the competition: Jordan Batey, Alicia Doms, Paola Calderon and Yana Mavrina.
Batey, Calderon and Doms opened singles play on Friday, October 21, playing in the Singles Qualifying bracket. All three players picked up wins in the round of 32.
Temple Athletics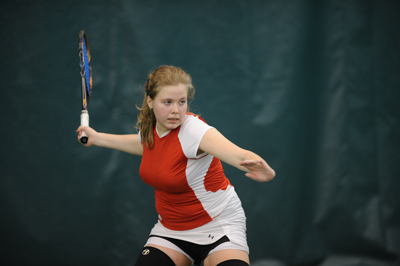 PHILADELPHIA, Pa. – After having a successful day one of singles competition where all four players advanced, the Temple women's tennis team picked right back up on Sunday, taking flight championships at one, three and four. Yana Mavrina, Rebecca Breland and Maame Ama Osei earned titles in their respective flights at the SJU Invitational, hosted by Saint Joseph's University, on Sunday, October 2, 2011.
Mavrina made it to the championship match at flight one with a 6-3, 6-4 win over Delaware's Samantha Carnall in the quarterfinals on Sunday morning. The sophomore earned the title with another straight-set win, defeating Casey Robinson of the host team, 6-2, 7-6.
Temple Athletics
PHILADELPHIA – Temple women's tennis players Carly Bohman, Alicia Doms, Lucie Pazderova and Elyse Steiner have been named 2011 Women's Division I ITA Scholar Athletes, announced by Intercollegiate Tennis Association, the governing body of collegiate tennis. In addition, men's tennis players Mansur Gishkaev and Kacper Rams earned spots on the 2011 Men's Division I ITA Scholar Athlete team.
In order to be eligible for ITA Scholar-Athlete status, a player must be a varsity letter winner, have a grade point average of at least 3.50 (on a 4.00 scale) for the current academic year, and have been enrolled at their present school for at least two semesters.