Archive: December, 2011
PHILADELPHIA - Hitting 13-of-22 from the floor (59.1 percent) and 15-of-16 from the foul line in the second half, the Saint Joseph's women's basketball team pulled away from Boston College midway through the final stanza to earn a 74-57 win Thursday evening before a televised audience at Hagan Arena. The Hawks, who improved to 8-4 overall and 6-0 at home this year, got a team-high 17 points from senior Michelle Baker to lead four SJU players in double figures.
In a battle between SJU sophomore guard Erin Shields and her sister Keri's Eagles team, it was Erin's Hawk squad that took a five-point lead into the second half. Up 31-26 to start the final period, Saint Joseph's saw its lead cut to two, 33-31, on a free throw by Joy Caracciolo at 15:48.
PHILADELPHIA – Taking control early and hitting key free throws late, the Saint Joseph's women's basketball team downed UCLA, 64-60, Thursday afternoon at Hagan Arena. The Hawks never trailed and hit 13-of-16 free throws in the final three minutes to hold off a late Bruin run and improve to 7-4 on the year.
From the start, the Hawks took over the pace of the game, opening a 10-4 lead off a steal and layup by senior Kelly Cavallo (Hampton Bays, N.Y./Westhampton Beach) at 13:56.
PHILADELPHIA - Alexis Scott sizzled for 33 points, shattering her previous career high of 21 in a 72-59 loss at Drexel on Monday night in La Salle's first game back after an 11-day layoff for finals.

She became the second player this calendar year to hit the 30-point mark as Ashley Gale kicked off 2011 with a 31-point performance at Lehigh on Jan. 2.

Scott scored seven of the Explorers' first nine points and hit double digits just 7:13 into the contest. She added six rebounds and three assists.

Brittany Wilson was the other Explorer in double figures, adding 11 points along with four assists.

Taylor Wootten led the home squad with 20 points, while Kamile Nacickaite added 18 and Hollie Mershon chipped in 13. Mershon pulled down a game-high nine rebounds.

The two squads hung together early with neither squad pulling ahead by more than four through half of the first period. With the score at 18-16 at the 9:40 mark, however, the Dragons went on an 8-0 run over three and a half minutes to go up 26-16 at the 6:15 mark. The Explorers responded with a 6-0 run keyed by two Scott layups to pull within four at 26-22 with 3:25 until the break but the Dragons closed out with a 12-4 response to take a 38-26 lead into halftime.

Scott came out of the break to go on another scoring streak, keying the Explorers to a 15-6 spurt to pull within one point at 44-43 with 13:39 on the clock. An Ayana Lee free throw and a Nacickaite three-point play pushed the Dragon lead back to five at 48-43 before Scott sank another trey at 9:40 to get back to a two-point game at 48-46.

That was the closest the Explorers got the rest of the way as the Dragons outscored the Explorers 24-12 down the stretch for the final 72-59 score.

The Dragons edged the Explorers on the glass, 32-29, and shot 52.7 percent (29-for-55) to the Explorers' 45.5 percent (25-for-55). Drexel also made the most of 13 La Salle miscues, scoring 19 points off turnovers, but committed 11 turnovers of their own.

Jess Koci also returned to the lineup tonight for the first time since Nov. 22 after sustaining a back injury. She scored four points, pulled down three rebounds and recorded three steals in her return game.

The Explorers return to action on Thursday (12/22) when they host Fairfield at Tom Gola Arena at 2 p.m.
PHILADELPHIA – Using a 21-2 run to end the first half, the Saint Joseph's women's basketball team showed little rust off a nine-day layoff as the Hawks topped Saint Francis (Pa.), 83-53, Monday evening at Hagan Arena. Senior guard Katie Kuester (Media, Pa./Academy of Notre Dame de Namur) led four Hawks in double figures with a season-high 16 points.
Saint Joseph's (6-4) took control off the tip, running out to a 14-1 edge less than four minutes in. The Hawks hit their first four shots as knocked down 17-of-32 from the floor (53.1 percent) in the first stanza.
Buies Creek, N.C. – Drexel went a perfect 2-0 at the Fighting Camel Duals taking down Northern Colorado, 26-11, before knocking off host Campbell, 23-13. The Dragons used four bonus point wins, including a pin by sophomore Austin Sommer over Northern Colorado's Nick Alspaugh at 157 pounds. The pin marks Sommer's team-leading third on the season.

Drexel took seven of ten matches against the Bears to start off the duals. Senior Kyle Frey didn't disappoint as he picked up a major decision over Henry Chino taking two bouts off of the Bears' heavyweight this year. Frey won his second match, 3-1, over Campbell's Joe Nolan just after Brandon Palik picked up his second win on the day at 197 pounds. Palik, who picked up his third major decision over Northern Colorado's Nick Bayer, 9-1, and took his second match with a 10-6 decision over Campbell's John Weakley.
Sommer, Michael Gomez and Josh Yurasits also went a perfect 2-0 on the day. Sommer's second match ended in overtime with a 6-4 decision over Campbell's Ryan Krecker. Gomez took both bouts at 125 pounds as he outscored his opponents 12-5. Yurasits, in his season depute, showed his capabilities at 133 pounds taking both matches at the dual meet helping to give Drexel a lead they would not relinquish against both teams.

Alex Rinaldi, Nick Becattinni and Shane Fenningham all went 1-1 on the day helping to push Drexel to 3-1 overall this season. Drexel returns to action this Sunday, Dec. 18 with a 1:00 p.m. match against No. 22 Virginia in the Dragons third home match of the season at the John A. Daskalakis Athletic Center.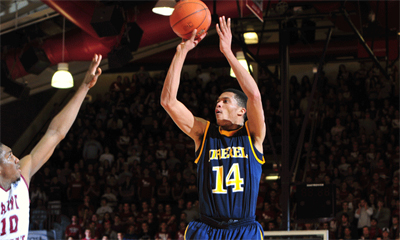 Philadelphia - Chris Fouch scored a season-high 23 points and Drexel made all 10 of its free throws in the final 33 seconds as Drexel defeated Princeton, 64-60, in the home opener for the Dragons.
The Dragons (3-4) led for the majority of the game, but the Tigers (4-6) kept it close. It appeared that Drexel finally pulled ahead for good when Fouch drained a three-pointer with 4:45 to play to put the Dragons ahead, 54-47. However, that turned out to be the Dragons' last field goal of the game. Princeton's defense toughened and the Tigers eventually went ahead by a point at 55-54 when T.J. Bray sank a pair of free throws with 1:45 remaining. Fouch tried to answer, but missed giving Princeton possession with just over a minute to play. The Tigers could not capitalize as Drexel's Kazembe Abif took a charge with 1:01 to play in what Coach Bruiser Flint called the biggest play of the game.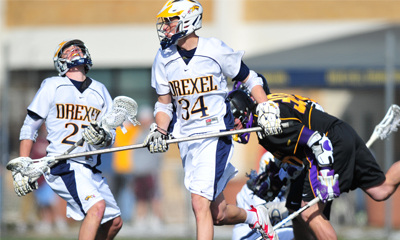 Philadelphia - Drexel senior lacrosse player Frank Tufano (Hauppauge, N.Y./Hauppauge) has been named a Preseason Third Team All-American by Inside Lacrosse. Tufano, a defenseman, was one of three Drexel players named to the Preseason All-American Team. Mark Manos (West Chester, Pa./Salesianum) and Robert Church (Coquitlam, B.C./Charles Best) were named Honorable Mentions.
Tufano was a First Team All-CAA selection the last two seasons. He was selected as a defenseman last year after moving from long pole. Tufano led the team in caused turnovers for the last two years and led the club with 48 ground balls in 2011.
PHILADELPHIA—On Friday, the National Soccer Coaches Association of America announced its selections to the Division I All-Mid-Atlantic Teams. Among the honorees were Temple senior Tyler Witmer (Wernersville, Pa./Conrad Weiser) and junior Cody Calafiore (Howell, N.J./Howell/Monmouth), as both were tabbed to the second team.
In his final year as an Owl, Witmer finished second on the team in scoring; having four goals and a team-high three assists to finish with 11 points. Back on Oct. 1, the Wernersville, Pa. native led the Owls to victory over Howard in the team's final non-conference match of the season.
PHILADELPHIA – Saint Joseph's sophomore midfielder Mo Hawkins (Philadelphia, Pa./Cardinal Dougherty) made team history on Friday, becoming the first Hawk to garner National Soccer Coaches Association of America Women's Divisions I All-Mid-Atlantic First Team accolades.
Making the move from forward to the midfield this year, Hawkins thrived leading Saint Joseph's attack as she topped the team in points (21), tied for the lead in goals (nine) and finished second in assists (three). Earning both Atlantic 10 Midfielder of the Year and All-Conference First Team honors this season, Hawkins has already etched her name in the SJU record book as she'll enter her junior year next year fifth all-time in points (42), tied for fifth in goals (17) and tied for 10th in assists (eight). The Philadelphia native has also earned All-Conference honors two straight years, coming off A-10 All-Conference Second Team and All-Rookie Team honors in 2010.
WILMINGTON, N.C. – The Drexel women's basketball team got its Colonial Athletic Association season off to a strong start on Sunday, traveling to UNCW and grabbing an impressive 58-43 victory. The Dragons won with defense, holding the Seahawks to just 29.1 percent shooting from the floor, including a 1-for-18 start.

Kamile Nacickaite led the Dragons (4-2, 1-0) with 17 points. Hollie Mershon added 16, while Taylor Wootton knocked down 10. Wilmington's Karneshia Garrett led all scorers with 21.

Drexel played outstanding defense in the first half, holding the Seahawks to just 13 points on 5-of-25 shooting. The Dragons led 19-3 with just over five minutes to play in the period before UNCW (2-4, 0-1) went on an 8-0 run to wake up their offense.

As was the story in Pittsburgh, the Dragons' hot start came courtesy of Kamile Nacickaite. After scoring 13 of the team's first 15 points in that game, Nacickaite put up Drexel's first seven points against the Seahawks. Mershon then got into the action, scoring the next seven. Nacickiate would add five more before a third scorer, sophomore Fiona Flanagan, got into the act with a jumper to make it 21-11 with 2:11 remaining before intermission.

The Dragons kept up the defensive pressure in the second half, never letting their lead slip into single digits. As a team, Drexel hit 48.9 percent of their shots from the floor, although they did slip at the free throw line, where they were 8-for-15. Drexel outrebounded UNCW 36-31, limiting the cold-shooting Seahawks to just four second-chance points. Mershon had nine boards to pace the Dragons.

Late in the second half, head coach Denise Dillon inserted many of her reserves into the game, including freshman Tiffany Johnson. With 2:12 to play, Johnson buried a free throw to mark her first collegiate point. She would add another, finishing with two points. All 12 Dragons in uniform got into the action, with 11 of those 12 grabbing at least one rebound.

Tyler Hale finished with nine points on 3-of-4 shooting. She forced the Wilmington defense on several occasions, slashing to the hoop and getting to the rim or drawing a foul. Hale also found teammates open for looks on those drives, finishing with a season-high three assists. Fiona Flanagan finished with four points, four boards and two assists, all of which tied season highs.

Senior point guard Marisa Crane, who had two assists and three rebounds, also got her first block of the season and just the second of her career. She played 26 minutes at the point.

The Dragons are now 4-1 on their six-game road swing, and 3-1 in true road games during that stretch. They have one more road game to go before returning to the Daskalakis Athletic Center on December 19 against La Salle.

Drexel will now have seven days off before its next game, Monday, December 12 at Seton Hall. That game will tip off at 7:00 p.m. The Dragons will return to CAA play after the turn of the new year, visiting Hofstra on January 5.