Gymnastics
PHILADELPHIA -During Thursday night's Philadelphia Flyers and New York Islanders' game at the Wells Fargo Center in South Philadelphia, the Temple Women's Gymnastics' squad was out in full force to help generate support for "Hockey Helping Kids", a program focused on raising awareness and money for children's organizations.
"With this being the second year we participated with this program, it was a great honor to be down there to raise money for the Hockey Helping Kids event," head coach Aaron Murphy said.
The Owls will have their second gymnastics meet of the season this Sunday when they head to Ursinus for a tri-meet with the hosting Bears and Iona College. Start for the meet is slated for 3:00 p.m.
PHILADELPHIA—It's back to action on the mats and apparatuses for the Temple men's gymnastics team, as the 2012 season gets underway on Saturday in Annapolis, Md. at the Navy Open.
Head coach and USA Gymnastics Hall of Famer Fred Turoff, now in his 36th season overseeing the Owls, is returning 17 of his 21 gymnasts from last season's impressive second place finish at the EIGL-ECAC Championships, finishing only behind host Illinois-Chicago.
Seven members of last season's team—five of which are returning—qualified for nationals, allowing them to continue to compete beyond Temple's strong run in the conference championships.
PHILADELPHIA – An entire offseason and two intrasquad meets have passed, marking the official start to a new docket for Temple Women's Gymnastics. On Sunday, six-year head coach Aarron Murphy and his squad will head down to the nation's capital to open the 2012 campaign when they compete at the George Washington Invitational.
The Owls, who are coming off a 10-15 year with a fourth place finish in the ECAC and a third place finish in the opening round of the USAG Championships, have added seven freshmen to a roster that saw only three competitors depart due to graduation last season.
Captains Corrine Williams and Alexandra Uscatu, both seniors, will be relied on heavily this season with such a large group of newcomers this season. [See interviews: Williams, Uscatu]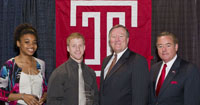 PHILADELPHIA – Temple University honored its best in athletics, both on and off the field, at its ninth annual Breakfast of Champions Wednesday morning. In all, over 350 Temple student-athletes were recognized for academic and athletic accomplishments with senior Patrick McLaughlin of the men's gymnastics team being named the top male Student-Athlete of the Year and junior Kamali Thompson of the fencing team earning the top female Student-Athlete of the Year Award.
"The Breakfast of Champions is a celebration of what is special about Temple University athletics," said Director of Athletics Bill Bradshaw, who instituted the event in 2003, his first full year at the school. "We annually recognize the `best of the best' for athletic performance, academic achievement and service to the community and Patrick and Kamali epitomize what is good about intercollegiate athletics."
McLaughlin, a native of Shrewsbury, Pa (Susquehannock HS), is a two-year team captain who overcame a career-threatening dislocated ankle as a junior to earn All-America honors on the parallel bars at the 2011 NCAA Men's Gymnastics Championships two weeks ago. Selected to compete in three events at the NCAA Qualifiers, he moved on to Championships in the parallel bars where he became the first men's gymnast to earn All-America accolades since 2005 with a seventh-place finish. Also a standout in the classroom, the kinesiology major was named to the Director's Honor Roll and also earned 2010 Philadelphia Inquirer Academic All-Area Performer of the Year honors.
COLUMBUS, Ohio - Competing as the first Owl since 2005 to reach the individual event finals of the NCAA Championships, Temple redshirt-senior Patrick McLaughlin placed seventh on parallel bars with a score of 14.300 at Ohio State's St. John Arena on Saturday. With the finish, McLaughlin was named an All-America honoree, the first for Temple since 2004.
McLaughlin, who was awarded a fifth-year of eligibility after suffering a season-ending injury last season, made the most of his shot at the National Qualifier and NCAA Championships. The Shrewsbury, Pa., native was the first Owl since Nykia White (2005) to reach the individual event finals at the NCAA Championships, and the first to be named All-America since White and Theo Maes earned the recognition in 2004. He is also the first Owl to earn All-America honors on parallel bars since Jason Krane in 1998.
COLUMBIA, Mo. - Led by a tie for first place finish by junior Corrine Williams, the Temple women's gymnastics team posted a score of 190.125 to place fourth at the highly competitive Missouri Quad-Meet. Williams scored a season-best 9.850 to tie for meet best honors on floor.
University of Missouri, the meet host, turned in the top team score of the evening with a total of 194.775. Southeast Missouri placed second with a score of 194.675, followed by Centenary with a score of 190.750.
Williams tied with Mizzou's Lauren Swankoski with a score of 9.850 for first on floor. Junior Kaity Watson was the next best Temple finisher, placing 11th with a score of 9.700.
NEW HAVEN, Conn. - The Temple women's gymnastics team broke out a dominating performance at the Bulldog Invitational hosted by Yale on Saturday afternoon. With an individual finisher placing first on every apparatus, the Owls post a season-high 191.600 to take top honors.
Temple blew away the competition for first place as a team, topping host Yale (184.350) and Springfield (178.950).
Juniors Kaity Watson and Corrine Williams finished one-two in the all-around, each owning first place finishes while freshman Sylvie Borschel took first on beam and floor.
PHILADELPHIA - The Temple men's gymnastics team looked more than comfortable performing in the friendly confines of McGonigle Hall, as the Owls posted a season-high team score of 341.400 to place second in a home tri-meet with Penn State and Army. Temple, competing in its first home meet of the season, registered a meet-best score as a team on vault.
Penn State led the way with a 351.800, followed by Temple's 341.400 and Army's 259.500.
Temple nearly outdid Penn State on floor to open the meet, besting Army's 53.300 with a score of 55.400. Mooney was again the Owls' top finisher in the event, scoring 14.300. Army's Kip Webber posted the highest floor score of the afternoon with a 14.900.