STATE COLLEGE, Pa. – With the mem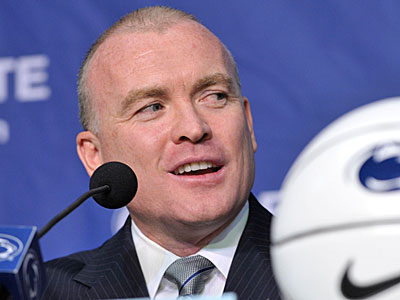 bers of his family leading a standing ovation, Patrick Chambers was introduced Monday as the new head basketball coach at Penn State and promised to work hard to bring recruits from the Philadelphia area and other major Eastern cities to Happy Valley.
About 200 people, including an estimated 50 members of his family, welcomed Chambers, a former Villanova assistant coach and most recently the head coach at Boston University, at a reception and press conference on the practice court at Bryce Jordan Center.
The Nittany Lions have had persistent problems trying to recruit big-name players, which is a dilemma given that they play in the rugged Big Ten. They did make it to the NCAA tournament last season, losing to Temple in the first round, but key performers of that senior-laden team are gone.
Chambers, 40, who replaced Ed DeChellis as the 12th head coach in Penn State history, said he will immediately address recruiting, noting that he will be traveling this week to scout players.