Bernard Hopkins weighed in on Friday afternoon at 174.4 pounds in advance of his Saturday night 12-round title fight against IBF light heavyweight champion Tavoris Cloud.
The 31-year-old Cloud (24-0, 19 KOs) weighed in at 173.8 at the Barclays Center in Brooklyn, where the fight will be held and televised on HBO. The weight limit is 175 pounds.
The 48-year-old Hopkins is 52-6-2, 32 knockouts.
While students and players celebrated around him on the floor at Tom Gola Arena, John Giannini remained an island of calm and perspective following La Salle's 54-53 upset of No. 9 Butler.
The La Salle coach expects his team to play well. He feels that if the Explorers play well, then it's no surprise to gain a home victory over a high-quality team such as Butler. If they want to be among the contenders for the Atlantic Ten Conference championship, they should be winning games like this.
"You know what's crazy?" he said after Wednesday night's game. "I told the team I expect us to be good. If you see me in big wins, I'm not jumping around and doing dances. I expect us to be good. I'm upset when we're not good. It was a dramatic win for our players and for our fans and students. It was awesome. But am I going to tell you I'm shocked that we won? Absolutely not.
One of the unsung heroes in Penn's 30-21 win over Harvard that clinched at least a share of the Ivy League football title was senior punter Scott Lopano.
The only player in school history to amass more than 7,000 career punt yards, Lopano quietly set another school record with eight punts, giving him 192 for his career, surpassing Jeff Salvino, who had 186 between 1994-97.
Yet it was the quality of punts that played such a huge role in the win.
North Philadelphia's Gabriel Rosado has removed himself from the December 8 boxing card at Temple University.
Rosado (21-5, 13 KOs) was scheduled to fight Elvin Ayala as part of of NBC's Fight Night at McGonigle Hall. But, the 26-year-old said he's being patient and is waiting for his mandatory title shot with Cornelius Bundrage.
Replacing Rosado on the card is North Philadelphia featherweight Teon Kennedy, who lost by fifth-round knockout in June to WBA champion Guillermo Rigondeaux. Kennedy (17-2, 7 KOs) will meet Texas' Jerry Belmontes (17-0, 5 KOs).
La Salle's Tom Coyle navigated the 3.1-mile course in 15:59 to capture the District 12 Class AAA title on Thursday afternoon at Belmont Plateau.
Kevin James of Cardinal O'Hara finished 5 seconds behind for second place as the Lions finished six runners in the top 10 to capture the team title.
Follow along as the Inquirer's Matt Breen provides live updates as Philly's Danny Garcia defends his unified light-welterweight championship against Erik Morales Saturday.
On a mobile device? Click HERE to follow the action.
Math, Civics and Science High School senior Jeremiah 'Lump' Worthem gave an oral commitment to play basketball at Robert Morris Thursday morning.
"I love the coaching staff and I love the way that they play," said the 6-foot-6 swingman. "I just feel very comfortable with the environment and I know some of the players up there."
He chose Robert Morris over scholarship offers from Stony Brook, Siena Niagara, Long Island, Maryland-Baltimore County among others.
The Inquirer's Marc Narducci caught up with the finalists of the U.S. Open Squash Championships at Drexel Thursday. For an interview with woman's finalist Nicol David, click HERE.
Video: The Inquirer's Marc Narducci caught up with women's finalist Nicol David after her hard-fought win at the U.S. Open Squash Championships at Drexel Thursday. For more interviews with the other finalists, click HERE.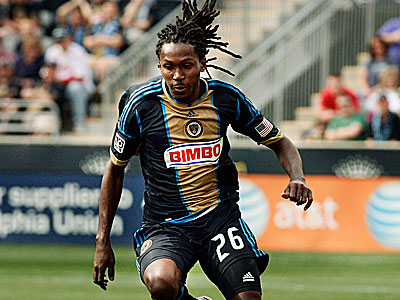 After lauding midfielder Keon Daniel for having his best game of the year in Saturday's 1-0 Major League Soccer win over the New England Revolution, Union team manager John Hackworth gave some insight into while there haven't been more of these performances.
"He did a lot of work to get back (defensively) and his intensity was right," Hackworth said. "That has been something Keon has struggled with a little bit, the intensity of our league. He is certainly stepping up in that regard."
While MLS isn't the most skilled league in the world, the players are known for their fire.