Archive: November, 2012
R. Robert Franks, DO, FAOASM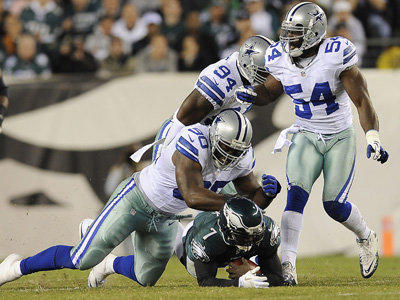 By Robert Franks, D.O.
Editor's Note: Yesterday, Eagles quarterback Michael Vick failed his second concussion test of the week, meaning he has not been cleared to return to football activities. Robert Franks, D.O., takes a closer look at the testing used to make such determinations.
As concussion remains at the forefront of sports health with two prominent Eagles players continuing to be treated for symptoms, it has not been uncommon to hear about reports of them being tested. Often I am asked, what is this test and how does it work? More importantly, how does it help a physician to make the decision to return an athlete to play?
Justin D'Ancona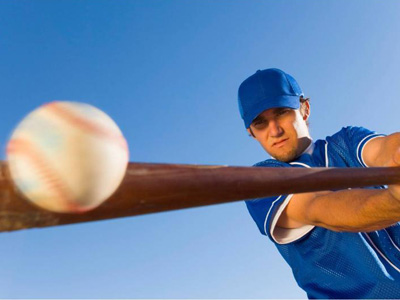 By Justin D'Ancona
The basic fundamental principal found in all sports is keeping your eye on the ball. We've all heard it. Heck, there's a good chance that idea was drilled in our heads long before we could even read or write.
Well, it turns out, those responsible for torturing us with that phrase the majority of our childhood might have been on to something after all.
Alfred Atanda, Jr., M.D., Nemours/Alfred I. duPont Hospital for Children.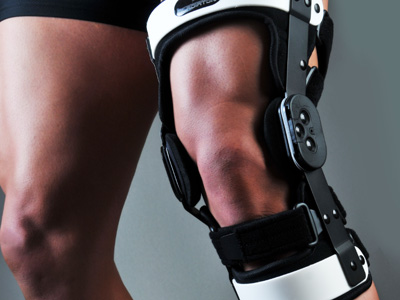 Since Title IX was signed into law by President Nixon in 1972, a dramatically increasing number of
female athletes participate in sports not only at the collegiate level, but also at the high school and recreational levels as well. Currently, there are just as many young girls playing competitive sports as boys.
Title IX made it illegal for any educational program or activity that received federal financial assistance to discriminate on the basis of sex or gender, giving females an equal opportunity to participate in organized athletics.
U
nfortunately, with increased participation comes an increase in injuries. Specifically, recent studies have shown that female athletes are up to 8-10 times as likely to sustain devastating knee injuries, such as an Anterior Cruciate Ligament (ACL) tear, compared to their male counterparts. There are several theories as to why this may be the case, some of which may not be so obvious:
Evolutionarily, females tend to have wider pelvises compared to males for eventual child birth. This widening of the pelvis causes the knee alignment below it to be more "valgus" or knock-kneed. In addition, females are more likely to have rotational abnormalities of their femurs (thigh bones) and tibias (shin bones). During aggressive physical activities, these lower extremity limb alignment changes can place more force on the ACL than it can tolerate, making it susceptible to injury.
The major dynamic stabilizers of the knee during regular and aggressive physical activity are thequadriceps muscle group or thigh muscles. The particular muscles that athletes use to brace their knees when landing from a jump or hop are often weaker in females than in males, largely in part because of the differences in lower extremity alignment. In addition, the order in which the various quadriceps muscles fire or activate in female athletes is also different.
Fluctuating hormone levels—specifically estrogen and progesterone—in the female body can affect the biomechanics of the ACL tear. This can occur as a result of the menstrual cycle and exogenous hormone ingestion (birth control pills). Studies have shown that the strength of ligaments such as the ACL may be weakened by the presence of estrogen. In addition, other studies have suggested that ACL tears in female athletes are more likely in certain phases of the menstrual cycle.
The actual ligament itself tends to be slightly smaller and thinner in females. Also, the intercondylar notch, or space at the end of the femur (thigh bone) where the ACL is located tends to be narrower.
The combination of these factors coupled with increased aggression, physical activity and competition makes it apparent why female athletes are more susceptible to ACL tears. Unfortunately, most of these factors are inherent to being female and are not modifiable. Prevention programs are centered on increasing muscle tone, balance, improving muscle firing, as well as maintaining flexibility, core and overall strength.
Robert Senior, Sports Doc blog Editor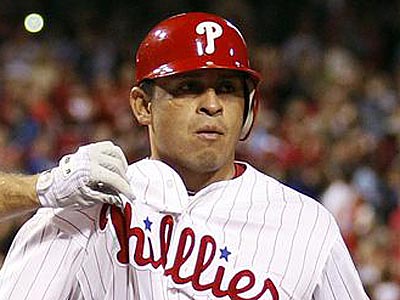 By Rob Senior
Adderall is an amphetamine best known for its success in treating attention-deficit hyperactivity disorder (ADHD). But the alarming number of Major League Baseball players using Adderall has led to the medication's designation as a performance-enhancing drug by league executives.
Initially made available to the public in 1996, Adderall was originally an instant-release tablet. Five years later, Adderall XR—an extended-release version—came onto the market. Both are available

in generic forms.
Adderall has been shown to significantly reduce the effects of ADHD, which is commonly characterized by difficulty maintaining focus, hyperactivity and impulsive behavior. Symptoms of ADHD typically manifest before age seven, but can remain present long into adulthood.
Adults with ADHD often struggle with planning, impulse control and easy distractibility. Adderall's effectiveness in improving concentration, impulse control and attention span make it a desirable solution for these adults.
Similarly, adults without ADHD can enjoy these same attention-span increasing benefits. As it pertains to Major League Baseball, in 2011 a total of 105 players were granted exemptions under the league's drug policy to fill prescriptions for Adderall according to an NBCSports.com article. That's about one in every 10 players, a much higher rate than the general population.
"The anticipated benefit is that performance and stamina can be enhanced," said Daniel Hussar, professor of pharmacy at the Philadelphia College of Pharmacy at the University of the Sciences. "But sometimes individuals get into such a habit of using these medications that it can be quite a letdown when they stop using them. They feel compelled to continue using the product."
Earlier this year, Major League Baseball tightened criteria for obtaining such exemptions in response to criticism stemming from the abnormally high rate of prescriptions among its players. As of last June, players receiving exemptions to use Adderall or other such stimulants need the approval of a three-expert panel. In the past, only one individual reviewed and decided on such requests.
Hussar added that Adderall is not a known masking agent for other performance enhancing substances. But he added that he feels strongly that MLB should better regulate Adderall use in its players. "These are potent medications that can have serious consequences if misused," says Hussar. "If individuals let their guard down with these substances, circumstances can increase the risk of damage to the cardiovascular system."
Side effects with Adderall have been known to include dizziness, headache and weight loss. The

active ingredients in Adderall and Adderall XR are dextroamphetamine and racemic DL-amphetamine salts.
Robert Senior, Sports Doc blog Editor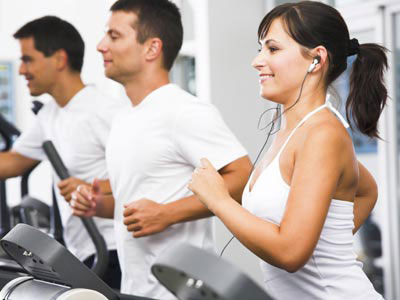 By Rob Senior
Research presented at the recent Psych Congress 2012: U.S. Psychiatric and Mental Health Congress suggests that exercise provides a unique effect on some psychiatric disorders.
Evidence was particularly strong in depression, where some cases show that exercise can provide as much benefit as medication. Some doctors are now viewing exercise not just as part of therapy, but as therapy itself.
"Above and beyond the standard benefits of exercise in healthy living and general well-being, there is strong evidence demonstrating the ability of exercise to in fact treat mental illness and have significant benefits on a neurotrophic, neurobiologic basis," says Douglas Noordsy, M.D., director of psychosis services at the Geisel School of Medicine at Dartmouth College in Hanover, N.H.
Dr. Noordsy was referencing a Duke University study of 156 patients with major depressive disorder (MDD), who were randomly assigned to one of three groups for a duration of four months:
Aerobic exercise
Sertraline therapy (50-200 mg)
Both exercise and medication
After four months, the differences between groups were not strong. It was at a 10-month follow-up that Dr. Noordsy noticed a considerable difference in favor of those patients who had continue to follow their exercise programs.
"The patients who were independently exercising on their own after the treatment period had half the odds for meeting the depression criteria six months later compared to patients who didn't exercise after the 4-month study," he comments.
Evidence also suggests exercise benefits for people with anxiety and bipolar disorder. The related evidence is not as strong as it is for patients with depression, but considerable positive are present.
"We know that with anxiety, the heart rate goes up, you start breathing fast and that can trigger a panic attack," Dr. Noordsy comments. "So one of the important positive effects of physical exercise is it allows people to become conditioned to having their heart rate and respiratory rate increased when they're not associated with anxiety, thereby addressing the triggers."
The greatest challenge remains motivating those patients struggling with psychiatric disorders to exercise and to stick with a sometimes demanding regimen. A few of Dr. Noordsy's suggestions:
The patient should choose the activity or program that is right for them, rather than a doctor recommending a specific activity.
Motivational tools such as goal setting or entering into an exercise group can be helpful.
Access to resources such as books or videos can help patients to see the benefits of exercise.
Viewing exercise as part of human evolution may help patients more than just hearing a general recommendation to get some exercise.
"[Exercise] is something humans are designed to do, and when we don't do it our bodies and brains fall apart," says Dr. Noordsy.
SOURCE: Medscape
Robert Senior, Sports Doc blog Editor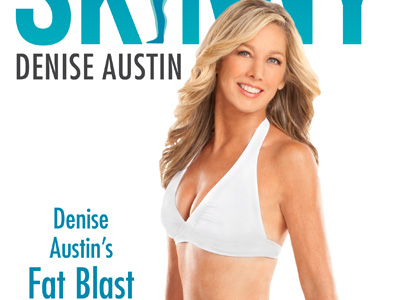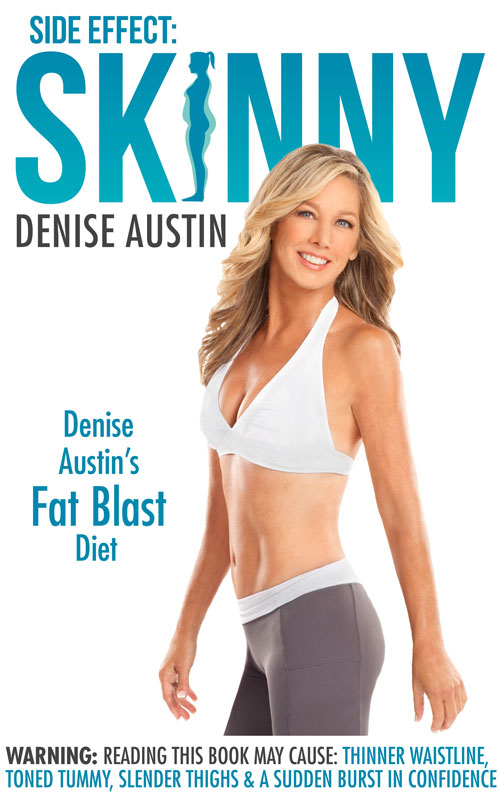 By Rob Senior
If you're sitting back after Thanksgiving weekend, planning to make a New Year's resolution to get in shape after the holidays, fitness guru Denise Austin has a message for you.
"Don't wait!" she emphasizes. "Get in shape now, and look great for the holidays."
John Quinn
Before this past Saturday's Rothman Institute 8k ((part of the Philadelphia Marathon weekend) Inquirer Sports Editor John Quinn laid down a challenge. He told half-marathoner Sam Ndereba that he could run the 8K quicker than Ndereba could run the half marathon. Here's his post-race follow-up.
by John Quinn
Sam, I am sorry.
Robert Senior, Sports Doc blog Editor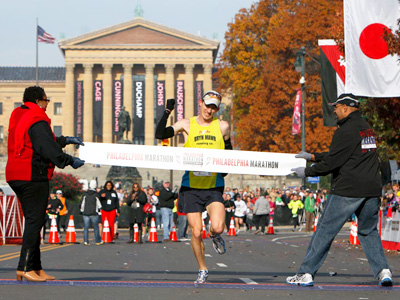 By Rob Senior
On Saturday, Sports Doc profiled Michael McKeeman, a 36-year old Ardmore resident and North Penn High School graduate who was considered a top contender in this year's Philadelphia Marathon. McKeeman had come close in the past—finishing second in the 2006 race—but this year he wasn't hedging his bets.
"My goal," he said, "is to win the marathon."