Archive: January, 2013
Robert Senior, Sports Doc blog Editor
Sunday's big game between the Ravens and 49ers has dozens of subplots, but not even the final game in the Hall of Fame career of Ray Lewis looms larger than the "Har-Bowl"—the coaching matchup between the Harbaugh brothers, John of the Ravens and Jim of the 49ers.
From Peyton and Eli Manning on the gridiron, Joe and Dom DiMaggio on the diamond, and Venus and Serena Williams on the tennis court, sibling rivalry is as old as the games themselves. Locally, Luke and Brayden Schenn are enjoying their first season as teammates on the Flyers. But according to Joel H. Fish, Ph.D., the attitudes and approaches of parents are the primary factors in creating healthy competition within the same household.
"When you talk about the Harbaughs—they're only 15 months apart in age," says Dr. Fish, director of The Center for Sport Psychology in Philadelphia. "That makes a difference."
Joel H. Fish, Ph.D., Director - The Center For Sport Psychology, Sports Psychology Consultant - 76ers & Flyers
As they prepare for the Super Bowl, one thing that the San Francisco 49ers and Baltimore Ravens have in common is that both teams overcame the odds in their respective championship games. Both were the visiting teams and had to perform in an environment where over 60,000 rabid fans were rooting against them. The 49ers fell way behind in the first half, while the Ravens entered the game expected to lose by more than a touchdown.
Yet when the pressure reached an intense pitch in the 4th quarter, both the 49ers and Ravens made the plays that were necessary to win.
There are different psychological aspects to being the favorite or the underdog. The feelings and thoughts that an athlete has when he or she is expected to win are different than when the expectations are that they will lose. The same is true at the team level.
Robert Senior, Sports Doc blog Editor
The 5th annual Rothman Institute/Philadelphia Phillies Sports Medicine Conference took place Saturday morning at Citizens Bank Park. A sold-out group of physical therapists and certified athletic trainers braved the cold and snow to hear from some of the region's leaders in treatment of injured athletes.
Michael G. Ciccotti, M.D., Sports Doc panelist and director of the Sports Medicine Team at Rothman Institute, also serves as Head Team Physician for the Phillies and led the panel comprised of Rothman Institute physicians and Phillies' medical staff. Dr. Ciccotti was recently elected president of the Major League Baseball Team Physician Association.
"This conference is a great opportunity for all of us to come together as professionals and share our knowledge about treating injured athletes of all shapes, sizes, ages and levels of ability," says Dr. Ciccotti.
David Berkson, M.D.
Countless numbers of people ring in every New Year vowing to get in shape. So here we are in late January, and if you're like many of those people, you're still wondering how to begin. Here's my word of advice: don't become a Weekend Warrior.
Weekend Warriors are people who participate part-time in a fitness activity, attempting to squeeze in a week's worth of fitness into a small number of sessions, usually on the weekend. Unfortunately, weekend warriors typically overload their system and do more than their bodies are ready to do.
The weekend warrior is set up to have many problems during exercise, mostly due to the overload stress on the body. These include sprains/strains, fractures, pulled muscles, contusions, and other injuries. People who are not acclimated to exercise and try to do too much also set themselves up for heat illness and dehydration. Why does the body have trouble handling the stress of participation? Essentially there exists a lack of muscular, cardiovascular and nutritional fitness, which are then combined with improper technique and cause breakdown.
Peter F. DeLuca, M.D., Rothman Institute, Head Team Physician - Eagles, Head Orthopedic Surgeon - Flyers
Editorial Note: This is the third installment in a series by Peter F. DeLuca, M.D., Head Team Physician for the Eagles, on increasing player safety in football.
I was recently watching a football game between the San Francisco 49ers and the Seattle Seahawks. It was 3rd and long and San Francisco QB Colin Kaepernick threw a rising pass toward the sideline. Tight end Vernon Davis leapt to make a great catch and as he was turning in mid-air, just before his feet hit the ground the defender drilled his shoulder into the arm holding the ball. Davis dropped the ball and landed hard on his back.
I quickly applauded this "textbook" tackle and defensive move. But my enthusiasm waned when I saw the official reach into his belt and throw that yellow handkerchief. Like any fan, I questioned the call; it wasn't helmet-to-helmet! But the replay revealed two potential penalties: the defender launched his body and he hit a defenseless receiver.
Robert Senior, Sports Doc blog Editor
The winter is officially upon us. That will mean sleet and rain for some, snow and ice for others—but cold weather for all. It is important to know how cold weather affects one's health and well-being in order to avoid serious health consequences.
We are well aware that we must check on the sick and the elderly during the cold winter months to make sure they have safe and sufficient heating. Similarly, we know we must spare infants and children from exposure. These groups are known to be at high risk when the temperatures drop. Obvious activities, such as lifting heaving shovels of snow or pushing a stuck vehicle out of a snow bank are known to put a great deal of stress on the heart.
But did you know that even a beautiful walk through heavy, wet snow or a light winter jog may be threatening to one's health as well? Many exercise enthusiasts who continue to train outdoors during the winter season have been known experience "accidental hypothermia." Precautions must be taken to avoid this life-threatening condition.
By R. Robert Franks, D.O.
Last week doctors announced that Junior Seau, the former San Diego Chargers all-pro who took his own life in May, has joined the ever growing list of former NFL players with CTE. Before football ends for the season, there should be a discussion of CTE and its association with concussion.
CTE stands for Chronic Traumatic Encephalopathy. It is believed to be an environmentally caused form of dementia due to its link with head trauma and sports. CTE is a progressive and degenerative disease of the brain caused by repeated trauma to the brain. In the brain, concussive and sub-concussive blows to the head, leads to progressive degeneration of brain tissue and production of a protein called tau, which has been implicated as having a major role in CTE's presentation due to its accumulation in the brain tissue interfering with brain function.
These changes can occur several months to years even after the last hit to the brain. NFL players are not the only victims of this disease. It has been found in other athletes such as boxers, rugby players and professional wrestlers. Combat soldiers have also been diagnosed with CTE. Some notable athletes who have been diagnosed with CTE include former Eagle Andre Waters and the Pittsburgh Steelers Mike Webster as well as former New York Ranger Derek Boogaard.
Peter F. DeLuca, M.D., Rothman Institute, Head Team Physician - Eagles, Head Orthopedic Surgeon - Flyers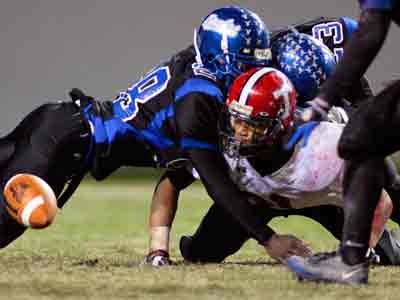 A recent Harris Poll indicated that the NFL's popularity is rising, at an all-time high—up 12 percent from just 10 years ago. The second most popular sport is college football. The interest is simply amazing- driven by the character of the game, the talent and hard work of the athletes, the dedication of coaches and the passion of the fans.
The NFL not only has a long-standing commitment to the health and well-being of its own players, but also to players active in collegiate, high school and youth programs. This commitment includes continuous enhancements to player safety rules, support of community outreach programs to provide health and safety resources to all athletes and their communities and support for legislation that protects young athletes.
Leaders base decisions on facts. The NFL actively supports independent and transparent research. Much of this focuses on the brain, sometimes called the last frontier of medicine and a public health issue that affects millions. This organization recently committed $30 million to the National Institutes of Health for research on the brain. The CBA has set aside an additional $100 million for similar medical research over the next decade. This research will advance our education and knowledge of injury patterns, pathology of injuries and provide treatment/prevention guidelines.