Knee Injuries
Timothy P. Amann, D.O.
Whether you are a competitive athlete, someone who exercises regularly to stay in shape or a couch potato, you will most likely have to deal with an injury that interrupts your routine at some point in your life.
Injury refers to the loss of function of a body part, such as a muscle strain, ligament sprain, tendonitis, or more serious issues like a fracture or ligament tear.
A lack of muscle strength, inflexibility, or imbalance can predispose you to injury. Injuries also occur as a result of overuse. The best ways to reduce the likelihood of injury are to stay fit, choose your activities wisely, utilize proper form, and participate in adequate warm-up, stretching, and cool-down sessions.
Julie Coté, PT, MPT, OCS, COMT, Magee Rehabilitation Hospital
After spending hours at the computer, you won yourself a Broad Street Bib. The big day is right around the corner. But how can you escape injury at the 34th annual race?
As a physical therapist at Magee Rehabilitation Hospital's Riverfront Outpatient Center, the three most common running injuries I see are hamstring strains, Achilles tendonitis and posterior tibial tendonitis, more commonly known as shin splints. The culprit behind these injuries varies from insufficient flexibility to overtraining to wearing the wrong type of footwear. But the good news is that all of these injuries are preventable. Here's what you can do to avoid post-Broad Street Run pain:
Taper your mileage. In the weeks leading up to Broad Street, taper your mileage so you don't race fatigued. In fact, you should plan to complete your longest training run two weeks before the big day.Running extra miles the week of the race will just leave you tired and more prone to injury.
Toss your old sneaks. Between one and two weeks before the race (so, TODAY) ditch your running shoes.Why? Because after 300 to 400 miles, they lose their shock absorbing properties needed for running. After that, they're fine for a walk in the park—but a 10 mile urban run? Not so much. Replacing them with some time before the race gives you an opportunity to break them in before the big day. Also, don't be shy about seeking professional advice on your purchase—if the shoe isn't appropriate for your foot type, you may have shin splints in your immediate future.
Beware of the herd. Broad Street is extremely crowded race day. If you find yourself in the wrong corral, you may be pushed at a pace too quick for you. Be wary of a lot of cutting-type movements while running, especially if you are not used to them. These aggressive maneuvers can make you more prone to injury.If you are in a corral that is a bit above your skill level, avoid the temptation to try to keep up—going out too fast not only strains your muscles, but can tire you out too early in the race.
Stretch, stretch and stretch some more. Runners are notorious for tight hamstrings. Running at a faster pace often makes us increase the length of our strides. This increased torque on a hamstring that is not flexible may make our hamstrings more prone to injury. Ideally, you should stretch your muscles when they are warm. Use the stadium area at the start to spend five minutes walking or light jogging. Then pay particular attention to stretching your hamstrings and calves.
Hamstrings: Prop one leg up on a bleacher or a curb, and lean forward at the hip until you feel a gentle pull on the back of your thigh. Keep your chest out so you do not mistakenly stretch your back more than your hamstrings.
Calves. Take the typical "runners stretch" position with one leg in front, one leg behind. Press your heel into ground in the back leg while bending the knee of the front leg until you feel a pull on the back of the calf. As an alternate, stand on a curb and drop both heels off, carefully. Stretch just to the point where you feel a pull but can comfortably hold it for at least 30 to 60 seconds. Repeat three times.
If you follow these steps, you will significantly reduce your risk of injury during the Broad Street Run. Go out there and have a great time – enjoy the race, while celebrating your health and the spirit of our great city!
---
Julie Coté, PT, MPT, OCS, COMT, Magee Rehabilitation Hospital
From seven-figure professional athletes to weekend warriors, knees are one of those things that have given every active person trouble at one time or another. Sometimes knee pain can be a sign of something bigger: a meniscal tear. These are especially common in people who play football and basketball, or other sports where players do a lot of pivoting, cutting, decelerating or twisting the knee. Meniscal tears with arthritis are also very common in those over 40, and can often be the result of wear and tear.
What's the best option for treatment? While some more minor tears can be healed with the ever popular RICE method (rest, ice, compression and elevation) and anti-inflammatory medication, more serious tears have traditionally required surgery. But a new study has found that physical therapy may be just as good for treating these tears as going under the knife.
A recent study published in the New England Journal of Medicine randomly assigned patients with knee pain from arthritis and meniscal tears to be treated with surgery or physical therapy. Guess what they found? When they were assessed six and 12 months later, both groups showed the same amount of improvement in movement and pain reduction. In other words, physical therapy was just as effective as surgery for people with this type of injury.
Justin Shaginaw and Arthur Bartolozzi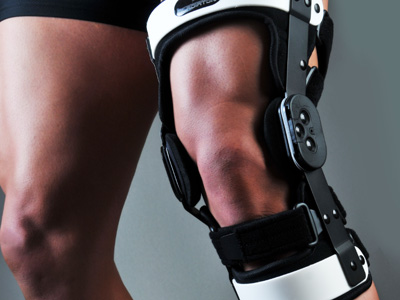 We all have heard someone talk about their 'trick knee' they hurt in high school football, or the stories of players losing their college scholarship due to a knee injury. So how does Adrian Peterson return in less than a year and just miss the NFL rushing record? Let's look back and see how we've gotten from there to here—from career-ending setbacks to near-record setting comebacks.

An online search reveals little specifics when looking for career ending knee injuries. This may be because the injury kept players from ever having a recognizable career. Joe Namath was one of a few players to have a successful career in early days of ACL injuries. Namath had a brace made especially for him that allowed him to continue to play without surgery. Back then, surgery was almost always career ending due to the procedure itself and the poor rehabilitation afterwards.
It wasn't until the 1970s when Temple physician Dr. Joe Torg first discussed the Lachman's test for assessing an ACL injury. In the 1980s the MRI helped us to diagnose an ACL tear. Around this same time, arthroscopy was first used for knee injuries. Since then there has been an evolution in both the surgery itself and the subsequent rehabilitation.

Surgery has gone from using a button outside the skin as an anchor for the ACL graft to bioabsorbable screws for anatomical reconstruction. Rehabilitation has also progressed from being casted for 6 weeks to riding a stationary bike the next day following surgery. These advances in surgery and rehab are what allow exceptional athletes the opportunity to return to same level of play in such a short period of time.
But players like Adrian Peterson are the exception and not the norm. In reality it takes a year or more to fully recover from ACL surgery. And even Peterson has not fully recovered as evidenced by some physical measurements and teammates' reports. Now when players suffer career ending injuries it is not solely due to the ACL, but multiple ligament injuries or articular cartilage damage.
Robert Senior, Sports Doc blog Editor
After months of speculation littered with countless doctor's visits, setbacks (and hairstyles), the Sixers confirmed this week what we've all suspected—Andrew Bynum's 2012-13 season is over before it even started.
How could this have happened? How could the franchise invest so many resources into a player with one year on his contract, only to have him never step on the court? Dr. Arthur Barotlozzi, MD says that with cartilage injuries, you just never know.
"Cartilage is the holy grail of sports medicine," he summarizes. "Once we figure it out, we'll be able to solve everything."
Alfred Atanda, Jr., M.D., Nemours/Alfred I. duPont Hospital for Children.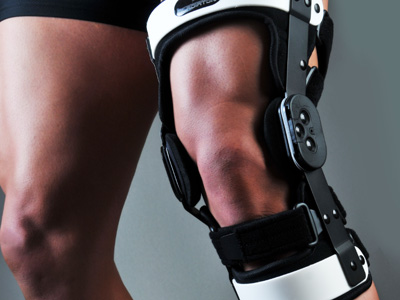 With the 40th anniversary of Title IX upon us, our nation has seen huge advancements in striving for equality for women in the realm of sports and athletics. With this increase in sports participation, however, we have seen an increase in sports-related injuries in female athletes.
Specifically, in the last decade research has shown that females are now 8-10 times more likely to sustain an ACL tear compared to males playing similar sports. There are many factors that contribute to this gender-based discrepancy such as differences in ACL anatomy, neuromuscular control, limb alignment and hormones.
ACL tears are no longer career-ending injuries the way they once were back a few decades ago, however, it can still take around 6-9 months to return to play even with modern reconstructive techniques. This raises many concerns for people, specifically parents of pediatric and adolescent female athletes. The main question most parents have for me as a sports surgeon is what can be done to prevent such a devastating injury from happening in the first place. If we look at all the risk factors, it becomes apparent that a lot of the risk is inherent to the athlete's body and can't be altered.
By David Rubenstein, M.D.
Why are some cartilage injuries of the knee easily repairable while others are not? In order to answer that question, we have to start by understanding what type of cartilage lives in the knee. There are actually two different cartilage structures in the knee. The first is articular cartilage (the joint surface) and the second is the meniscus (the cushion between the bone.)
Articular cartilage is the slippery structure that covers the ends of bones in all the joints in the body, allowing them to move smoothly. And it's good at what it does… in fact, articular cartilage is 100 times more slippery than ice sliding over ice!
The meniscus on the other hand is a C-shaped structure in the knee, which acts as a shock absorber. There are actually two menisci in each knee, one on the inner side of the knee and the other on the outer side. The meniscus is not attached to bone like articular cartilage, but rather it sits in the knee between the thigh bone and the shin bone. Whether walking, running, or jumping, the meniscus absorbs and evenly distributes forces throughout knee.