Kevin Miller
Kevin Miller, strength and conditioning coach for the Philadelphia Union soccer team takes your fitness questions from 1pm to 2pm on October 22, 2013.
On a mobile device? Click here to join the chat.
Kevin Miller, Fitness Coach, Philadelphia Union
Athletes know that in order to play at their highest level they need to focus on nutrition, strength training, speed, skill, and staying healthy. An often overlooked part of an athlete's ability to play at their peak level is sleep quality. About a month ago I was working with a female athlete and I could tell right away that something was not right. I asked her what time she went to sleep the night before and she replied "3 a.m., that is about the time I go to sleep every night." Keep in mind, the workout we were doing was at 9 a.m. the next day. So, at best, she got 5 to 5 ½ hours of sleep the night before.
Let me start by asking a few questions:
Are you able to wake up every morning without an alarm clock?
Do you get outside every day for at least 30 minutes?
Do you feel more alert in the evening in comparison to how you feel in the morning?
Athletes and weekend warriors are spending millions of dollars every year on supplements to improve their performance to gain the competitive edge that they are looking for. As a coach I support the use of some approved supplements; however, one of the best things you can do for your health and performance is free and most of us don't take advantage of it.
Kevin Miller, Fitness Coach, Philadelphia Union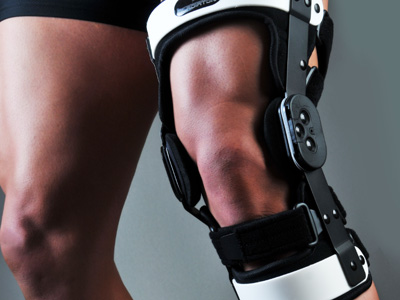 Have you ever suffered a serious knee injury? If so, what steps are you currently taking to ensure that you reduce your chances of hurting that same knee again? The unfortunate part of training and competing in sports is that injuries are a part of the game. Even athletes with the best training programs suffer season- ending injuries.
A hot topic over the past few years has been knee injuries and in particular ACL injuries. This year alone it's estimated that 100,000 people will suffer an ACL tear with 30,000 of these people being high school athletes. We often hear how females are six to eight times more likely to suffer an ACL injury when compared to male athletes. Having worked with several high school female athletes, I definitely agree that they are at a higher risk due to their lack of stability as well as their overall strength when compared to male athletes. However, I think everyone should make it a point to implement their own program to ensure that they REDUCE their chances of suffering a knee injury.
I stress the word reduce because often times coaches and trainers tell players that they need to implement an ACL prevention program. Personally I don't like to use that phrase because unfortunately there is no way that you can prevent an injury but you can greatly reduce the chances of suffering a season ending ACL injury with a solid training program. I believe Coach Mike Boyle said it best when he said that ACL reduction is simply "good training". By this what I believe he meant was that a solid year round program is the best medicine for reducing your chances of injury.
Kevin Miller, Fitness Coach, Philadelphia Union
I recently gave a survey to clients that I have trained in the past asking them, "What are some of the biggest challenges you face when it comes to sticking to a training plan?"
The number one reason why people fail to stick to a plan, according to this survey, was their inability to find the time to exercise.
After reviewing the results I can't say that I was surprised. Our lives are busy. Between parenthood, work, school, social obligations as well as the stressors of daily life it can be difficult to find the time to fit in training.
Kevin Miller, Fitness Coach, Philadelphia Union
If you were to ask most people what are some of the key factors that determine whether or not their body will respond to their particular type of training, you will often get several answers. The majority of individuals would we say that you need to focus on the following:
Strength training
Mobility
Flexibility
Aerobic training
Nutrition
High intensity intervals
Supplements
I am sure we could add a few more items to the list above, but you get my point. I agree that the items that are mentioned above do play a pivotal role in your training as well as your ability to improve your health and transform your body.
However, one of the key areas that is often overlooked by most athletes as well as people looking for peak health is RECOVERY. Over the past couple of years there has been a greater emphasis among coaches to find the best recovery techniques for their athletes. For years athletes have implemented recovery techniques like cold plunges or contrast baths. Runners as well as multisport athletes have reaped the benefits of receiving post workout massages by skilled therapists.
Kevin Miller, Fitness Coach, Philadelphia Union
When it comes to your training you should always be looking to finds ways to improve. Many of us who train have a tendency to get stuck in the same old routine. We do the same exercises day in and day out and wonder why we stop seeing results. This week I want to share with you TEN WAYS that you can improve your training.
1. GET TO SLEEP BY 10:30
When I ask most people when they fall asleep, the majority of people respond by telling me they are unable to fall asleep before midnight. It's very common for people to tell me that they are unable to fall asleep before 2 a.m. This is a growing problem for a lot of people today. Research has shown that when we sleep our body begins the process of repairing itself. If we are unable to get an adequate night's sleep how can we expect to feel alert and energize for the next day?
Kevin Miller, Fitness Coach, Philadelphia Union
Each year the number of female athletes who are participating in high school sports appears to be growing. With sports like soccer, basketball, field hockey, crew, lacrosse, track and softball, athletes are now given the chance to play their sport almost year round.
For the past several years I have had the privilege of working with several female athletes and I think this trend towards females playing more sports is fantastic. However, one trend that I have seen with high school female athletes is the increase risk of injury. It's very common for me to speak to a parent and have them tell me that their daughter has suffered one of the following injuries:
Torn ACL
Multiple stress fractures
Torn rotator cuff
Plantar fasciitis
Hip/low back pain
The list above is just some of the more common injuries that I see with females. The truth is there is no way to prevent an injury. Injuries are a part of the game. However, I do believe that if athletes are trained properly they can greatly reduce their chance of injury. If you are a parent of a female athlete one question that I think you should ask yourself is "What steps can I take in order to reduce the chance of injury for my daughter."
Kevin Miller, Fitness Coach, Philadelphia Union
A topic that has been debated over the years by both coaches and athletes is whether or not field and court athletes need to develop an aerobic base for their particular sport. When most people think of aerobic training, the first thing that comes to their mind is long slow distance (LSD) running. The majority of field and court athletes that I have worked with despise this type of training (unless you have a cross country runner that also happens to play field hockey.)
For most coaches and athletes this means running 4-6 miles at a slow pace. They believe that if they train slow, they will be slow. On one hand I understand exactly what they mean. On the flip side, after reading Ultimate MMA Conditioning by Joel Jamieson I developed a deeper understating of energy system training and in particular cardiac output training.
You may be saying to yourself "I am a sprinter, why would I need to increase my cardiac output? All I need to do is sprint for 6-8 seconds, rest and then repeat it again 30-90 seconds later." The reality is your cardiac system is the "power plant of aerobic energy production" (Ultimate MMA Conditioning-Jamieson). The cardiac output method is a method that will improve the amount of blood that your heart can pump for each beat. As a field or court athlete this is critical to your ability to perform repeat sprints as well as have the endurance to play an entire game.