Children, Teens
Joel H. Fish, Ph.D., Director - The Center For Sport Psychology in Phila., Sports Psychology Consultant - 76ers & Flyers
For many parents, the Spring sports seasons for their children are either in full swing or winding down. For youth sport participants, ages 6 to 18, this can be the time of year for great joy or disappointment.
As sports parents, how can we best help our children to navigate the highs and lows of sports? It was with this in mind that I wrote 101 Ways To Be A Terrific Sports Parent.
Sports competition in 2013 is different than it was 10, 20, or 30 years ago. Today's youth sports landscape is a 'good news/bad news' scenario. On the one hand, there are approximately 40 million children involved in organized youth sports in America, more than ever before. On the other hand, approximately 30% of kids age 13 to 17 are dropping out of youth sports, primarily because they are not having fun.
David Berkson, MD, Drexel Sports Medicine, Asst. Team Physician - Drexel University
Last week the annual conference of the American Medical Society for Sports Medicine (AMSSM) was held in San Diego. This is the largest Primary Care Sports Medicine conference in the United States, with over 1,400 attendees.
The AMSSM attracts the leading experts from around the world to present on the latest research and recommendations on a variety of topics. Two of the highlighted topics this year were screening for sudden cardiac death and concussions.
Numerous cardiac abnormalities can cause a potentially fatal issue for athletes. The difficulty is in identifying these abnormalities before the event happens. Many of these conditions show no signs or symptoms for the patient. Recently a conference was held in Seattle looking at how some of these ailments may be identified by performing an EKG on the athlete during their pre-participation physical exam.
R. Robert Franks, D.O., Rothman Institute, Team Physician - USA Wrestling, Consultant - Philadelphia Phillies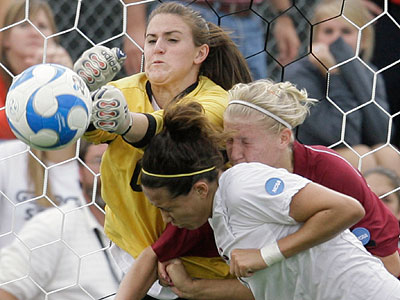 Women have been increasing in numbers in participation in all of sport. Women's soccer, basketball, lacrosse and many other contact sports are seeing increasing number of participants of all ages. When looking at data comparing male versus female concussion injury rates in sports where both sexes play the same sport, females clearly predominate.
In line with this rise in participation, many more pre-adolescent and adolescent athletes have been participating more in the sport of competitive cheerleading—an activity that has become more akin to gymnastics than traditional cheerleading. Injuries in this sport are demonstrating some of the susceptibility of women to concussion as there is a bigger pool of women competing in this sport than are men, demonstrating definitively higher concussive injury rates.
We do not know why women are more susceptible to concussion than men. Just like the frequency of a greater amount of ACL injuries in women as compared to men, we believe the reason is probably multi-factorial. There are many theories for this susceptibility.
One anatomical reason may be differing of the musculature in the cervical spine between men and women with the neck muscles being usually less developed in women than men. The head is also usually smaller in women than in men.
The second may be due to the hormonal cycle and a potential effect on female athletes with concussion.
The third may be due to differences in core strength between men and women. For now, we are not sure of the exact mechanism and investigations are currently taking place to answer these questions.
Timothy Duer
As pediatric sports therapists, we have to wear many hats during an athlete's rehabilitation. We play the part of clinician, coach, cheerleader, and counselor within every session, while maintaining the ability to shift into being a drill sergeant when necessary. If we slip too deeply into any of these roles, we risk losing either our credibility or the connection that we need to have with our patient to keep him or her motivated through a challenging time. We need our patient to follow the medical plan of care that we have developed, but really need them to "buy in" rather than just follow blindly.
One of the most important things I've learned as a physical therapist is not a treatment technique or evaluation skill. It is the simple realization that my patients really don't want to see me. I don't take this personally. When an athlete comes in to our clinic to see a physical therapist or athletic trainer, it really is the last place they want to be. They've recently been diagnosed with an injury of some sort, and in many cases, have been told they need to take a break from the sport that they love.
Therefore, in order to get them to follow the physical therapy plan that is necessary for them to recover; I'm digging myself out of a pretty deep hole right from the start.
Robert Franks, D.O.
When we discuss athletes who have been concussed, much of the discussion often concerns when they will return to play. However, when we discuss student athletes who have been concussed, parents often ask 'when can they return to school and academics?'
There has been much published this season concerning NFL players in that the first step in treatment of any concussed athlete is complete mental and physical rest. For a student-athlete, that usually includes keeping them home from school initially when they are severely symptomatic and not allowing them to begin academics again until there is a decrease in symptoms and improvement in neurocognitive testing.
How to best return a student-athlete to school has been a work in progress with many theories being put forth but no consensus among physicians. While this is not a complete list of recommendations, these are often the most common accommodations suggested.
Michael Ciccotti, M.D.
Though snow covers the ground and temperatures dip below freezing, make no mistake—spring and baseball are just around the corner! It behooves any committed ballplayer, young and old alike, to begin the appropriate preseason conditioning.
This requires much more than just picking up a ball and letting it fly. Even though every one of us has at one time or another thrown a ball, it actually is an extremely complex activity that requires that the entire body be in tip-top shape. Studies have suggested that a well-focused, balanced whole body preseason program can enhance performance and help avoid injuries. This program includes several basic principles:
Flexibility– minimum of 3 times/week.
Strengthening– 3 times/week in coordination with flexibility training.
Aerobic Training– can be done on the same or on alternate days with flexibility and strengthening.
Sport-specific Activities– throwing, Hitting, Base Running, and Situational Training are performed on non-strengthening days.
So what's the template? How do you appropriately and safely apply those principles? Here are some tips:
Alfred Atanda, M.D.
Editor's Note: It's hard to believe, but we're less than a month from the start of the spring sports season. This week, our Sports Doc panelists take a look at the best ways to prepare for each spring sport, starting today with Dr. Alfred Atanda, M.D., discussing the upcoming track and field season.
A lot of people think that track and field is a sport that is solely based on God-given speed, endurance, and strength. When compared to seemingly more complex sports such as baseball, football and basketball with all of their equipment, play books, and extensive rules; track and field can seem quite basic and simple.
However, it is exactly the opposite. Whether you compete in the 110M hurdles, the 3000M steeplechase, the javelin or the long jump; there is a tremendous amount of skill, preparation, dedication, and inner drive that are required to not only be successful, but to remain injury-free as well.
Michael G. Ciccotti, M.D
Sports seem to saturate our lives. In fact, it's hard to go through a day without reading, hearing or seeing something about sports. The enthusiasm for sports certainly has no age limit. Studies show that there are over 45 million young athletes in the United States participating in a broad range of sports activities.
Yet with this increased participation comes increased risk. Statistics from the Center for Disease Control (CDC) indicate that sports or athletics are the leading cause of adolescent injuries in this country. High school athletes in the U.S. account for approximately 2 million sports injuries/year, and 3.5 million children under age 14 receive medical treatment each year for sports injuries. What's the reason for this alarmingly high rate of injury? Is it too much, too fast, too soon? Recent data suggests a variety of factors including:
Improper technique
Inappropriately fitting equipment
Training errors
Coach/Parental/Peer pressure
Failure to recognize developing injuries
Emergence of "Sports Specialization" at an early age
Inherent musculoskeletal imbalance in the growing athlete
Having recognized this apparent epidemic of sports-related injury in youth, the American Orthopaedic Society for Sports Medicine (AOSSM), a world leader in sports medicine research and education, has initiated the STOP Sports Injury Campaign. The purposes of this program are to:
Raise public awareness concerning youth sports injuries
Mobilize the sports physician membership of the AOSSM
Provide educational materials for parents, coaches, and youth athletes
Promote research on youth sports injury prevention & treatment
Establish a National Resource Center for youth sports injury prevention
And most importantly, to reduce the incidence of youth sports injuries