Women
Robert Senior, Sports Doc blog Editor
A day filled with excitement and drama at the Sochi Olympics was marred by news Saturday morning of Russian freestyle skier Maria Komissarova's serious injury.
Komissarova sustained a broken back by dislocating her vertebra during a practice session on the freestyle course. She was taken immediately to emergency surgery, where doctors worked for 6.5 hours to stabilize her condition.
A spokesman for the Freestyle Federation of Russia confirmed through a translator that the injury was "a fracture dislocation" and that Russian President Vladimir Putin had been to see Ms. Komissarova.
David Berkson, MD, Drexel Sports Medicine, Asst. Team Physician - Drexel University
High blood pressure, or hypertension, is one of the most common medical problems—affecting about one quarter of all Americans. It is also the most common cardiovascular condition in competitive athletes.
Blood pressure can be thought of as looking at the stress on the heart. The top number is known as the systolic pressure and measures the stress when the heart is actively beating. The bottom number is called the diastolic pressure which measures the stress when the heart is at rest, between beats. The greater the stress on the heart, the greater the risk of strokes, heart attacks, and heart failure.
In adults, normal blood pressure is less than 120/80. Blood pressure between 120-139/80-89 is considered pre-hypertension, which puts someone at an increased risk of developing hypertension in their future. Stage 1 hypertension is when the blood pressure is between 140-159/90-99. Stage 2 is over 160/100, which puts you at a 150-300% increased risk of having a stroke, heart attack, or heart failure.
Robert Senior, Sports Doc blog Editor
So what did you get for your last birthday?
This Sunday, Elizabeth Proffitt of Birdsboro will travel to Des Moines, Ia. to accomplish the feat of running at least one marathon in all 50 states. What's more, Proffitt will do so just months before her 50th birthday early next year.
That's right—it's 50 in 50 by 50.
Robert Senior, Sports Doc blog Editor
Just in time for the new software update, Women's Health has launched a new fitness App—the 28-Day Fat Blaster (compatible with iPad, iTouch and the iPhone) to help users literally shake up their fitness routines.
The App, which can be downloaded from iTunes for $2.99, offers three different training modes to help users burn fat—power, strength, and endurance.
After choosing your approach, a user simply shakes the device and is presented with five random workouts designed to target that area of fitness. For example, after choosing "endurance" the App produced a workout that included lunges, dumbbell presses, alternating dumbbell lunges, single-arm rows, and finally a set of jumping jacks. All of these exercising are designed, obviously, to burn fat while improving stamina. Choosing one of the other two categories targets your fitness in power or strength.
Robert Senior, Sports Doc blog Editor
The reality television era has become a celebration of our short attention spans — stars of these shows appear on our televisions for weeks, maybe months at a time. Some go onto become international superstars, while others — the majority, to be honest, fade back into oblivion.
Former reality show contestant Rebecca Meyer of Des Moines, Ia., is determined to forge a different path for herself. She's used her own reality TV stint to change her entire lifestyle — and hopefully motivate others in the process.
Five years ago, 24 year-old Rebecca weighed over 300 pounds. This weekend, she'll come to Philadelphia to run the Pennsylvania leg of her "50 in 50 by 30" challenge — her own personal mission to run 50 different races in 50 different states before she turns 30 on March 15 of next year.
Kevin Miller, Fitness Coach, Philadelphia Union
Each year the number of female athletes who are participating in high school sports appears to be growing. With sports like soccer, basketball, field hockey, crew, lacrosse, track and softball, athletes are now given the chance to play their sport almost year round.
For the past several years I have had the privilege of working with several female athletes and I think this trend towards females playing more sports is fantastic. However, one trend that I have seen with high school female athletes is the increase risk of injury. It's very common for me to speak to a parent and have them tell me that their daughter has suffered one of the following injuries:
Torn ACL
Multiple stress fractures
Torn rotator cuff
Plantar fasciitis
Hip/low back pain
The list above is just some of the more common injuries that I see with females. The truth is there is no way to prevent an injury. Injuries are a part of the game. However, I do believe that if athletes are trained properly they can greatly reduce their chance of injury. If you are a parent of a female athlete one question that I think you should ask yourself is "What steps can I take in order to reduce the chance of injury for my daughter."
Alfred Atanda, Jr., M.D., Nemours/Alfred I. duPont Hospital for Children.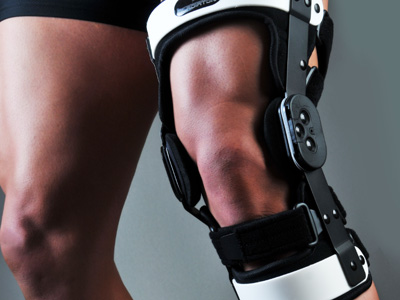 With the 40th anniversary of Title IX upon us, our nation has seen huge advancements in striving for equality for women in the realm of sports and athletics. With this increase in sports participation, however, we have seen an increase in sports-related injuries in female athletes.
Specifically, in the last decade research has shown that females are now 8-10 times more likely to sustain an ACL tear compared to males playing similar sports. There are many factors that contribute to this gender-based discrepancy such as differences in ACL anatomy, neuromuscular control, limb alignment and hormones.
ACL tears are no longer career-ending injuries the way they once were back a few decades ago, however, it can still take around 6-9 months to return to play even with modern reconstructive techniques. This raises many concerns for people, specifically parents of pediatric and adolescent female athletes. The main question most parents have for me as a sports surgeon is what can be done to prevent such a devastating injury from happening in the first place. If we look at all the risk factors, it becomes apparent that a lot of the risk is inherent to the athlete's body and can't be altered.
David Berkson, MD, Drexel Sports Medicine, Asst. Team Physician - Drexel University
Women face different challenges than men when it comes to exercise. One of the big concerns for women is energy balance–getting the appropriate amount of nutrients needed to fuel exercise needs. Women, and especially young women, need the right amount of energy available to not only compensate for the energy spent exercising, but also promote good bone health and development.
A negative energy balance, defined as using up more energy than you are taking in, can result in a host of problems for women—specifically bone loss and fractures. So how do you know if you're taking in enough nutrients or at risk for bone problems?
One of the signs of inadequate nutrition in exercising women is the loss of their menstrual cycle. Estrogen is one of the hormones responsible for menstruation. It also helps prevent or decrease the resorption of bone–the body's way of breaking down bone and causing bone loss. The body needs appropriate nutrition to promote the normal secretion of estrogen. When more energy is spent than taken in, less estrogen is made.