Soccer
Courtney Gordner
No matter how you are involved in athletics, you need to know the dangers that accompany your sport. This Strained Sports infographic will help you digest the mountain of statistics and help you better understand how the injuries stack up against each other from sport to sport.
Purpose
With the hope of informing, this graphic has the purpose of raising awareness of sports injuries, whether they are minor ankle problems or fatal brain injuries. Because the potential dangers aren't always at the forefront of discussions, learning about the more serious side of sports will allow you to make an educated decision about participating. Additionally, this infographic can serve as a guide to understand what sort of injuries to watch for by sport.
Robert Senior, Sports Doc blog Editor
From serious matters like concussions and performance enhancing drugs, to inspiring stories of athletes overcoming the odds, we've enjoyed covering the sports and fitness scene in and around Philadelphia in 2013.
What do you hope to see on Sports Doc in 2014?
---
Read more Sports Doc for Sports Medicine and Fitness.
Kevin Miller, Fitness Coach, Philadelphia Union
With the holiday season upon us many people are going to indulge in foods that we know may add a few extra pounds to our waistline. The holidays are about family, friends and food. Most people will tell themselves that they will start their training program AFTER the holidays.
I love to eat around the holidays and I think you should enjoy every appetizer, meal and pie that is served during the holidays. With all of this extra food it's hard to maintain your weight. Today I am going to share with you one tip that I believe can help you enjoy a second serving of turkey with some apple pie without having to break out a pair of sweatpants(although a pair of Philadelphia Union sweatpants would be a good idea for dinner).
The tip for today is how to make a healthy and delicious smoothie.
Robert Senior, Sports Doc blog Editor
Friday's World Cup 2014 draw was wildly panned by fans of the United States Men's National Soccer Team (USMNT), as the team was selected into the foreboding "Group of Death" alongside Ghana, Portugal and Germany for June's world championships in Brazil.
The matchups alone are enough to give fans apprehension—Ghana, the nation that's eliminated the USMNT from the last two World Cups, alongside perennial powerhouse Germany and Portugal, who feature one of the world's best in Cristiano Ronaldo. But the conditions in which the USMNT will play their games offers equal cause for concern.
Over the course of 12 days, the team will travel over 9,000 miles for their three games—more than any other World Cup squad. What's more, the second of the three games—against Portugal—will be played in Manaus, in the heart of the Amazon rainforest.
Robert Senior, Sports Doc blog Editor
Jeff Parke worked for a lifetime to become a professional soccer player. It wasn't until he'd reached that goal and spent a few years in Major League Soccer (MLS) that he realized just how much it meant to him.
"I can remember the day it happened," says Parke. "I was still playing in New York, going through some different injuries. We were out to dinner with my girlfriend's [now Parke's wife] brother, and we just started talking about different foods and some of my habits. It kind of dawned on me what I'd need to do to take my career to the next level."
This was back in 2008, when Parke was 26 and single. Now 31, Parke is married with a young daughter and another child on the way. He is back home playing defense for the Philadelphia Union (he was born in Abington and played collegiately at Drexel.) It's his first year with the Union, but his 10th season in MLS. He attributes his longevity to the changes he made after that fateful conversation.
Kevin Miller, strength and conditioning coach for the Philadelphia Union soccer team takes your fitness questions from 1pm to 2pm on October 22, 2013.
On a mobile device? Click here to join the chat.
Justin Shaginaw, MPT, ATC, Aria 3B Orthopaedic Institute, Athletic Trainer - US Soccer Federation
Whenever I see a patient with an ACL tear, they always want to blame something or someone for their injury. The biggest culprit in the blame game seems to be turf fields.
If you're old enough you might remember the original AstroTurf, and by all means plenty of blame can be placed on it for athletic injuries. But now we have new 3rd and 4th generation turf fields that are much more similar to natural grass. They are used in the NFL, MLB, MLS, and even international soccer matches are being played on them. People still love to blame turf for their injuries. But are there any facts behind these assumptions that more injuries occur on turf than grass?
Research has shown that as the coefficient of friction increases there is an increase in the rate of lower extremity injuries. This means that the more traction you get on the field or court, the higher the risk of injury. The common thought is that turf has more traction than grass and therefore we will see more injuries on turf.
Kevin Miller, Fitness Coach, Philadelphia Union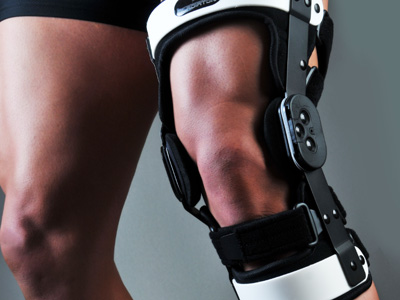 Have you ever suffered a serious knee injury? If so, what steps are you currently taking to ensure that you reduce your chances of hurting that same knee again? The unfortunate part of training and competing in sports is that injuries are a part of the game. Even athletes with the best training programs suffer season- ending injuries.
A hot topic over the past few years has been knee injuries and in particular ACL injuries. This year alone it's estimated that 100,000 people will suffer an ACL tear with 30,000 of these people being high school athletes. We often hear how females are six to eight times more likely to suffer an ACL injury when compared to male athletes. Having worked with several high school female athletes, I definitely agree that they are at a higher risk due to their lack of stability as well as their overall strength when compared to male athletes. However, I think everyone should make it a point to implement their own program to ensure that they REDUCE their chances of suffering a knee injury.
I stress the word reduce because often times coaches and trainers tell players that they need to implement an ACL prevention program. Personally I don't like to use that phrase because unfortunately there is no way that you can prevent an injury but you can greatly reduce the chances of suffering a season ending ACL injury with a solid training program. I believe Coach Mike Boyle said it best when he said that ACL reduction is simply "good training". By this what I believe he meant was that a solid year round program is the best medicine for reducing your chances of injury.