Rock 'n' Roll Half Marathon
Robert Senior, Sports Doc blog Editor
One runner in Sunday's Rock 'n' Roll Half-Marathon wasn't concerned with getting off to a fast start. In fact, she'd agreed to start slower than anyone.
As part of Transamerica's Tomorrow Makers program, the designated "Tomorrow Chaser" in yesterday's Rock 'n' Roll Half-Marathon waited in the corrals until every single participant had left the opening gates before beginning her run. For every runner she would eventually pass by the end of the race, she would earn $1 toward a charity of Transamerica's choosing.
For a challenge this steep, however, Transamerica wasn't about to recruit any person just jogging around the neighborhood. They went out and recruited accomplished runners—athletes like Leslee Hoey, a former Penn State University track and cross-country standout. In other words, they wanted someone who could raise some serious money.
Amanda Baker
It's official: Stanley Biwott, the winner of last year's Rock 'n' Roll Half Marathon in Philadelphia, is also this year's top male finisher.
Biwott's official time of 59:36 means he ran the fastest half marathon on U.S. soil this year and now holds the second fastest time in the half marathon's 36-year history.. He beat the second-place runner, Cybrian Kotut, (who is also his training partner) by 23 seconds.
"It was easier this time, being familiar with the course," Biwott told Sports Doc's Rob Senior after his victory. "I will be back to try to win a 3rd in a row, if I'm invited."
Robert Senior, Sports Doc blog Editor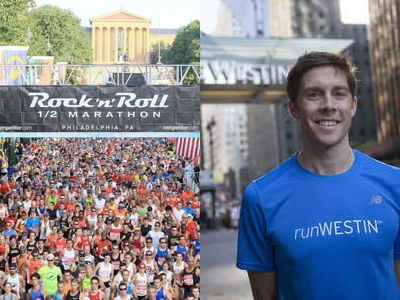 At today's Rock 'n' Roll Marathon, local product Chris Heuisler will make his debut as the official RunWestin Running Concierge for the Rock 'n' Roll Half-Marathon. The position was offered through the event's partnership with Westin Hotels and Resorts.
Heuisler, who was chosen from a field of over 1,000 applicants, currently lives in Boston but was born and raised in Bala Cynwyd. Heuisler was selected due to his exemplary running qualifications, which include completing 25 full marathons in 20 different states. But just as important were his charisma tireless passion for running.
"It's like a dream come true, the idea of doing this for a job," Heuisler said. "In a nutshell, my job is to be the on-site running expert for the guests here on race weekends."
Brian Ferrie
Sports Doc readers, my name is Brian Ferrie. I'm 37 years old, grew up in Cheltenham and now live in King of Prussia. Tomorrow I'll run the Philadelphia Rock 'n' Roll Half Marathon, my first-ever attempt to race 13.1 miles.
I'm far from a novice runner. I started running on my own when I was 13, did four years of cross-country in high school, and have never really let myself fall out of decent running shape since then.
Here's the catch. When I was about 20, I experienced my first bout with iliotibial (IT) band tendonitis in my right knee, and it has greatly impacted how I train and race ever since. For those who aren't familiar, IT band tendonitis tends to start as a dull ache on the side of the knee when running, and worsen as running is continued. In my case, the pain became so severe it basically took all the fun out of running.
Robert Senior, Sports Doc blog Editor
With the Rock & Roll Half-Marathon starting at 8 a.m. Sunday morning followed by the Eagles' home opener at 1 p.m., Sunday promises to be a busy day on Philadelphia roadways.
The Half-Marathon will bring over 22,000 runners to the streets of Philadelphia, winding through the Art Museum area, historical downtown Philadelphia and along the Schuylkill River.
Road closures for the Half-Marathon will take effect around 7:30 a.m., with police implementing "soft" closures throughout the entire course. As participants begin to traverse the course, each affected road will re-open as the last participants complete their run on a particular street. Listed are some of the major closures. For a complete list, click here (PDF).
Robert Senior, Sports Doc blog Editor
The reality television era has become a celebration of our short attention spans — stars of these shows appear on our televisions for weeks, maybe months at a time. Some go onto become international superstars, while others — the majority, to be honest, fade back into oblivion.
Former reality show contestant Rebecca Meyer of Des Moines, Ia., is determined to forge a different path for herself. She's used her own reality TV stint to change her entire lifestyle — and hopefully motivate others in the process.
Five years ago, 24 year-old Rebecca weighed over 300 pounds. This weekend, she'll come to Philadelphia to run the Pennsylvania leg of her "50 in 50 by 30" challenge — her own personal mission to run 50 different races in 50 different states before she turns 30 on March 15 of next year.
Robert Senior, Sports Doc blog Editor
Marathon season in Philadelphia starts next Sunday, September 15, when over 22,000 runners plan to take part in the Philadelphia Rock 'n' Roll Half-Marathon.
The race, which officially sold out on Wednesday, kicks off at 8 a.m. sharp that morning. But the half-marathon is a weekend-long event that celebrates a Philadelphia tradition dating back to the 1970s.
"It started in 1978 as the Philadelphia Distance Run, and became the Rock 'n' Roll Half-Marathon in 2010," explains Adam Zocks, vice-president and general manager for the event.