Robert Cabry
Robert Cabry, M.D., Drexel Sports Medicine, Team physician - U.S. Figure Skating, Assoc. Team Physician - Drexel
Now that the Olympics have ended, many of us want to get back on the skis or give snowboarding a try. Going for a ski weekend in the Poconos is one thing, but that trip to Breckenridge is another.
Certainly the slopes are more challenging out west, but many forget the altitude. High altitude can be a real problem for us Philly folks living at sea level. The low oxygen levels that you breathe at high altitudes can cause health problems, and even the physically fit Olympian must take caution.
Acute mountain sickness (AMS) is an illness that is caused by low air pressure and low oxygen levels at high altitudes (above 8000 feet). In most cases the symptoms are mild and feel like a hangover. Headache, nausea and fatigue are most common, but additional symptoms include dizziness, loss of appetite, rapid heart rate and shortness of breath. Mild AMS is not life-threatening, but can be a warning sign of a more serious problem to come. AMS can lead to lung or brain swelling that quickly can become fatal. The good news is most people only suffer the mild symptoms of AMS.
Robert Cabry, M.D., Drexel Sports Medicine, Team physician - U.S. Figure Skating, Assoc. Team Physician - Drexel
Winter is upon us. It's been cold, so the snow and slopes are ready. The skiers and snowboarders are out and having fun. But the season is just getting started, so if you want to enjoy it until spring, then be smart and be prepared.
If you've decided to give snowboarding a try, keep in mind that more than half of all snowboarding injuries occur in the beginner, especially their first time out. When you snowboard, your feet are fixed into non-release snowboard bindings and the board is narrow, so falls are going to happen, especially for the novice.
The majority of snowboarding injuries involve the upper extremity and ankle, but serious injuries are rare. The most common injury occurs to the wrist. This is because as the boarder loses balance, he or she falls on an outstretched hand. This leads to sprains and even fractures. A better way to fall would be to land on the elbows; they can take more impact than the wrist and hand.
Robert Cabry, M.D., Drexel Sports Medicine, Team physician - U.S. Figure Skating, Assoc. Team Physician - Drexel
I recently returned from Beijing, China where I served as the team physician for our US figure skating team.
The skaters competed in the Cup of China. I have been involved with Team USA for several years and what I have learned is their dedication to the sport is truly remarkable. These skaters start at a very young age, and to be competitive they give up much of their youth. With up to 6 hours per day of training, many are home schooled and their families can pay up to $40,000 per year for training.
But only a small percentage will make it to Team USA and an even smaller percentage will win a medal. During the Cup of China, one of our ice dance teams won the bronze. Contrast this to a young Russian skater who at the age of 15 won the gold for ladies singles. This was her first senior event and her stoic confidence was impressive. The Russian athletes have all the resources of the government at their disposal. The top coaches and trainers are provided to them. If they eventually win a gold medal, the skater and their families are rewarded handsomely and taken care of for life. In America, your face might make it on a cereal box.
Robert Cabry, M.D., Drexel Sports Medicine, Team physician - U.S. Figure Skating, Assoc. Team Physician - Drexel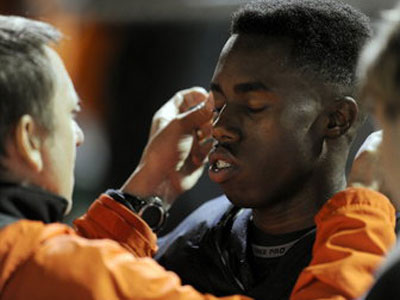 With the recent nearly $800 million settlement, the NFL is conceding that head injuries occurred and led to serious long term problems. Despite this and all we hear in the media about the seriousness of concussion, the problem is still significantly under-reported. A recent study published this year showed that 4 out of 10 concussions suffered by high school athletes are never reported by the athlete.
When asked about the classic "bell ringer," less than one out of seven are ever reported. With the recent push to educate players, coaches and parents about concussion, the way we treat concussion has changed to protect the athlete from further injury. This doesn't help if the athlete is not reporting the injury to begin with.
It's difficult to convince the 'invincible' teenager that a head injury can have serious long-term consequences. Studies show the most common reasons for not reporting a concussion were that the player believed it wasn't serious enough, they didn't want to let their teammates down or they didn't want to be removed from play. What they don't realize is that the consequences may be devastating. Symptoms such as concentration problems, headaches and depression can be permanent. In my practice at Drexel Sports Medicine, players often present after multiple concussions and many will never resolve their symptoms.
Robert Cabry, M.D., Drexel Sports Medicine, Team physician - U.S. Figure Skating, Assoc. Team Physician - Drexel
Championship golf returns to the Philly area with the US Open coming soon to the Merion Golf Club in Ardmore, PA. Golf's popularity has increased in the last 10 to 15 years, and with spring in the air, more and more golfers are hitting the links.
Golf is a wonderful sport, but if we don't prepare the golfer can suffer frequent and sometimes serious injuries. Most of these injuries are due to overuse and not taking the time to warm up. Rushing to the course to squeeze in a quick nine before dark can lead to back, shoulder, elbow and wrist problems that can land you in the gallery watching instead of playing.
The most common complaint among golfers at any level is low back pain. The golf swing causes a tremendous torque on our spine and a poor swing makes it even worse. Also, those who carry their bag have twice the risk of injuring their back. Most important in prevention is taking time to warm up. An adequate warm-up of more than 10 minutes has been shown to cut the risk of injury in half. Use proper posture when swinging; don't hunch over the ball. A regular exercise routine that includes core strengthening will also help to keep you on the course and out of the doctor's office.
Robert Cabry, M.D., Drexel Sports Medicine, Team physician - U.S. Figure Skating, Assoc. Team Physician - Drexel
As the world recently watched Kevin Ware's horrific leg injury, many questions arose. How much pain is he in? How does this happen? Will the doctors be able to fix it? Will he return to basketball?
Behind the scenes, the medical team (usually consisting of a certified athletic trainer and team physician) is only thinking about attending to the injury quickly so there is no further damage and the athlete is made as comfortable as possible. Only later will they try to figure out why this happened and if something like this could be prevented in the future.
When an athlete goes down during a game, the certified athletic trainer (ATC) is usually the first one to their side. When the injury is as serious as a compound fracture, the team physician will join the athletic trainer immediately and they will work as a team to attend to the athlete. In collegiate athletics, the team doctor attends the games, but the athletic trainer usually covers practices alone. Many serious injuries occur during practice, so it's important that the ATC is well trained and has an action plan in place for these types of events. Most ATCs are cool under fire and manage emergencies very well.
Robert Cabry, M.D., Drexel Sports Medicine, Team physician - U.S. Figure Skating, Assoc. Team Physician - Drexel
As the nice weather approaches, we all make plans to restart our exercise programs like walking, running and biking. Our bodies are capable of adapting to increasing load, but if we push hard too quickly, this can cause injury. If we typically train for 12 weeks to prepare for a half marathon and we try to do it in eight weeks, this may overload the body's ability to adapt, leading to overuse injury.
A common overuse injury for runners is leg pain. In this case, leg pain refers to pain in the leg somewhere between the knee and ankle. Often, that pain is called "shin splints." This is a lay term for many types of exercise-induced leg pain, but doesn't really identify the cause. The pain could be something as simple as a strain or as serious as a stress fracture. It's important to know the warning signs of serious injury.
Pain that persists for several minutes to several hours after exercise, throbbing pain at rest, or pain at night after going to bed all can be warning signs of something serious. And running through the pain is not the answer.