R. Robert Franks
Robert Senior, Sports Doc blog Editor
For all the attention concussions have received in recent years, even the leading experts will admit that the sports medicine community has only scratched the surface when it comes to learning—and teaching the public—about these dangerous injuries.
That's why leaders at Rothman Institute, Thomas Jefferson University Hospital and Wills Eye Hospital have collaborated to create the Jefferson Comprehensive Concussion Center (JCCC), located in the heart of the Philadelphia Navy Yard.
Robert Franks, D.O. of the Rothman Institute is the medical co-director of the center along with Mijail Serruya, M.D., Ph.D., a top neurologist at Jefferson. The Center hosted its first patient at the end of October.
Robert Franks, DO
As fall sports begin in earnest this weekend, I am often asked if head protection can prevent a concussion while engaged in play. Since most fall sports head protection-related questions are directed at football and soccer, we will deal primarily with these two sports.
According to the recent Team Physician's Consensus Statement on Concussion (TPCC) and the National Federation of State High School Associations (NFHS), there is no football helmet, or mouth guard for that matter, that can prevent a concussion. Helmets have been designed to prevent skull fractures, cerebral bleeding, and other head trauma. Mouth guards have been developed to protect teeth and against oral injuries.
Helmets in fact, when fit inappropriately, can increase the incidence of concussion. Helmets can also increase the incidence of a concussion when used for illegal means in football such as spearing. Schools generally provide the helmets that are worn by their football players, and these are usually refurbished helmets that have been used by previous players. Helmets used in schools should meet the standards for reconditioning set forth by NOCSAE (The National Operating Committee on Standards for Athletic Equipment) to be sure they are appropriate for wear.
R. Robert Franks, D.O., Rothman Institute, Team Physician - USA Wrestling, Consultant - Philadelphia Phillies
It is said it often takes a village to raise a child. Quite often, it seems like it takes several members of that village to treat a pediatric or adolescent athlete with a concussion.
As the scholastic year winds down, I would like to discuss the members of the healthcare team who treat concussion and give some idea what the roles of these clinicians may be, so next year parents may have some idea what to expect if their child is treated for a concussion. This list is by no means complete but will discuss several of the primary players.
The Certified Athletic Trainer (ATC) is often the first responder to a concussion in the sports setting. These practitioners are responsible for the care and treatment of athletes on their team or at the venue in which they are the covering ATC. In the event of a significant concussive event, athletes are often transported to the Emergency Room where an ER physician and his/her team will care for the athlete. Often, this team has a radiologist as a member who will read the CT or MRI of the brain performed in the ER setting.
R. Robert Franks, D.O., Rothman Institute, Team Physician - USA Wrestling, Consultant - Philadelphia Phillies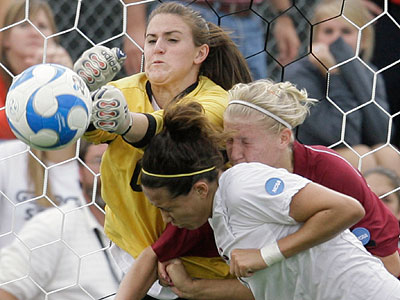 Women have been increasing in numbers in participation in all of sport. Women's soccer, basketball, lacrosse and many other contact sports are seeing increasing number of participants of all ages. When looking at data comparing male versus female concussion injury rates in sports where both sexes play the same sport, females clearly predominate.
In line with this rise in participation, many more pre-adolescent and adolescent athletes have been participating more in the sport of competitive cheerleading—an activity that has become more akin to gymnastics than traditional cheerleading. Injuries in this sport are demonstrating some of the susceptibility of women to concussion as there is a bigger pool of women competing in this sport than are men, demonstrating definitively higher concussive injury rates.
We do not know why women are more susceptible to concussion than men. Just like the frequency of a greater amount of ACL injuries in women as compared to men, we believe the reason is probably multi-factorial. There are many theories for this susceptibility.
One anatomical reason may be differing of the musculature in the cervical spine between men and women with the neck muscles being usually less developed in women than men. The head is also usually smaller in women than in men.
The second may be due to the hormonal cycle and a potential effect on female athletes with concussion.
The third may be due to differences in core strength between men and women. For now, we are not sure of the exact mechanism and investigations are currently taking place to answer these questions.
Robert Franks, D.O.
When we discuss athletes who have been concussed, much of the discussion often concerns when they will return to play. However, when we discuss student athletes who have been concussed, parents often ask 'when can they return to school and academics?'
There has been much published this season concerning NFL players in that the first step in treatment of any concussed athlete is complete mental and physical rest. For a student-athlete, that usually includes keeping them home from school initially when they are severely symptomatic and not allowing them to begin academics again until there is a decrease in symptoms and improvement in neurocognitive testing.
How to best return a student-athlete to school has been a work in progress with many theories being put forth but no consensus among physicians. While this is not a complete list of recommendations, these are often the most common accommodations suggested.
By R. Robert Franks, D.O.
Last week doctors announced that Junior Seau, the former San Diego Chargers all-pro who took his own life in May, has joined the ever growing list of former NFL players with CTE. Before football ends for the season, there should be a discussion of CTE and its association with concussion.
CTE stands for Chronic Traumatic Encephalopathy. It is believed to be an environmentally caused form of dementia due to its link with head trauma and sports. CTE is a progressive and degenerative disease of the brain caused by repeated trauma to the brain. In the brain, concussive and sub-concussive blows to the head, leads to progressive degeneration of brain tissue and production of a protein called tau, which has been implicated as having a major role in CTE's presentation due to its accumulation in the brain tissue interfering with brain function.
These changes can occur several months to years even after the last hit to the brain. NFL players are not the only victims of this disease. It has been found in other athletes such as boxers, rugby players and professional wrestlers. Combat soldiers have also been diagnosed with CTE. Some notable athletes who have been diagnosed with CTE include former Eagle Andre Waters and the Pittsburgh Steelers Mike Webster as well as former New York Ranger Derek Boogaard.
R. Robert Franks, DO, FAOASM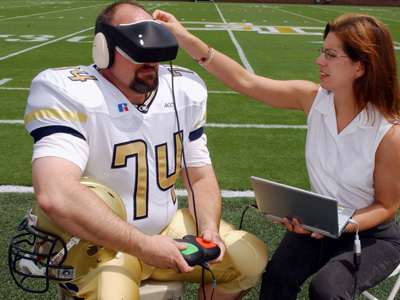 In the wake of injuries sustained by prominent Philadelphia athletes and an increased emphasis on awareness about head injuries, Sports Doc has devoted a good deal of coverage to concussion treatment and prevention this fall. In a follow-up to his post last week on ImPACT Tests, today, Robert Franks, D.O. answers your questions about concussions.
Our school district currently performs baseline tests on our athletes (grades 9-12) on a yearly basis. We are also beginning to look at testing our Middle School athletes (grades 7-8) next season. My question is how often should an athlete take a baseline test?
-Sean Kelly, Central Bucks West High School athletic director
R. Robert Franks, DO, FAOASM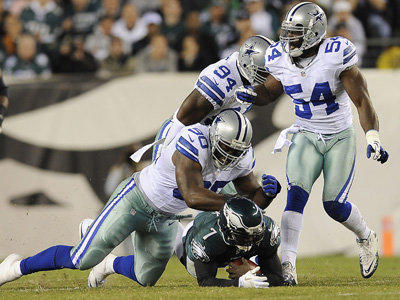 By Robert Franks, D.O.
Editor's Note: Yesterday, Eagles quarterback Michael Vick failed his second concussion test of the week, meaning he has not been cleared to return to football activities. Robert Franks, D.O., takes a closer look at the testing used to make such determinations.
As concussion remains at the forefront of sports health with two prominent Eagles players continuing to be treated for symptoms, it has not been uncommon to hear about reports of them being tested. Often I am asked, what is this test and how does it work? More importantly, how does it help a physician to make the decision to return an athlete to play?