Hockey
Courtney Gordner
No matter how you are involved in athletics, you need to know the dangers that accompany your sport. This Strained Sports infographic will help you digest the mountain of statistics and help you better understand how the injuries stack up against each other from sport to sport.
Purpose
With the hope of informing, this graphic has the purpose of raising awareness of sports injuries, whether they are minor ankle problems or fatal brain injuries. Because the potential dangers aren't always at the forefront of discussions, learning about the more serious side of sports will allow you to make an educated decision about participating. Additionally, this infographic can serve as a guide to understand what sort of injuries to watch for by sport.
Brian Cammarota, M.Ed., A.T.C., C.S.C.S., C.E.S. and Heather Dillon Anderson, P.T., D.P.T, N.C.S.
Reaction time, vision, quick deliberate movements—these are important in most sports, but as a hockey goalie these skills are vital!
Josh Harding, starting goaltender for the Minnesota Wild, is currently leading the NHL in Goals Against Average at 1.65 and is tied for 2nd in save percentage at .933. He nearly made this year's Canadian Olympic Ice hockey team (a perennial medal favorite) and likely would have been an Olympian had he lived anywhere other than Canada.
Harding's career took an interesting turn since the fall of 2012. He went from being a back-up goalie, averaging fewer than 30 games per season over the past five years, to Olympic hopeful and one of the best goalies in the NHL.
Robert Senior, Sports Doc blog Editor
Following Saturday's game at Wells Fargo Center against the Calgary Flames, the majority of the Flyers will embark on a two-week mid-season break provided by the Olympic Games in Sochi, Russia.
But a handful will head up the turnpike to Newark, N.J. to fly over to compete in those Winter Games, marking the 5th Olympics to include NHL players. Joining those players will be Peter DeLuca, M.D., head orthopedic surgeon for the Flyers and Sports Medicine Specialist at the Rothman Institute. Dr. DeLuca, a Sports Doc panelist, will be overseeing the medical care of all NHL players at the Sochi games, regardless of their national affiliation.
"Our role is to monitor the players' health, but also to supersede if the player's country feels he can play, and we feel he cannot," summarizes Dr. DeLuca.
Jim McCrossin, ATC, Flyers and Phantoms
The Annual "Trial on the Isle" is scheduled for Wednesday, July 10th! As always, it will be a fun-filled day for Flyers prospects and fans alike. And, you never who else might show up!
"Trial on the Isle" is an annual event for Flyers prospects that involves a variety of fitness-related activities in and around the beaches of Stone Harbor, N.J. This year, we've made a few adjustments to make the event even more fan-friendly! The schedule is as follows:

9:00 a.m.—The day begins at the 96th Street Beach with a run south toward the point and returning where it began. The run back will include physical challenges and team building activities. Fans are invited to watch and cheer the boys on.

10:15 a.m.—The action continues at the Stone Harbor Yacht Club on 83rd and Sunset for water challenges and more team building.

12:00—Young Flyers Fans are invited to the Stone Harbor Elementary School playground at for a Hooked On Hockey clinic with Scott Laughton, Samuel Morin and myself.

1:15 - 2:30 p.m.—Prospects will be at the Stone Harbor Elementary School for a meet and greet autograph session. There is a nominal fee for this fund raising event which includes a team picture of the prospects for autographs.

3:00 p.m.—This year, there is a new twist on a way in which Flyers Fans can get in on the fun and the fund-raising. In place of the traditional charity softball game, the Flyers Prospects will be challenging fans to 4-on-4 beach volleyball. The minimum bid to play is $500. Proceeds from this event always stay local.

Participating teams will:
1. play in a Semi-Round Robin Tournament against Flyers prospects
2. receive a Trial On The Isle team signed volleyball
3. receive 4 tickets for the Post-Trial On The Isle Prospects dinner at the Yacht Club
4 receive 4 tickets to a Flyers Pre-Season game.
5. receive media coverage

If you would like to bid on this great event, e-mail your bid to: Trialontheisle@gmail.com

Remember, this is first come, first serve! (No pun intended!) Don't delay!
---
Read more Sports Doc for Sports Medicine and Fitness.
Robert Senior, Sports Doc blog Editor
Last Saturday, Pittsburgh Penguins star Sidney Crosby was hit in the face with a teammate's slapshot. Crosby was able to leave the ice under his own power, but sustained a broken jaw on the play and would undergo several hours of surgery to repair the damage.
We thought we'd seen the big injury of the sports weekend—until the next afternoon, when Kevin Ware's broken leg became the big story of this year's March Madness tournament.
The good news is that both Crosby and Ware are on the road to recovery, thanks in large part to the medical professionals who got to the athletes and provided expert care. Jim McCrossin, Sports Doc panelist and athletic trainer/strength and conditioning coach for the Flyers, shared some thoughts and recollections of dealing with serious injuries on the ice.
Robert Senior, Sports Doc blog Editor
With the news of a tentative settlement between the NHL and its Players Association coming in the wee hours of Sunday morning, today it's back to work for the Flyers' Athletic Trainer and Strength and Conditioning Coach—and member of our Sports Doc panel—Jim McCrossin, ATC.
But the truth is, McCrossin never really stopped working. He's stayed in touch with players and other team personnel as much as possible in anticipation of this day.
"Myself, the medical staff—if we aren't prepared, shame on us," said McCrossin. "And that's the same for the players. Even if you're in a lockout mode, it's in the back of your mind that we're going to come back. The season will start at some point, and you need to stay in reasonably good shape."
Robert Senior, Sports Doc blog Editor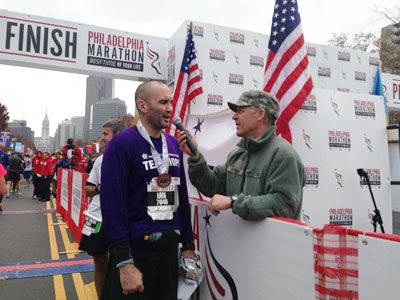 By Rob Senior
Talk about a long shift.
Former Flyers forward and current Director of Player Development Ian Laperriere took to the local streets to run his first marathon yesterday in 3:42:23—a little more than two minutes under his targeted finishing time of 3 hours, 45 minutes.
Peter F. DeLuca, M.D., Rothman Institute, Head Team Physician - Eagles, Head Orthopedic Surgeon - Flyers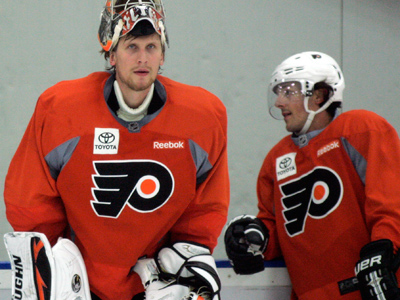 by Peter F. DeLuca, M.D.
Ah, October, one of my favorite months. Crisp fall weather is here, football is in full swing, the Major League Baseball playoffs and World Series are upon us and the start of the basketball and hockey seasons have finally arrived. What more can an avid sports fan ask for?
Oh wait! The NHL is in a lockout with no obvious settlement in sight.