Head Injuries
Robert Senior, Sports Doc blog Editor
On Tuesday night, three accomplished doctors from three very different backgrounds convened at the College of Physicians of Philadelphia to discuss the issue of head injuries in football.
The talk, entitled "Football: America's Pride or America's Shame?" featured Doug Swift, MD, who won two Super Bowls with the Miami Dolphins of the 1970s before turning his attention to medicine as an anesthesiologist; H. Branch Coslett, MD, professor in neurology at the Hospital of the University of Pennsylvania; and Paul Butler, MD, a retired surgeon who gained fame—or notoriety, depending on your stance—by voting to end football in his local school district, where he served as a board member.
The title of the talk "America's Pride or America's Shame?" didn't seem to leave much room for a middle ground, but in the end the highlight of the presentation was its non-judgmental approach to accepting that there is a large gray area in the entire discussion. Football players, coaches, doctors, even opponents of the sport were able to walk away saying they'd learned something, and hopefully with a greater understanding of the other side of the debate.
Robert Senior, Sports Doc blog Editor
For all the attention concussions have received in recent years, even the leading experts will admit that the sports medicine community has only scratched the surface when it comes to learning—and teaching the public—about these dangerous injuries.
That's why leaders at Rothman Institute, Thomas Jefferson University Hospital and Wills Eye Hospital have collaborated to create the Jefferson Comprehensive Concussion Center (JCCC), located in the heart of the Philadelphia Navy Yard.
Robert Franks, D.O. of the Rothman Institute is the medical co-director of the center along with Mijail Serruya, M.D., Ph.D., a top neurologist at Jefferson. The Center hosted its first patient at the end of October.
Robert Senior, Sports Doc blog Editor
From serious matters like concussions and performance enhancing drugs, to inspiring stories of athletes overcoming the odds, we've enjoyed covering the sports and fitness scene in and around Philadelphia in 2013.
What do you hope to see on Sports Doc in 2014?
---
Read more Sports Doc for Sports Medicine and Fitness.
Michael G. Ciccotti, M.D., Rothman Institute, Head Team Physician for the Phillies & St. Joe's
In light of last week's report on the late Ryan Freel, I decided to outline some of the measures Major League Baseball is taking to address concussions in the sport.
MLB has taken a very serious, very focused stance on preventing concussions in baseball. MLB has taken numerous measures to investigate, diagnose, treat and hopefully prevent minor traumatic brain injuries/concussions.
Some of their many efforts over the past several years include:
Robert Senior, Sports Doc blog Editor
In the wake of the news that former major league player Ryan Freel was suffering from chronic traumatic encephalopathy (CTE) at the time of his suicide, Major League Baseball is joining—and being included—in the ongoing discourse over concussions in sports.
Freel, who played for five teams during his nine-year career, died of a self-inflicted gunshot wound almost one year ago. He was 36.
At last week's MLB Winter Meetings, representatives of the Boston University Center for the Study of Traumatic Encephalopathy and Sports Legacy Institute issued their findings to Freel's family, who revealed Sunday that the player indeed suffered from Stage II CTE, where victims can experience headaches, confusion, depression and short-term memory loss.
Robert Cabry, M.D., Drexel Sports Medicine, Team physician - U.S. Figure Skating, Assoc. Team Physician - Drexel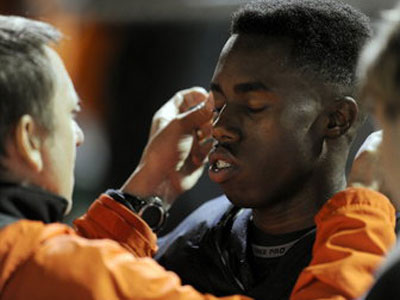 With the recent nearly $800 million settlement, the NFL is conceding that head injuries occurred and led to serious long term problems. Despite this and all we hear in the media about the seriousness of concussion, the problem is still significantly under-reported. A recent study published this year showed that 4 out of 10 concussions suffered by high school athletes are never reported by the athlete.
When asked about the classic "bell ringer," less than one out of seven are ever reported. With the recent push to educate players, coaches and parents about concussion, the way we treat concussion has changed to protect the athlete from further injury. This doesn't help if the athlete is not reporting the injury to begin with.
It's difficult to convince the 'invincible' teenager that a head injury can have serious long-term consequences. Studies show the most common reasons for not reporting a concussion were that the player believed it wasn't serious enough, they didn't want to let their teammates down or they didn't want to be removed from play. What they don't realize is that the consequences may be devastating. Symptoms such as concentration problems, headaches and depression can be permanent. In my practice at Drexel Sports Medicine, players often present after multiple concussions and many will never resolve their symptoms.
Robert Senior, Sports Doc blog Editor
Tuesday night, The Shipley School will welcome Head Games: Football's Concussion Crisis author Christopher Nowinski to the school's Yarnall Gymnasium (819 Montgomery Avenue, Bryn Mawr, Pa. 19010) for a discussion on concussions and head injuries in sports.
Nowinski is the co-director of the Boston University Center for the Study of Traumatic Encephalopathy as well as co-founder and executive director of the Sports Legacy Institute, a non-profit organization dedicated to solving the sports concussion crisis through education, policy, and research. His 2006 book and the subsequent documentary film by the same name is largely credited with increasing awareness about concussions in football and many other sports.
Prior to writing the book, Nowinski was an All-Ivy League performer on Harvard University's football team and later became a World Wrestling Entertainment superstar. He was named the WWE's Newcomer of the Year in 2002, but was forced to retire after a bout with post-concussion syndrome in 2004.
Robert Franks, DO
As fall sports begin in earnest this weekend, I am often asked if head protection can prevent a concussion while engaged in play. Since most fall sports head protection-related questions are directed at football and soccer, we will deal primarily with these two sports.
According to the recent Team Physician's Consensus Statement on Concussion (TPCC) and the National Federation of State High School Associations (NFHS), there is no football helmet, or mouth guard for that matter, that can prevent a concussion. Helmets have been designed to prevent skull fractures, cerebral bleeding, and other head trauma. Mouth guards have been developed to protect teeth and against oral injuries.
Helmets in fact, when fit inappropriately, can increase the incidence of concussion. Helmets can also increase the incidence of a concussion when used for illegal means in football such as spearing. Schools generally provide the helmets that are worn by their football players, and these are usually refurbished helmets that have been used by previous players. Helmets used in schools should meet the standards for reconditioning set forth by NOCSAE (The National Operating Committee on Standards for Athletic Equipment) to be sure they are appropriate for wear.