Alfred Atanda, Jr.
Alfred Atanda, Jr., M.D., Nemours/Alfred I. duPont Hospital for Children.
Intercollegiate athletics are well integrated into the college and university experience. Student-athletes are provided an opportunity to perform, socialize, develop self-confidence, improve self-esteem and have a healthy, active lifestyle. In addition, they often get experiences and mentorship that can help shape them into young adults that will be productive members of society. The rest of the campus community also benefits as they get to watch competitive sports, develop a sense of loyalty and pride towards their institution, and be part of the campus excitement associated with a particular team.
The most powerful benefit of intercollegiate athletics, however; is probably the financial impact that it has on the institution. Money generated by sports activities helps to fund construction of new buildings, such as dormitories and libraries. Also, it provides funding for research opportunities, professor salaries, and recruitment initiatives to attract more students to the school.
This is particularly evident at large Division I schools with successful football and basketball programs. For example, an ESPN.com poll from 2008 showed that the top four athletic programs in total revenue made well over $100 million dollars each that year. The majority of this money is generated from ticket sales, media rights, branding, and donations. While the bulk of the money is used to fund coach pay, team travel, marketing, and student tuition, none of the money is designated specifically for athlete compensation. As a result of this, the decision as to whether or not to pay college athletes has become a hot topic for discussion both in the sports and lay press.
Alfred Atanda, M.D. and Nadia Dowshen, M.D.
Later this week, the world's greatest Winter athletes will converge on Sochi, Russia for the 2014 Winter Olympics. For the next few weeks, Sochi hopes to represent everything that is right about the world of sports. But just last week, Sochi mayor Anatoly Pakhomov went on British television and proudly declared his city had "no gay people."
This does not represent the Olympic ideal, or the reality of sports or the world in the 21st century. In recent years, Jason Collins (NBA), Robbie Rogers (MLS), Megan Rapinoe and Lori Lindsey (US Women's soccer), and Orlando Cruz (Boxing) are just some of the well-known professional athletes who have announced they are gay or lesbian. While many people have been surprised by their "coming out" announcements and stories, it shouldn't be so unexpected.
Approximately 5-10 percent of the general adult population identifies as lesbian, gay, bisexual or transgender (LGBT). So not only are there many gay pro athletes out there, statistically there is probably at least one young person who will grow up to identify as LGBT in every gym class or high school sports team nationwide.
Alfred Atanda, Jr., M.D., Nemours/Alfred I. duPont Hospital for Children.
For those of us that follow baseball, it seems like every time we turn around another pitcher is going down with a major injury. The most recent notable name is Matt Harvey from the New York Mets. Like many before him, he started having pain with pitching while experiencing decreased velocity and poor control of his pitches.
After visiting with several doctors, he was eventually diagnosed with an Ulnar Collateral Ligament (UCL) tear of his elbow. After seeking advice from several other pitchers with a similar injury, including the Phillies' Roy Halladay, he eventually decided to undergo "Tommy John Surgery" or UCL reconstruction. Rather than try non-operative treatment, he elected to undergo surgery to maximize his chances at returning to the mound and be as competitive and dominant as he once was.
These clinical scenarios are not only common, but they can get a lot of media attention depending on the caliber of the pitcher involved. With increased attention, increased misconceptions are developed as well usually because a lot of the medical information is interpreted out of proper context. Lately, in my office, I've been seeing a lot young pitchers with minimal elbow pain and discomfort terrified that they may need Tommy John Surgery and miss a year of pitching. I've had other pitchers, and even parents and coaches, ask if they should have Tommy John Surgery in the absence of an injury, in efforts to try to increase velocity and control.
Alfred Atanda, Jr., M.D., Nemours/Alfred I. duPont Hospital for Children.
As I've recently realized from personal experience, tearing your ACL can be quite painful. Obviously, there is the knee pain, swelling, buckling, and decreased ability to walk that go along with the acute injury. The physical pain, although unpleasant, usually lasts only a couple of weeks. What can be more problematic, however, is the mental and emotional pain that goes along with the injury.
Why did this happen to me? Do I need surgery? Am I going to be able to work again? Will I ever be able to play sports again? If so, when? Am I at risk for this happening again in the future?
These are just a few of the questions that people have for me when I am counseling them about treatment options for their ACL injury. My goal as a physician is to make sure that the patient has a stable and painless knee that allows them to perform activities of daily living. My goal as a sports surgeon is to try and get the athlete back to playing sports as quickly as possible.
Alfred Atanda, Jr., M.D., Nemours/Alfred I. duPont Hospital for Children.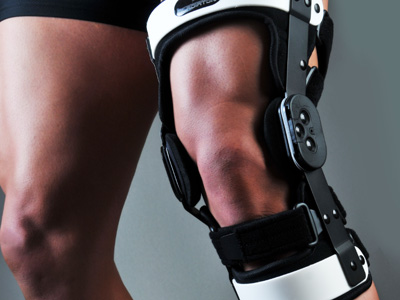 With the 40th anniversary of Title IX upon us, our nation has seen huge advancements in striving for equality for women in the realm of sports and athletics. With this increase in sports participation, however, we have seen an increase in sports-related injuries in female athletes.
Specifically, in the last decade research has shown that females are now 8-10 times more likely to sustain an ACL tear compared to males playing similar sports. There are many factors that contribute to this gender-based discrepancy such as differences in ACL anatomy, neuromuscular control, limb alignment and hormones.
ACL tears are no longer career-ending injuries the way they once were back a few decades ago, however, it can still take around 6-9 months to return to play even with modern reconstructive techniques. This raises many concerns for people, specifically parents of pediatric and adolescent female athletes. The main question most parents have for me as a sports surgeon is what can be done to prevent such a devastating injury from happening in the first place. If we look at all the risk factors, it becomes apparent that a lot of the risk is inherent to the athlete's body and can't be altered.
Alfred Atanda, M.D.
Editor's Note: It's hard to believe, but we're less than a month from the start of the spring sports season. This week, our Sports Doc panelists take a look at the best ways to prepare for each spring sport, starting today with Dr. Alfred Atanda, M.D., discussing the upcoming track and field season.
A lot of people think that track and field is a sport that is solely based on God-given speed, endurance, and strength. When compared to seemingly more complex sports such as baseball, football and basketball with all of their equipment, play books, and extensive rules; track and field can seem quite basic and simple.
However, it is exactly the opposite. Whether you compete in the 110M hurdles, the 3000M steeplechase, the javelin or the long jump; there is a tremendous amount of skill, preparation, dedication, and inner drive that are required to not only be successful, but to remain injury-free as well.
Alfred Atanda, Jr., M.D., Nemours/Alfred I. duPont Hospital for Children.
As a pediatric sports medicine surgeon, I treat a lot of young athletes with hopes and dreams of eventually making it to the pros. Whether it's a young pitcher who wants to throw curveballs like Cole Hamels or the running back who wants to break tackles like LeSean McCoy, a lot of youth athletes and their parents are banking on the very slim chance that they may someday become a professional athlete.
But one thing most kids and parents don't realize is that the numbers and odds are stacked against them. Let's look at the numbers. When looking solely at active player rosters, there are approximately 1,700 players in the NFL, 450 in the NBA, 750 in MLB, and 700 in the NHL. These numbers make it a bit more apparent as to how unlikely it will be for a youth athlete to go all the way to the pros.
Despite this, it is very common to see families devoting a tremendous of time, energy, and resources towards trying to achieve this goal for a child. This has led to an increase in popularity for year-round play and super-specialization for youth athletes.
Alfred Atanda, Jr., M.D., Nemours/Alfred I. duPont Hospital for Children.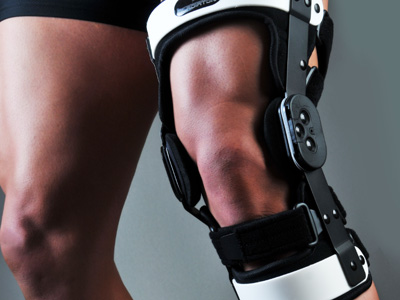 Since Title IX was signed into law by President Nixon in 1972, a dramatically increasing number of
female athletes participate in sports not only at the collegiate level, but also at the high school and recreational levels as well. Currently, there are just as many young girls playing competitive sports as boys.
Title IX made it illegal for any educational program or activity that received federal financial assistance to discriminate on the basis of sex or gender, giving females an equal opportunity to participate in organized athletics.
U
nfortunately, with increased participation comes an increase in injuries. Specifically, recent studies have shown that female athletes are up to 8-10 times as likely to sustain devastating knee injuries, such as an Anterior Cruciate Ligament (ACL) tear, compared to their male counterparts. There are several theories as to why this may be the case, some of which may not be so obvious:
Evolutionarily, females tend to have wider pelvises compared to males for eventual child birth. This widening of the pelvis causes the knee alignment below it to be more "valgus" or knock-kneed. In addition, females are more likely to have rotational abnormalities of their femurs (thigh bones) and tibias (shin bones). During aggressive physical activities, these lower extremity limb alignment changes can place more force on the ACL than it can tolerate, making it susceptible to injury.
The major dynamic stabilizers of the knee during regular and aggressive physical activity are thequadriceps muscle group or thigh muscles. The particular muscles that athletes use to brace their knees when landing from a jump or hop are often weaker in females than in males, largely in part because of the differences in lower extremity alignment. In addition, the order in which the various quadriceps muscles fire or activate in female athletes is also different.
Fluctuating hormone levels—specifically estrogen and progesterone—in the female body can affect the biomechanics of the ACL tear. This can occur as a result of the menstrual cycle and exogenous hormone ingestion (birth control pills). Studies have shown that the strength of ligaments such as the ACL may be weakened by the presence of estrogen. In addition, other studies have suggested that ACL tears in female athletes are more likely in certain phases of the menstrual cycle.
The actual ligament itself tends to be slightly smaller and thinner in females. Also, the intercondylar notch, or space at the end of the femur (thigh bone) where the ACL is located tends to be narrower.
The combination of these factors coupled with increased aggression, physical activity and competition makes it apparent why female athletes are more susceptible to ACL tears. Unfortunately, most of these factors are inherent to being female and are not modifiable. Prevention programs are centered on increasing muscle tone, balance, improving muscle firing, as well as maintaining flexibility, core and overall strength.