Goal Oriented: Philadelphia Marathon: 26.2 tips for marathoners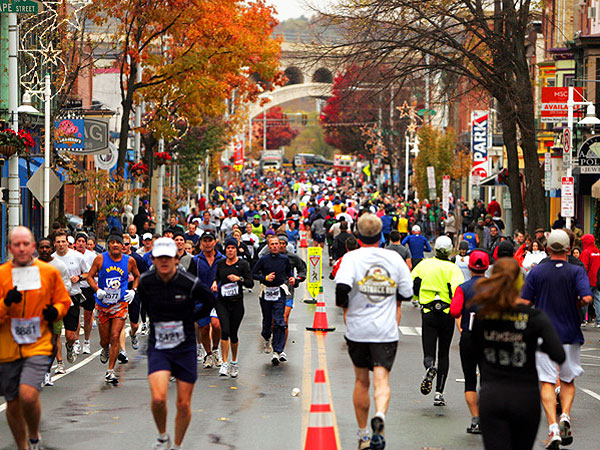 Below are 26.2 things you should do before the gun goes off.
Goal Oriented: Philadelphia Marathon: 26.2 tips for marathoners

Later this week, thousands of people will participate in the Philadelphia Marathon. Runners from all over the U.S. will head to the starting line on the Benjamin Franklin Parkway to test their endurance, mental capacity as well as their willpower.
For months these people have been logging long hours in an effort to reach their goal of crossing the finish line. For some runners their goal will be to finish. Others may be aiming for the coveted entrance time for the Boston Marathon. Whatever their personal goal, the race is ultimately decided by the runner's preparation and mindfulness.
Before they embark on the 26.2 mile journey I would like to share some tips for them to help them along the way. Below are 26.2 things you should do before the gun goes off. These tips are in no particular order.
1: Get a massage before race day.
2: Make sure you know exactly what you want to eat the morning of the race. DO NOT try any new foods the morning of the big race.
3: Recruit friends and family to watch you along the route. A great place for them to cheer you on is when you are coming out of Manayunk. Why? Because after Manayunk it gets pretty quiet for a few miles. This is where you will need some help.
4: In your mind break the race up into three (3) parts. Part 1 is the first 10 miles (start slow, don't get caught up in the excitement). Part 2 is the second 10 miles (remember to hydrate as needed, enjoy the fans along the route) and part 3 is the final push the last 6.2 miles (dig deep, the finish is near).
5: Take a few days off to allow your body to rest up. Don't push yourself to hard leading up to the race. Most of the hard work has been done!
6: Give your friends your bib number so they can track you (via text alerts) during the race.
7: Have your name somewhere on your chest or back so anyone can cheer you on. This will help a lot around mile 22.
8: Make sure your nutrition plan the week leading up to the race is good.
9: Bring extra toilet paper with you to the race.
10: Have a heavy sweatshirt and sweatpants the morning of the race. Be prepared to donate them about 15 minutes before the race starts.
11: Bring peppermint TUMS for you in case your stomach gets upset.
12: Use body glide between your thighs and on your chest as well as those "hard to reach places." This tip alone will save you pain both during and after the race.
13: Make sure you TAPER the week of the race. Maintain some high intensity very short runs but dramatically reduce the volume of your training.
14: If you struggle with sleep have a plan in place and work on your sleep hygiene. Magnesium is a great supplement to help you calm down before bed.
15: Get a really good pair of socks for the race. Good socks can make a big difference.
16: Buy a nice light Coolmax hat/headband and gloves for the race.
17: Make sure you are hydrated going into the race. Balance your hydration between water and a high quality sports drink.
18: Look at the route map before the race. Know that there is a decent hill between mile 9 and 10 (right after the Philadelphia Zoo).
19: Arrange a place for you to meet your family after the race.
20: Run with a pace group if you are running for time and have a specific goal in mind.
21: Go to the expo early and take in the atmosphere.
22: At the expo once you get your race bag check to make sure that you have the correct bib number.
23: Wake up about three hours before the start of the race and eat your normal breakfast.
24: The meal the night before is very important. Eat a good balance of protein, fats and carbohydrates.
25: Cut your toe nails a little lower than normal.
26: Make arrangements to have some alone time after the race when you get home (especially if you have kids). Block off 3-4 hours to nap and start the recovery process.
26.2: Before the race starts take a few deep breaths and know that you have prepared yourself to have a great run. Realize that you are doing something pretty amazing and you should be proud that you have made it to the starting line!
Good luck to all the runners! Have a great race!
Kevin Miller is the Strength and Conditioning Coach for the Philadelphia Union. He is certified by the National Strength and Conditioning Association and has been working with the Union since their inaugural 2010 season. Check out Kevin's Instagram: @KevinMillerTraining
---
Read more Sports Doc for Sports Medicine and Fitness.