Soccer
Robert Senior, Sports Doc blog Editor
Jeff Parke worked for a lifetime to become a professional soccer player. It wasn't until he'd reached that goal and spent a few years in Major League Soccer (MLS) that he realized just how much it meant to him.
"I can remember the day it happened," says Parke. "I was still playing in New York, going through some different injuries. We were out to dinner with my girlfriend's [now Parke's wife] brother, and we just started talking about different foods and some of my habits. It kind of dawned on me what I'd need to do to take my career to the next level."
This was back in 2008, when Parke was 26 and single. Now 31, Parke is married with a young daughter and another child on the way. He is back home playing defense for the Philadelphia Union (he was born in Abington and played collegiately at Drexel.) It's his first year with the Union, but his 10th season in MLS. He attributes his longevity to the changes he made after that fateful conversation.
Kevin Miller, strength and conditioning coach for the Philadelphia Union soccer team takes your fitness questions from 1pm to 2pm on October 22, 2013.
On a mobile device? Click here to join the chat.
Justin Shaginaw, MPT, ATC, Aria 3B Orthopaedic Institute, Athletic Trainer - US Soccer Federation
Whenever I see a patient with an ACL tear, they always want to blame something or someone for their injury. The biggest culprit in the blame game seems to be turf fields.
If you're old enough you might remember the original AstroTurf, and by all means plenty of blame can be placed on it for athletic injuries. But now we have new 3rd and 4th generation turf fields that are much more similar to natural grass. They are used in the NFL, MLB, MLS, and even international soccer matches are being played on them. People still love to blame turf for their injuries. But are there any facts behind these assumptions that more injuries occur on turf than grass?
Research has shown that as the coefficient of friction increases there is an increase in the rate of lower extremity injuries. This means that the more traction you get on the field or court, the higher the risk of injury. The common thought is that turf has more traction than grass and therefore we will see more injuries on turf.
Kevin Miller, Fitness Coach, Philadelphia Union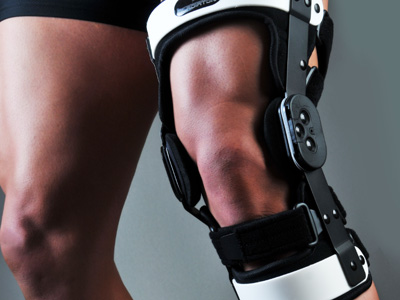 Have you ever suffered a serious knee injury? If so, what steps are you currently taking to ensure that you reduce your chances of hurting that same knee again? The unfortunate part of training and competing in sports is that injuries are a part of the game. Even athletes with the best training programs suffer season- ending injuries.
A hot topic over the past few years has been knee injuries and in particular ACL injuries. This year alone it's estimated that 100,000 people will suffer an ACL tear with 30,000 of these people being high school athletes. We often hear how females are six to eight times more likely to suffer an ACL injury when compared to male athletes. Having worked with several high school female athletes, I definitely agree that they are at a higher risk due to their lack of stability as well as their overall strength when compared to male athletes. However, I think everyone should make it a point to implement their own program to ensure that they REDUCE their chances of suffering a knee injury.
I stress the word reduce because often times coaches and trainers tell players that they need to implement an ACL prevention program. Personally I don't like to use that phrase because unfortunately there is no way that you can prevent an injury but you can greatly reduce the chances of suffering a season ending ACL injury with a solid training program. I believe Coach Mike Boyle said it best when he said that ACL reduction is simply "good training". By this what I believe he meant was that a solid year round program is the best medicine for reducing your chances of injury.
Kevin Miller, Fitness Coach, Philadelphia Union
I recently gave a survey to clients that I have trained in the past asking them, "What are some of the biggest challenges you face when it comes to sticking to a training plan?"
The number one reason why people fail to stick to a plan, according to this survey, was their inability to find the time to exercise.
After reviewing the results I can't say that I was surprised. Our lives are busy. Between parenthood, work, school, social obligations as well as the stressors of daily life it can be difficult to find the time to fit in training.
Kevin Miller, Fitness Coach, Philadelphia Union
If you were to ask most people what are some of the key factors that determine whether or not their body will respond to their particular type of training, you will often get several answers. The majority of individuals would we say that you need to focus on the following:
Strength training
Mobility
Flexibility
Aerobic training
Nutrition
High intensity intervals
Supplements
I am sure we could add a few more items to the list above, but you get my point. I agree that the items that are mentioned above do play a pivotal role in your training as well as your ability to improve your health and transform your body.
However, one of the key areas that is often overlooked by most athletes as well as people looking for peak health is RECOVERY. Over the past couple of years there has been a greater emphasis among coaches to find the best recovery techniques for their athletes. For years athletes have implemented recovery techniques like cold plunges or contrast baths. Runners as well as multisport athletes have reaped the benefits of receiving post workout massages by skilled therapists.
Justin Shaginaw, MPT, ATC, Aria 3B Orthopaedic Institute, Athletic Trainer - US Soccer Federation
With the start of high school soccer, we can all think back to our athletic days: sitting in a cramped locker room waiting to get our ankles taped, hoping they have any favor of Gatorade other than lemon-lime. Butterflies in our stomachs as we wait for game time. So how do these high school experiences compare to a professional soccer sideline and locker room?
Parents always tell me they want their child to be treated just like the pros. When it comes to injuries sustained on the field, they are. The care the high school athletes receive is actually more similar than one would expect. An ankle sprain is an ankle sprain and the high school player is treated just about the same as the pro. We perform a quick injury assessment to determine the severity and if it is minor, tape the ankle, and get the player back on the field.
If it is more serious, we tell the coach to call for a sub and get the player to the bench for ice. The level of care is identical for concussions as no player, whether high school or pro, is allowed to return to the game if he or she has a concussion.
Robert Franks, DO
As fall sports begin in earnest this weekend, I am often asked if head protection can prevent a concussion while engaged in play. Since most fall sports head protection-related questions are directed at football and soccer, we will deal primarily with these two sports.
According to the recent Team Physician's Consensus Statement on Concussion (TPCC) and the National Federation of State High School Associations (NFHS), there is no football helmet, or mouth guard for that matter, that can prevent a concussion. Helmets have been designed to prevent skull fractures, cerebral bleeding, and other head trauma. Mouth guards have been developed to protect teeth and against oral injuries.
Helmets in fact, when fit inappropriately, can increase the incidence of concussion. Helmets can also increase the incidence of a concussion when used for illegal means in football such as spearing. Schools generally provide the helmets that are worn by their football players, and these are usually refurbished helmets that have been used by previous players. Helmets used in schools should meet the standards for reconditioning set forth by NOCSAE (The National Operating Committee on Standards for Athletic Equipment) to be sure they are appropriate for wear.