Profiles
Robert Senior, Sports Doc blog Editor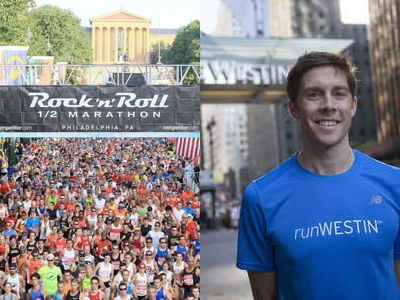 At today's Rock 'n' Roll Marathon, local product Chris Heuisler will make his debut as the official RunWestin Running Concierge for the Rock 'n' Roll Half-Marathon. The position was offered through the event's partnership with Westin Hotels and Resorts.
Heuisler, who was chosen from a field of over 1,000 applicants, currently lives in Boston but was born and raised in Bala Cynwyd. Heuisler was selected due to his exemplary running qualifications, which include completing 25 full marathons in 20 different states. But just as important were his charisma tireless passion for running.
"It's like a dream come true, the idea of doing this for a job," Heuisler said. "In a nutshell, my job is to be the on-site running expert for the guests here on race weekends."
Brian Ferrie
Sports Doc readers, my name is Brian Ferrie. I'm 37 years old, grew up in Cheltenham and now live in King of Prussia. Tomorrow I'll run the Philadelphia Rock 'n' Roll Half Marathon, my first-ever attempt to race 13.1 miles.
I'm far from a novice runner. I started running on my own when I was 13, did four years of cross-country in high school, and have never really let myself fall out of decent running shape since then.
Here's the catch. When I was about 20, I experienced my first bout with iliotibial (IT) band tendonitis in my right knee, and it has greatly impacted how I train and race ever since. For those who aren't familiar, IT band tendonitis tends to start as a dull ache on the side of the knee when running, and worsen as running is continued. In my case, the pain became so severe it basically took all the fun out of running.
Robert Senior, Sports Doc blog Editor
The reality television era has become a celebration of our short attention spans — stars of these shows appear on our televisions for weeks, maybe months at a time. Some go onto become international superstars, while others — the majority, to be honest, fade back into oblivion.
Former reality show contestant Rebecca Meyer of Des Moines, Ia., is determined to forge a different path for herself. She's used her own reality TV stint to change her entire lifestyle — and hopefully motivate others in the process.
Five years ago, 24 year-old Rebecca weighed over 300 pounds. This weekend, she'll come to Philadelphia to run the Pennsylvania leg of her "50 in 50 by 30" challenge — her own personal mission to run 50 different races in 50 different states before she turns 30 on March 15 of next year.
Robert Senior, Sports Doc blog Editor
Technology, fitness and the human spirit have combined to create a fitness App that helps not only athletes, but the neediest members of our society.
Charity Miles is a free download that tracks your mileage while biking, walking or running—and allows you to earn money for various charities simply by completing your workout.
Using the App is quite simple—after downloading, you create a brief profile before choosing one of three activities—bike, walk or run. Once the activity is selected, the user can determine which of 24 charities they want their workout to benefit.
Robert Senior, Sports Doc blog Editor
Marathon season in Philadelphia starts next Sunday, September 15, when over 22,000 runners plan to take part in the Philadelphia Rock 'n' Roll Half-Marathon.
The race, which officially sold out on Wednesday, kicks off at 8 a.m. sharp that morning. But the half-marathon is a weekend-long event that celebrates a Philadelphia tradition dating back to the 1970s.
"It started in 1978 as the Philadelphia Distance Run, and became the Rock 'n' Roll Half-Marathon in 2010," explains Adam Zocks, vice-president and general manager for the event.
Robert Senior, Sports Doc blog Editor
Tuesday night, The Shipley School will welcome Head Games: Football's Concussion Crisis author Christopher Nowinski to the school's Yarnall Gymnasium (819 Montgomery Avenue, Bryn Mawr, Pa. 19010) for a discussion on concussions and head injuries in sports.
Nowinski is the co-director of the Boston University Center for the Study of Traumatic Encephalopathy as well as co-founder and executive director of the Sports Legacy Institute, a non-profit organization dedicated to solving the sports concussion crisis through education, policy, and research. His 2006 book and the subsequent documentary film by the same name is largely credited with increasing awareness about concussions in football and many other sports.
Prior to writing the book, Nowinski was an All-Ivy League performer on Harvard University's football team and later became a World Wrestling Entertainment superstar. He was named the WWE's Newcomer of the Year in 2002, but was forced to retire after a bout with post-concussion syndrome in 2004.
Robert Senior, Sports Doc blog Editor
In founding Alex's Lemonade Stand, young Alexandra "Alex" Scott utilized her passion for selling lemonade to raise awareness and find cures for childhood cancer.
Next month, her father Jay will turn his own passion—running—into a means of raising those same funds in his daughter's memory.
Jay Scott, Co-Executive Director of Alex's Lemonade Stand Foundation, is issuing a challenge to all supporters to collectively run (or walk) 1 million miles this September. The event takes place throughout National Childhood Cancer Awareness Month and is appropriately dubbed "The Million Mile Run."
Julie Coté, PT, MPT, OCS, COMT, Magee Rehabilitation Hospital
Just over a year ago, Robert Ward left his home in Alexandria, Virginia on a sunny, Friday morning. He was headed to work on a plot of land he and his wife purchased in rural West Virginia where they planned to build a cabin.
When he did not return on Sunday as planned, his wife began to worry and alerted the rural fire and rescue.
She was right to worry. While riding his ATV the day before, the trail partially collapsed from under his right front wheel. He rolled 20 feet and landed in a ditch between two rocks, sustaining a broken neck at his 3rd and 4th cervical vertebrae and a spinal cord injury.