Knee Injuries
Christopher C. Dodson, M.D.
Chicago Bulls fans learned yesterday that all-star guard Derrick Rose will once again require knee surgery and is out indefinitely. The reality is it could have been worse.
Rose, Chicago's star guard was diagnosed with a medial meniscal tear in his right knee. The news comes less two years after Rose suffered a torn anterior cruciate ligament (ACL) in his left that knee required him to miss all of last season. Most sports fans at this point are aware of ACL surgery and what it means for their favorite athlete; typically the injury is season ending.
It is unclear what type of meniscal tear Derrick Rose sustained. but a big part of how much time he will miss will be determined by whether or not doctors can repair the tear with sutures. Or will they simple trim a section of it out, termed a meniscectomy?
Arthur R. Bartolozzi, M.D.
It's all over the media—a new knee ligament discovered by researchers in Belgium.
Dr. Steven Claes and Dr. Johan Bellemans' press release states that they "discovered a previously unknown ligament in the human knee. This ligament appears to play an important role in patients with anterior cruciate ligament (ACL) tears."
This new ligament, which they call the anterolateral ligament, was found in 40 of 41 cadaveric knees during dissection. They postulate its importance in stability of the knee in both ACL injuries and knee replacements. The researchers go on to state in their press release that "Subsequent research shows that pivot shift, the giving way of the knee in patients with an ACL tear, is caused by an injury in the ALL (anterolateral) ligament."
Justin Shaginaw, MPT, ATC, Aria 3B Orthopaedic Institute, Athletic Trainer - US Soccer Federation
I'm sure Washington Redskins fans are shaking their heads wondering why Robert Griffin III isn't playing like he was prior to his injury last season. Shouldn't he be at the top of his game just like Adrian Peterson? They both had the world renowned orthopedist Dr. James Andrews do their surgery and they are both world class athletes receiving the best care. So why the difference on the field?
ACL rehab is a complicated process with no definitive protocol and time frame that works for every athlete. "When will I be back playing" is always the first question I get from my athletes. My standard answer is, "when you're ready." I have no idea how long it will take an individual to return. I've had pro players take a year or more to get back to their pre-injury level of play and I've had a high school soccer player return in 11 weeks. So, why such variability in return to play? There are many factors that influence return to play following ACL reconstruction. The key factors are surgical technique, biological healing, rehabilitation, and individual healing response.
Surgical technique
Arthur R. Bartolozzi, M.D.
Arthritis is the biggest challenge in orthopaedics. But what is it and how can we treat it?
By definition, arthritis means joint inflammation: arth=joint, itis= inflammation. Arthritis is simply damage to the joint surface cartilage and the adjacent structures. This can be from trauma, years of use or overuse, or simply from genetics and inheriting less durable cartilage.
Arthritis is a spectrum of damage from mild changes that produce no symptoms to advanced disease that causes severe pain and functional limitations. Can we cure arthritis? The process of gradual deterioration cannot be "cured" but the discomfort that results can be treated and in some cases the progression can be delayed. Once arthritis is severe it can be "cured" with joint replacement surgery. Let's discuss the options, both conservative and surgical, and show what works and what doesn't.
Justin Shaginaw, MPT, ATC, Aria 3B Orthopaedic Institute, Athletic Trainer - US Soccer Federation
Whenever I see a patient with an ACL tear, they always want to blame something or someone for their injury. The biggest culprit in the blame game seems to be turf fields.
If you're old enough you might remember the original AstroTurf, and by all means plenty of blame can be placed on it for athletic injuries. But now we have new 3rd and 4th generation turf fields that are much more similar to natural grass. They are used in the NFL, MLB, MLS, and even international soccer matches are being played on them. People still love to blame turf for their injuries. But are there any facts behind these assumptions that more injuries occur on turf than grass?
Research has shown that as the coefficient of friction increases there is an increase in the rate of lower extremity injuries. This means that the more traction you get on the field or court, the higher the risk of injury. The common thought is that turf has more traction than grass and therefore we will see more injuries on turf.
Kevin Miller, Fitness Coach, Philadelphia Union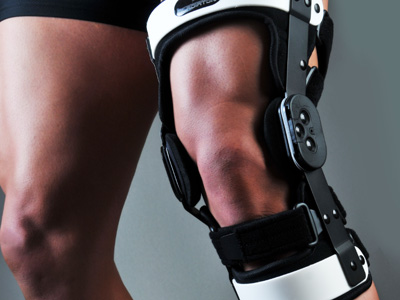 Have you ever suffered a serious knee injury? If so, what steps are you currently taking to ensure that you reduce your chances of hurting that same knee again? The unfortunate part of training and competing in sports is that injuries are a part of the game. Even athletes with the best training programs suffer season- ending injuries.
A hot topic over the past few years has been knee injuries and in particular ACL injuries. This year alone it's estimated that 100,000 people will suffer an ACL tear with 30,000 of these people being high school athletes. We often hear how females are six to eight times more likely to suffer an ACL injury when compared to male athletes. Having worked with several high school female athletes, I definitely agree that they are at a higher risk due to their lack of stability as well as their overall strength when compared to male athletes. However, I think everyone should make it a point to implement their own program to ensure that they REDUCE their chances of suffering a knee injury.
I stress the word reduce because often times coaches and trainers tell players that they need to implement an ACL prevention program. Personally I don't like to use that phrase because unfortunately there is no way that you can prevent an injury but you can greatly reduce the chances of suffering a season ending ACL injury with a solid training program. I believe Coach Mike Boyle said it best when he said that ACL reduction is simply "good training". By this what I believe he meant was that a solid year round program is the best medicine for reducing your chances of injury.
Brian Ferrie
Sports Doc readers, my name is Brian Ferrie. I'm 37 years old, grew up in Cheltenham and now live in King of Prussia. Tomorrow I'll run the Philadelphia Rock 'n' Roll Half Marathon, my first-ever attempt to race 13.1 miles.
I'm far from a novice runner. I started running on my own when I was 13, did four years of cross-country in high school, and have never really let myself fall out of decent running shape since then.
Here's the catch. When I was about 20, I experienced my first bout with iliotibial (IT) band tendonitis in my right knee, and it has greatly impacted how I train and race ever since. For those who aren't familiar, IT band tendonitis tends to start as a dull ache on the side of the knee when running, and worsen as running is continued. In my case, the pain became so severe it basically took all the fun out of running.
Heather Moore, PT, DPT, CKTP, Owner of Total Performance Physical Therapy, North Wales, Pa.
With everyone training for marathons and half-marathons, my clinic sees a TON of knee pain this time of year. Most people do not understand how it happened—they do not remember falling or having a specific injury.
Some people stop running or reduce the amount they are running in hopes of stopping the pain. Most of the time, this is not the answer. By the time they come into my clinic, they are weeks behind on training and may or may not have to stay out of running even longer.
Knee pain can be caused by a number of sources. Sometimes it is something that requires surgery like a meniscus tear or a ligament tear. However, a lot of times it is something that is fixable without having to stop running and without having to resort to surgery. Muscle imbalances and weaknesses that have occurred over time cause a great deal of knee pain. Inflammation of tendons and trigger points in the muscle lead to pain that eventually becomes unbearable.