Football
Brian Cammarota, M.Ed., ATC, CSCS, CES
Hamstring injuries are the most common injury in sports1 and have been shown to occur 176 times per NFL season or 5-6 per team each season.2 The most common mechanism of hamstring injury in the NFL was non-contact sprinting which caused 68.2 percent of hamstring strains. Hamstring re-injury is fairly common and has been shown to occur in approximately 16 percent of hamstring injuries.2,3
Re-injuries can occur due to a multitude of reasons, but they obviously indicate the hamstring had not healed enough to allow the athlete to return to full play.
The hamstring is composed of three muscles that begin at the hip (sit bone) and end at the knee. Two of these muscles, the semimembranosus and semitendinosus, are medial or inside of the knee and the other; the biceps femoris is lateral or on the outside of the knee. The biceps femoris muscle is the most commonly strained hamstring muscle, occurring in up to 83% of hamstring injuries,3 in part due to movement dysfunction as this muscle is overactive and very tight in many individuals. The same study by Eckstrand et al. found that allhamstring re-injuriesoccurred with the biceps femoris (outside) muscle.
Justin Shaginaw, MPT, ATC, Aria 3B Orthopaedic Institute, Athletic Trainer - US Soccer Federation
I'm sure Washington Redskins fans are shaking their heads wondering why Robert Griffin III isn't playing like he was prior to his injury last season. Shouldn't he be at the top of his game just like Adrian Peterson? They both had the world renowned orthopedist Dr. James Andrews do their surgery and they are both world class athletes receiving the best care. So why the difference on the field?
ACL rehab is a complicated process with no definitive protocol and time frame that works for every athlete. "When will I be back playing" is always the first question I get from my athletes. My standard answer is, "when you're ready." I have no idea how long it will take an individual to return. I've had pro players take a year or more to get back to their pre-injury level of play and I've had a high school soccer player return in 11 weeks. So, why such variability in return to play? There are many factors that influence return to play following ACL reconstruction. The key factors are surgical technique, biological healing, rehabilitation, and individual healing response.
Surgical technique
Eugene Hong, M.D., Team Physician - Drexel, Philadelphia University, Saint Joe's, & U.S. National Women's Lacrosse
If 100 US adults are followed over their entire lifetime, 16 will have at least one episode of clinical depression (the lifetime prevalence of depression is 16.5 percent).
In any given single year, 6 of the 100 will experience depression symptoms that meet the diagnostic clinical depression criteria. The 12-month prevalence of depression is actually higher in the 18-25 age group compared to the 26-49 or 50+ age groups (8 percent compared to 7 percent or 5 percent). So what do these facts have to do with athletes and sports medicine?
It is a common perception that athletes, by virtue of their athletic endeavors, are somehow immune to depression and other mood disorders. Though there is not enough research yet to definitively refute this belief, it is very likely that this is not true. In other words, it is a myth that athletes are immune to depression, anxiety, and other mood disorders simply because they participate in competitive athletics. We also know that an athlete may have different risk factors for developing depression, such as having an injury or having an athletic career come to end, when compared to non-athletes.
Heather Moore, PT, DPT, CKTP, Owner of Total Performance Physical Therapy, North Wales, Pa.
If you didn't know better, you'd think hamstring injuries were contagious with the way they spread like a virus through the NFL once the season starts. It seems that every team has someone out with a hamstring issue, and the Eagles are certainly no exception with QB Michael Vick currently sidelined.
Much less advertised in everyday life, many athletes are subject to this pain. Most people ignore it and try ways of getting around it but are still able to do the activities they love. Many try to stretch it until they no longer feel pain, or have someone push them into pain also seems to be a popular choice for a hamstring injury. I haven't quite figured that one out yet. Here's a tidbit—if it hurts, don't do it. It is not helping the situation. So what is going on? Why does it seem like hamstring injuries are becoming an epidemic?
Easy answer. Running. Seems simple enough, right? If you do an in-depth analysis of Vick's gait, much like many other people, he has an increased, what is termed 'over-stride angle.' This is done through a computerized running analysis that I am fortunate to have in my clinic. But every person that I have had on the treadmill and report hamstring pain has an increased over-stride angle.
Robert Senior, Sports Doc blog Editor
In light of today's report of another breakout of MRSA among the Tampa Bay Buccaneers, the NFLPA expressed concerns about the Eagles and Buccaneers playing this Sunday's game in Tampa.
The NFL has since announced that the game will go on, as nothing has been observed to compromise the ability for the two teams to play. This week, two Buccaneers players have been diagnosed with MRSA infections.
MRSA (Methicillin-resistant Staphylococcus Aureus) infection is caused by a strain of staph bacteria that over time, becomes resistant to the antibiotics used to treat most staph infections. According to the Mayo Clinic, the majority of MRSA infections are seen in hospitals or other health-care centers and are typically associated with invasive procedures.
Peter F. DeLuca, M.D., Rothman Institute, Head Team Physician - Eagles, Head Orthopedic Surgeon - Flyers
My Sundays, in the fall, are spent on the Eagles' sidelines leading the team of physicians that are charged with insuring the safety of the NFL players. What most people are not aware of is that on Fridays I am on the sidelines of high school football games in South Jersey. The injuries that I see at the professional level are not different from the ones I see for the high school athlete. Evaluating those injuries are a bit more challenging at the high school facilities.
Every stadium in the NFL has x-ray available and there are a few venues that have a MRI to aid in making a rapid diagnosis of a sports-related injury. After reviewing these studies, I feel more confident in making a decision whether or not it is safe for that athlete to return to play in that game. We do not have this diagnostic testing at high school fields.
I was covering Joe Flacco-led Audubon High School football game years ago and a "bullet" from Flacco's arm struck the finger of a receiver. The player came off the field holding his painful finger and unable the move the already swollen digit. If this occurred at Lincoln Financial Field, I would have sent the player in for an x-ray and if it was negative for a fracture I would allow the player to return if his motion returned and his pain decreased. Unfortunately, I did not have this luxury and I followed the adage, "When in doubt, keep them out." This particular high school athlete was not happy that I would not allow him to return to play but safety comes first.
Robert Cabry, M.D., Drexel Sports Medicine, Team physician - U.S. Figure Skating, Assoc. Team Physician - Drexel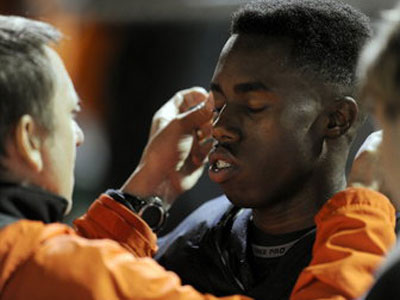 With the recent nearly $800 million settlement, the NFL is conceding that head injuries occurred and led to serious long term problems. Despite this and all we hear in the media about the seriousness of concussion, the problem is still significantly under-reported. A recent study published this year showed that 4 out of 10 concussions suffered by high school athletes are never reported by the athlete.
When asked about the classic "bell ringer," less than one out of seven are ever reported. With the recent push to educate players, coaches and parents about concussion, the way we treat concussion has changed to protect the athlete from further injury. This doesn't help if the athlete is not reporting the injury to begin with.
It's difficult to convince the 'invincible' teenager that a head injury can have serious long-term consequences. Studies show the most common reasons for not reporting a concussion were that the player believed it wasn't serious enough, they didn't want to let their teammates down or they didn't want to be removed from play. What they don't realize is that the consequences may be devastating. Symptoms such as concentration problems, headaches and depression can be permanent. In my practice at Drexel Sports Medicine, players often present after multiple concussions and many will never resolve their symptoms.
Robert Franks, DO
As fall sports begin in earnest this weekend, I am often asked if head protection can prevent a concussion while engaged in play. Since most fall sports head protection-related questions are directed at football and soccer, we will deal primarily with these two sports.
According to the recent Team Physician's Consensus Statement on Concussion (TPCC) and the National Federation of State High School Associations (NFHS), there is no football helmet, or mouth guard for that matter, that can prevent a concussion. Helmets have been designed to prevent skull fractures, cerebral bleeding, and other head trauma. Mouth guards have been developed to protect teeth and against oral injuries.
Helmets in fact, when fit inappropriately, can increase the incidence of concussion. Helmets can also increase the incidence of a concussion when used for illegal means in football such as spearing. Schools generally provide the helmets that are worn by their football players, and these are usually refurbished helmets that have been used by previous players. Helmets used in schools should meet the standards for reconditioning set forth by NOCSAE (The National Operating Committee on Standards for Athletic Equipment) to be sure they are appropriate for wear.