Children, Teens
Brian Cammarota, MEd, ATC, CSCS, CES, Symetrix Sports Performance, athletic trainer at OAA Orthopaedics
With autumn in full swing a few things are becoming evident—days are getting shorter, temperatures are getting colder, and the pageantry and tradition of the World Series is complete.
Congrats to the Boston Red Sox and their fans on being on top of the baseball world. But with the completion of the Fall Classic comes the realization that we will not see baseball until next spring. The baseball and softball off-season is here, whether we like it or not. For most youth players this means taking a break from baseball, playing other sports, training to get ready for next season, or a combination of the above. Many players and parents are faced with the question of how to recover from last season and prepare for next season.
The main area to address is throwing and pitching. All players should stop throwing and take at least 2 months off. Preferably, 3 to 4 months of no throwing is recommended by many experts including Dr. James Andrews. If you are a pitcher, you absolutely should not pitch or throw from a mound for 3 to 4 months and you need at least 2 months of no throwing. As throwing a baseball is an unnatural motion, throwing year round does not allow your shoulder and elbow to recover. Furthermore, it increases muscle imbalance making future injuries more likely.
Robert Senior, Sports Doc blog Editor
Next Sunday, November 10, Alex's Lemonade Stand Foundation will hold their 5th Annual 5K Run/Walk and Kid's Dash, The Lemon Run Philadelphia, presented by Volvo.
The event will originate from Memorial Hall in Fairmount Park, where athletes ranging from novices to advanced runners will come together in an effort to raise money to end childhood cancer.
Participants are encouraged to register ahead of time in order to receive the reduced rates--$35 per 5K runner (timed); $25 per 5K walker (untimed) and $15 per child age 10 and under (100-meter dash). While registration is still available on the day of the event, increased rates will apply.
Alfred Atanda, Jr., M.D., Nemours/Alfred I. duPont Hospital for Children.
For those of us that follow baseball, it seems like every time we turn around another pitcher is going down with a major injury. The most recent notable name is Matt Harvey from the New York Mets. Like many before him, he started having pain with pitching while experiencing decreased velocity and poor control of his pitches.
After visiting with several doctors, he was eventually diagnosed with an Ulnar Collateral Ligament (UCL) tear of his elbow. After seeking advice from several other pitchers with a similar injury, including the Phillies' Roy Halladay, he eventually decided to undergo "Tommy John Surgery" or UCL reconstruction. Rather than try non-operative treatment, he elected to undergo surgery to maximize his chances at returning to the mound and be as competitive and dominant as he once was.
These clinical scenarios are not only common, but they can get a lot of media attention depending on the caliber of the pitcher involved. With increased attention, increased misconceptions are developed as well usually because a lot of the medical information is interpreted out of proper context. Lately, in my office, I've been seeing a lot young pitchers with minimal elbow pain and discomfort terrified that they may need Tommy John Surgery and miss a year of pitching. I've had other pitchers, and even parents and coaches, ask if they should have Tommy John Surgery in the absence of an injury, in efforts to try to increase velocity and control.
Peter F. DeLuca, M.D., Rothman Institute, Head Team Physician - Eagles, Head Orthopedic Surgeon - Flyers
My Sundays, in the fall, are spent on the Eagles' sidelines leading the team of physicians that are charged with insuring the safety of the NFL players. What most people are not aware of is that on Fridays I am on the sidelines of high school football games in South Jersey. The injuries that I see at the professional level are not different from the ones I see for the high school athlete. Evaluating those injuries are a bit more challenging at the high school facilities.
Every stadium in the NFL has x-ray available and there are a few venues that have a MRI to aid in making a rapid diagnosis of a sports-related injury. After reviewing these studies, I feel more confident in making a decision whether or not it is safe for that athlete to return to play in that game. We do not have this diagnostic testing at high school fields.
I was covering Joe Flacco-led Audubon High School football game years ago and a "bullet" from Flacco's arm struck the finger of a receiver. The player came off the field holding his painful finger and unable the move the already swollen digit. If this occurred at Lincoln Financial Field, I would have sent the player in for an x-ray and if it was negative for a fracture I would allow the player to return if his motion returned and his pain decreased. Unfortunately, I did not have this luxury and I followed the adage, "When in doubt, keep them out." This particular high school athlete was not happy that I would not allow him to return to play but safety comes first.
Joel H. Fish, Ph.D., Director - The Center For Sport Psychology in Phila., Sports Psychology Consultant - 76ers & Flyers
Do you have a son or daughter who is trying out for a school sports team, or who is playing on a team for the first time? If so, this is certainly an exciting time. Along with the excitement, though, tryouts and being a first-time team member pose some unique mental challenges.
Adrenaline is a natural part of a tryout situation or being part of a team for the first time. Anxiety is also a natural emotion in new situations. Athletes tend to feel most anxious the night before or several hours before a competition. The anticipation of a competition usually produces the most anxiety and often subsides once the game starts.
As a parent, I think it is important to normalize for our children that feelings of anxiety and stress are common in new competitive situations. Anxiety is a natural part of competition. The challenge for athletes is to learn to relax when they start to feel overly anxious or stressed during a competition. In a tryout or first-time competitive situation, the best way to relax is to slow down, take a timeout, and take a deep breath. When athletes slow down, their heartbeat and blood pressure slows down, and they are better able to keep their emotions from getting too high or too low.
Robert Cabry, M.D., Drexel Sports Medicine, Team physician - U.S. Figure Skating, Assoc. Team Physician - Drexel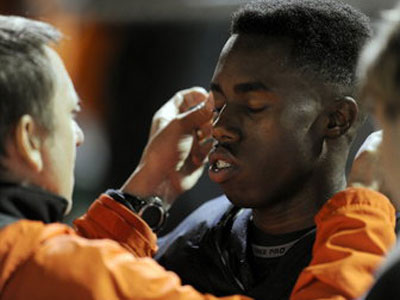 With the recent nearly $800 million settlement, the NFL is conceding that head injuries occurred and led to serious long term problems. Despite this and all we hear in the media about the seriousness of concussion, the problem is still significantly under-reported. A recent study published this year showed that 4 out of 10 concussions suffered by high school athletes are never reported by the athlete.
When asked about the classic "bell ringer," less than one out of seven are ever reported. With the recent push to educate players, coaches and parents about concussion, the way we treat concussion has changed to protect the athlete from further injury. This doesn't help if the athlete is not reporting the injury to begin with.
It's difficult to convince the 'invincible' teenager that a head injury can have serious long-term consequences. Studies show the most common reasons for not reporting a concussion were that the player believed it wasn't serious enough, they didn't want to let their teammates down or they didn't want to be removed from play. What they don't realize is that the consequences may be devastating. Symptoms such as concentration problems, headaches and depression can be permanent. In my practice at Drexel Sports Medicine, players often present after multiple concussions and many will never resolve their symptoms.
Justin Shaginaw, MPT, ATC, Aria 3B Orthopaedic Institute, Athletic Trainer - US Soccer Federation
With the start of high school soccer, we can all think back to our athletic days: sitting in a cramped locker room waiting to get our ankles taped, hoping they have any favor of Gatorade other than lemon-lime. Butterflies in our stomachs as we wait for game time. So how do these high school experiences compare to a professional soccer sideline and locker room?
Parents always tell me they want their child to be treated just like the pros. When it comes to injuries sustained on the field, they are. The care the high school athletes receive is actually more similar than one would expect. An ankle sprain is an ankle sprain and the high school player is treated just about the same as the pro. We perform a quick injury assessment to determine the severity and if it is minor, tape the ankle, and get the player back on the field.
If it is more serious, we tell the coach to call for a sub and get the player to the bench for ice. The level of care is identical for concussions as no player, whether high school or pro, is allowed to return to the game if he or she has a concussion.
Robert Franks, DO
As fall sports begin in earnest this weekend, I am often asked if head protection can prevent a concussion while engaged in play. Since most fall sports head protection-related questions are directed at football and soccer, we will deal primarily with these two sports.
According to the recent Team Physician's Consensus Statement on Concussion (TPCC) and the National Federation of State High School Associations (NFHS), there is no football helmet, or mouth guard for that matter, that can prevent a concussion. Helmets have been designed to prevent skull fractures, cerebral bleeding, and other head trauma. Mouth guards have been developed to protect teeth and against oral injuries.
Helmets in fact, when fit inappropriately, can increase the incidence of concussion. Helmets can also increase the incidence of a concussion when used for illegal means in football such as spearing. Schools generally provide the helmets that are worn by their football players, and these are usually refurbished helmets that have been used by previous players. Helmets used in schools should meet the standards for reconditioning set forth by NOCSAE (The National Operating Committee on Standards for Athletic Equipment) to be sure they are appropriate for wear.