When I decided to become a full-time yoga teacher, I had a misguided representation that my days would be filled with handstands and down dogs. Now as a studio owner, while my days may consist of plenty of asana, they are also filled with sitting at a desk, plugging away numbers and filing papers for hours at a time. As a result, I consistently experience pain and tightness in my lower back, my hips and my neck.
Extensive research has shown that sitting at a desk (or anywhere else for that matter) for a large majority of our day is detrimental to our posture and to our overall health. It creates body aches, muscles tightness and, according to Harvard Medical School, it can even heighten our risk of heart disease and diabetes. Below are my six go-to yoga poses that help me reverse the damage of sitting at my desk all day.
This is also a good time to note, post-snowstorm Jonas, that these can help to limber up tired backs and shoulders after snow shoveling!
Mountain Pose
This pose is a Power Yoga staple and can be found many times throughout a vinyasa. From a standing position, press your feet into the ground and inhale your hands straight up to ceiling. It is important to maintain a straight spine and a tucked tailbone. Mountain pose will reverse and relieve the warped spine created by sitting all day by adding length and space throughout the spine and the entire nervous system.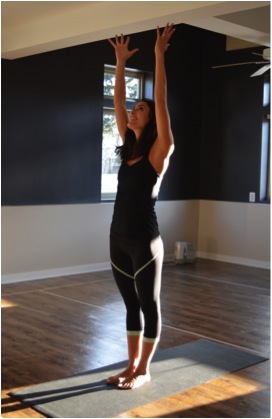 Forward Fold
From Mountain Pose, exhale as your fold forward, pressing your chest toward your thighs. Release all tension in your neck that as built up through the day; allow gravity to take over as the crown of your head drops down toward the floor. This will create a deep stretch in your lower back and your hamstrings.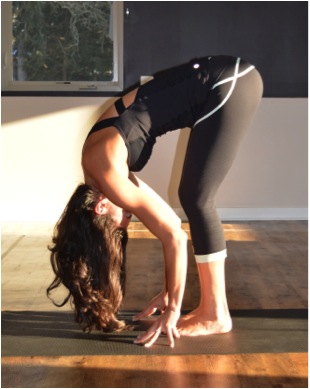 Upward Facing Dog
From forward fold, move into your Chaturanga (high push-up to low push-up) with your exhale. As you breathe in, press your palms and the tops of your feet flat onto the ground. Lift your chest and your stomach up and forward; squeeze the tips of your shoulder blades into the center of your back. Engage your quadricipes as they lift off the ground. Your mid and lower back will thank you for this one!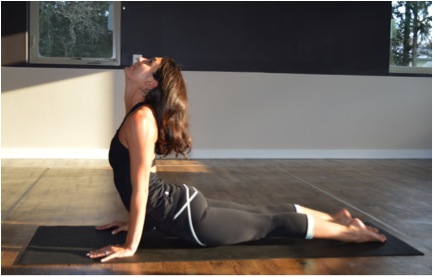 Cow Pose to Cat Pose
Begin with your hands stacked directly under your shoulders, your knees directly under your hips and hips width distance apart, with a neutral spine. As you inhale, move into Cow Pose by arching your back and sending your tailbone and your head upwards. As you exhale, pull your belly in, round your back and tuck your chin into your chest to create Cat Pose.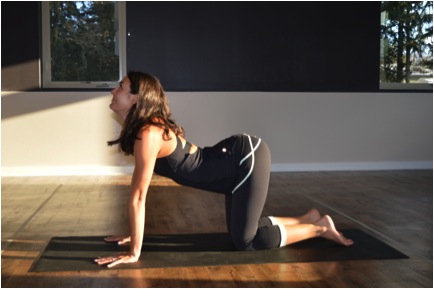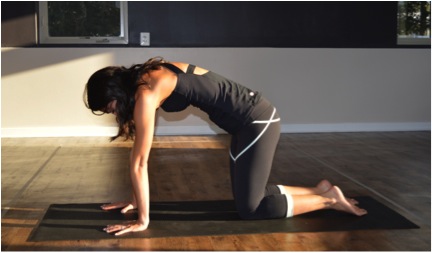 Twisting Triangle
Moving from Mountain Pose, step your left foot behind you approximately one foot. Turn your back foot out slightly. Inhale your left hand straight up to the ceiling. As you breathe out, bring your left hand down to the outside of your right foot and your reach your right arm upward. A block can be used here to create a modification. It is vital to maintain a straight spine for the duration of the pose. Engage your core; this provides more access to a deep twist for your low spine and will release your lumbar spine. As an extra benefit, this pose will wring out toxins from your digestive system.
Brittany Everett is the owner of Grace & Glory Yoga in Fishtown. She completed her 200-Hour in May 2014 and has attended a number of Baptiste Trainings such as Level One, Level Two, and Art of Assisting. GGY Fishtown offers a vigorous physical practice that is adaptable for every body type. This Baptiste-inspired power yoga creates a heat that heals from the inside out.
---
Have a question for the On The Run panel? Ask it here or email us. View our 2015-2016 local race calendar here or add your own race using this submission form.

Read more from the On The Run blog »