Using your head in girl's soccer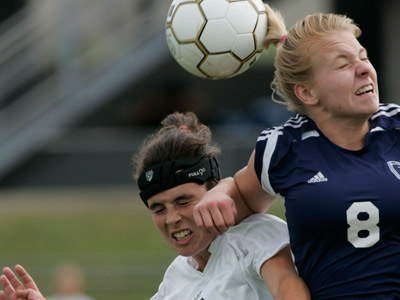 Given the high number of concussions in girl's soccer, some have begun to suggest a ban on heading the ball. John Neidecker, D.O., sports medicine physician with Cooper Bone and Joint Institute, offers some insight.
Using your head in girl's soccer

by Robert Senior
Earlier this week, we covered a study that showed girls' soccer as the number-two sport overall in terms of concussions sustained by players. While the sport's lofty position on that list was a bit alarming, head injuries have been a concern in the game for some time, as evidenced by increasing recommendations for amendments to the rules of the game.
One recommendations being voiced recently is the banning of heading the ball for players under a certain age. I spoke to John Neidecker, D.O., sports medicine physician with Cooper Bone and Joint Institute to get his take on recent news and research.
Dr. Neidecker began by stressing the importance of looking at the factors that contribute to the study results. "The sheer volume of soccer players leads to the prevalence of concussions in these athletes," he explained. In other words, while girls' soccer may be the second-leading sport in terms of total concussions sustained, the fact is there are simply more girls playing soccer than just about any other sport, leading to an increased number of total exposures.
That said, Dr. Neidecker identified the three leading causes of concussions that he has seen sustained in soccer games:
Collision
Trip and Fall
A ball to the head when the player was not prepared
The act of intentionally heading the ball is not a frequent cause of head injury at all, let alone a leading cause. "I've only seen one instance of a concussion resulting from heading the ball," recalled Dr. Neidecker, "and I would say that was the result of improper technique, or striking the ball with the wrong part of the head."
So heading the ball itself is not particularly dangerous in terms of concern for injury. Dr. Neidecker confirmed there are no studies that prove headers can cause concussions. Nonetheless, he added that he supports the outlawing of heading the ball in youth soccer leagues. Why?
"Younger players lack those specific skills—not to mention the muscle tone—to head the ball properly, in most cases," he said.
The potential for collision when two or more players attempt to strike the same ball with their heads is the greatest concern of many experts. Additionally, there's the factor of cumulative trauma—one header is not going to cause a concussion, but dozens of headers struck with improper technique, and less-than-fully developed musculature causes an unnecessary risk.
If you've ever attended a youth soccer game, you know that up to a certain age, the vast majority of play follows a particular pattern—the ball travels slowly along the field while scores of players chase it from side to side, end to end—making the opportunities for headers scarce, and the strategic advantage to be gained by attempting a header almost non-existent.
But there comes a point when heading the ball is not only advantageous but an essential part of the game. A look at statistics from the 2004 professional season showed that in three elite European professional leagues (English Premier League, Spain's La Liga and Italy's Serie A), almost 19 percent of total goals were scored on headers. So when is the right time to introduce the play?
"I'm not sure there's one perfect age," said Dr. Neidecker. "But by the time they're playing for high school teams, it's very reasonable to see headers as part of the game."
Do you or your children play soccer? Have you ever experienced or seen a serious injury resulting from a header? Have your local youth leagues banned or discouraged players from heading the ball? Tell Sports Doc about it in the comments section below.