Roger Torres thanks Union fans as his potential departure looms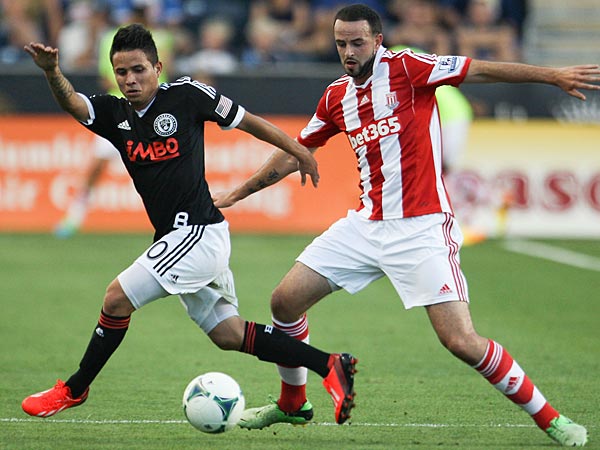 I talked with Torres one-on-one after the Union's season finale last Saturday.
Roger Torres thanks Union fans as his potential departure looms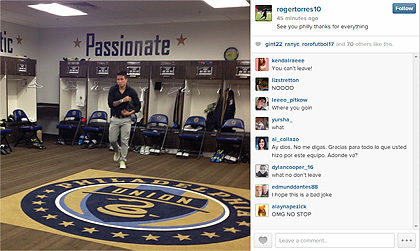 Torres' contract is set to expire, and a lot of people believe he won't be back with the Union next year. A source close to the situation told me that officially, Torres is still a member of the team right now. He is going home to Colombia, and the team has not formally decided whether to try to keep Torres here.
I talked with Torres one-on-one after the Union's season finale last Saturday. Unfortunately, due to other work obligations, I did not have time until now to transcribe all of it.
(As I have said many times before, I don't write about soccer for a living. I do other things for Philly.com for a living and write about soccer in addition.)
Though the interview took place a few days ago, much of the context of it remains in play. Here's our conversation. It was conducted entirely in English, a testament to how well Torres has learned the language.
We'll see where things go from here.
John Hackworth has really shown some confidence in you lately. You played in the final two games of the season, including a season-high 29 minutes against Kansas City. What has he been saying to you lately? He told us that you have been doing well in practice and have earned the playing time.
Nothing, I just have done the same thing that I do all year. Working hard, and I have waited for the opportunity. The chance that I got in Montreal was a nice opportunity to show him that I can do good things for the team, and he realized it, and he put me in this game too. I appreciate him for that.
Did it feel good to get that reward of finally getting playing time?
It's a little crazy, you know? I wasn't playing all year, and sometimes you think you can do things for the team. And in this moment, it was a more intense moment for our team. He decided to put me in. It's crazy, but the thing I needed to do was to help my team. As soon as I touched the field, I just tried to do the best thing for us and for this institution, and for the fans. That's the only thing I can say.
You have seen what the city and the stadium are like when this team makes the playoffs. In terms of simple numbers, the Union came very close this year. But how close do you think this team is to taking that next step, and getting back to the playoffs?
I think we were there, man. I think we did a lot of good things all year, but soccer is like this. You have to keep working until the final, because you never know what's going to happen. And you have to get the points when it's points that you know you can get, and you lost them in the last minute. That's when the worst things happen, because now you need those points that you thought you could get before. But this is soccer, and you have to leave this behind and think about the future.
I think this is a nice institution. Everything is perfect right here: the fans, the organization. I think they will be a good team next year. This city deserves that, because they supported our team all year no matter what.
So I don't know how to say it, but I just want to thank them for all the support that they give me, even when I wasn't playing, even when it was a difficult moment for me. I think they helped me a lot to stay focused on the things that I can do, and I appreciate them for that. I feel so bad because we didn't give that back, because we didn't make the playoffs. But we gave all the effort. So I just want to say thank you and keep supporting us, because that's the thing we're never going to forget about.
I know the fans support you all the time, because I see people sending you messages on Twitter and I get asked about it all the time. What do you think your future is now?
It's a hard question. I really don't know what's going to happen. This is my last year under contract with the team. I'll have to talk with them, but I don't know if I'm going to be here next year. I can say that, because I don't know right now.
Do you want to stay here?
I love this team, you know. I love the team, the fans, everybody. For me, it's a pleasure to be here. And if we make some deal, maybe be I will be here for next year. But for this moment, I can't say if I'm going to be here or not. So I just want to take these couple of days to think about what is going to happen to my career and the future.