Archive: January, 2013
Michael Kaskey-Blomain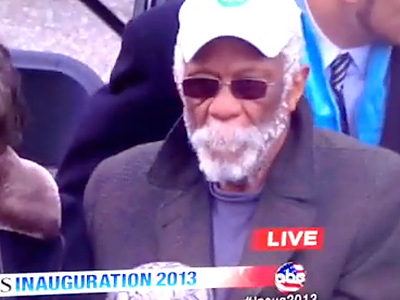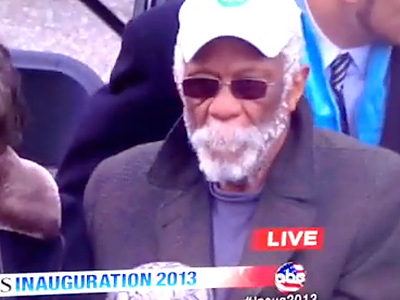 Bill Russell did a lot to distinguish himself during his playing days with the Boston Celtics, like say being the only player to win 11 championship rings. However, even a living legend like Bill is succeptable to being mistakenly identified sometimes.
During the telecast of President Obama's second inauguration on Monday afternoon, ABC anchor George Stephanopoulos confused the Celtics great with fellow Obama-supporter, actor Morgan Freeman.
While panning around the crowd, the camera stopped momentarily and focused on Russell, who was wearing a green Celtics hat with his old number 6 on it to help further identify himself. Stephanopoulos however, didn't pick up on the context clue and mistakenly identified the NBA legend as five-time oscar nominee Freeman.
Marc Narducci
The 76ers will be looking to achieve something that hasn't happened in nearly two months – win two games in a row.
The Sixers last had consecutive wins when they captured three straight games against Phoenix, Dallas and Charlotte Nov. 25, 27 and 30th.
They get their chance tonight when the San Antonio Spurs visit the Wells Fargo Center.
Marc Narducci
Andrew Bynum continues to report progress with his injured knees and still is eyeing a return after the all-star break, but the 76ers center can't say with certainty if that will occur.
Monday was another step in the right direction, according to Bynum. He took part in his first shootaround in the morning.
"This is the first time this season I have been at the shootaround and I have been involved a little in practice just shooting around with the guys," Bynun said before Monday's game with the San Antonio Spurs. "My knees feel good and I am not in any pain and it's all good and I want to keep going."
Marc Narducci
Coach Doug Collins couldn't have been more candid. The 76ers had just staged an impressive comeback win, beating the Toronto Raptors, 108-101 in overtime on Friday at the Wells Fargo Center and Collins was feeling pretty good about the effort (after halftime).
From a character standpoint, it was among the most impressive wins, simply because the Sixers appeared done on a number of occasions.
They trailed 60-43 at halftime and saw the deficit grow to 19 points early in the third quarter.
Marc Narducci
Sixers guard Jason Richardson said he was feeling better after having his left knee drained with fluid on Thursday and that he will be a game-time decision for tonight's matchup at the Wells Fargo Center against the Toronto Raptors.
"I feel good," Richardson said after this morning's shootaround. "I had knee swelling and got the drain out if it and I am feeling pretty good right now and we will see how it goes game time."
Getting his knee drained is new territory for Richardson, who turns 32 on Sunday.
Marc Narducci
Jason Richardson, who had his left knee drained with fluid on Thursday, will play tonight against the Toronto Raptors.
Richardson was a game-time decision and the Sixers just announced he will be in the lineup.
It will be the usual starting lineup for the Sixers with Richardson and Jrue Holiday in the backcourt, Lavoy Allen at center and Even Turner and Thaddeus Young at forwards.
Mike Bertha
Kobe Bryant recently spoke with Chris Palmer of ESPN The Magazine. The resulting Q&A is posted online and is definitely worth a read. Some of the gems Kobe offers up:
Says he's never lost a game of one-on-one
Talks about smoking McGrady in one-on-one in Germany and says that he would cook LeBron, too.
Calls Adidas "that other sneaker company."
Says if he never played with Shaq, his numbers would be "ridiculous."
Says his wife told a guy at 7-Eleven that he wipes his own ass.
Explains why he has an issue with canine feces.
Seriously, Kobe is always good for an interesting quote or two, but this Q&A is the perfect excuse to waste 10 minutes of your Thursday afternoon.
Bob Cooney
Early in training camp, Sixers coach Doug Collins and his assistants loaded into an SUV after practice and headed to an Eagles practice as a guest of coach Andy Reid. Collins not only came away from that practice with respect for the Eagles' coaching staff, but also with a new friendship - with Reid.
Collins talked of Reid's professionalism, attention to detail and focus. So when the Eagles fired the 14-year head coach, Collins felt the pain that Reid no doubt absorbed.
Since Reid's hiring by the Kansas City Chiefs, Collins has been sporting a Chiefs hat. It's a show of support for his new friend. But Collins is still an Eagles fan, also, and will support their new coach.