Archive: August, 2013
Keith Pompey, The Philadelphia Inquirer
The 76ers have agreed in principle to hire Chad Iske as an assistant coach on Saturday, a league source has confirmed.
Iske comes to the Sixers from the Denver Nuggets, where he oversaw scouting of the upcoming opponent and assisted in the game-plan preparation.
He is the second assistant hired to Brett Brown's coaching staff. The Sixers hired Lloyd Pierce last week.
Philly.com Sports
Join the Inquirer's Keith Pompey as he takes your Sixers questions in a live chat, Thursday at noon.
On a mobile device? Click here to join the chat.
Justin Klugh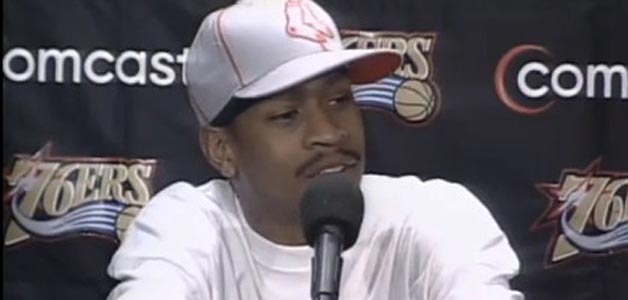 You may have heard about the time Allen Iverson went on a tirade about having to practice while with the Sixers. It probably came up one or two times during his time here or even years afterward.
Well, it turns out - if you can remember the rant I'm talking about, even - that with his retirement looming, the truth has surfaced.
Michael Kaskey-Blomain
Like thousands of others, LeBron James attended the Jay-Z/Justin Timberlake concert at Sun Life Stadium in Miami last Friday.
Unlike the thousands of other concertgoers however, James did not have to wait in the bumper-to-bumper traffic leading into the stadium.
Instead, the Miami mega-star was given a special police escort to the stadium, greatly expediting his arrival.
Keith Pompey, The Philadelphia Inquirer
In his first big move as 76ers coach, Brett Brown has decided not to retain the team's assistant coaches.
He informed Michael Curry, Aaron McKie and Jeff Capel Thursday night they would not be a part of his staff moving forward. All three were holdovers from Doug Collins' staff, and are under contract for one more year.
It is unclear if they'll remain with the Sixers in another capacity.
Curry was a candidate for the Sixers coaching job after Collins resigned on April 18.
Keith Pompey, The Philadelphia Inquirer

Here is the 76ers' 2013-14 preseason schedule.
DATE

OPPONENT

Philly.com Sports

Dime Magazine's Tyler Tynes wrote an interesting piece on the rich history of the Philadelphia basketball circuit and its recent decline when it comes to players reaching the professional level.

The city's hoops culture has always been known for being tough and ferocious.

There are the all-time greats in Wilt Chamberlain and Kobe Bryant. Other memorable players like Earl Monroe, Rasheed Wallace and Cuttino Mobley had respectable NBA careers.