The year was 2010, and the Phillies were cruising into the NLCS, again. In their way stood the San Francisco Giants; a bunch of quirky castoffs with all the charisma of the cast of a '90s sports movie. They had the chemistry, sure, but would that be enough to beat the elite, defending NL champion Phillies?
ESPN's experts said "What? Absolutely not."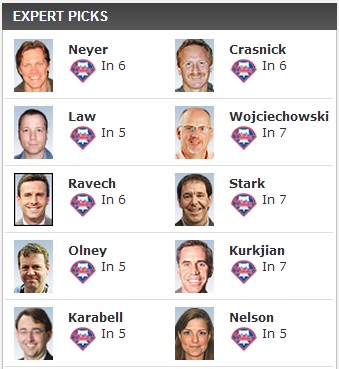 Here is what the Phillies winning that NLCS looked like.
The next year, the Phillies won the most games in franchise history, and coasted into the playoffs to face the Cardinals, a fun-loving crew of replacement pieces and beardos, riding some late season momentum like trash blowing in the wind.
Here's what it looked like when the mighty Phillies defeated them.
Baseball has been needlessly cruel enough to show us how the best teams never win, unless you're the 1997-2000 Yankees. So, who's the scrappiest, underdoggiest bunch of ne'er-do-well's to gut, grind, and [ERROR 404: THIRD BASEBALL CLICHE NOT FOUND] their way into the playoffs this year?
Pirates
Anybody whose team didn't make the postseason is about to become a Pirates fan. Their bandwagon is going to be so packed you won't even be able to smell all the "Pittsburgh."
What NL squad has more appeal?
The Braves? Anyone growing up in the '90s is in no hurry to watch them run the show for the next decade and a half.
The Cardinals? Yeah, what's not to like about a team whose fans are the self-proclaimed "best in baseball."
The Dodgers? Something about "limitless finances" doesn't exactly make you an "underdog."
So, Pirates it is. Andrew McCutchen is great. And how about all those other Pirates players?! They're all there. A.J. Burnett is one, but just ignore him.
Orioles
It is the end of an era in Baltimore – heroes can be found on the current roster, rather than remembered from a past one. Yankees fans come into Camden Yards and get booed stupid, rather than being allowed to roam freely as if they belong there.
Chris Davis just tied Brady Anderson for the single season Orioles home run record. Forever-concussed Brian Roberts has the chance to lead off on a post season roster. Plus, their 21-year-old third baseman can do this:
Oh sorry, that was him with his adorable husky puppy. Nothing likeable about that.
Nationals
"Underdogs?" I guess you haven't heard - the Nationals are definitely going to the World Series.
This was a joke I made many, many times before.
"Ha, ha," I'd say. "Look at those .500 Nationals. And they promised their fans the World Series."
People would be like, "Yeah, great," or "Please, stop elbowing me."
I wouldn't, though. I'd elbow them even harder, as my laughs grew more and more maniacal. But now the Nats are 11-3 in September, and Jayson Werth is an MVP candidate. Our "Shutting down Stephen Strasburg" jokes have nowhere to land. And suddenly, the Nats are nine games over .500, 4.5 out of the Wild Card, and bearing down on the Reds like some sort of team that was supposed to be this good four months ago.
All of which would probably contribute to their narrative if they were to enter the postseason.
Athletics
Have you heard about this Josh Donaldson character? He's now the runner-up in WAR to only Mike Trout, thanks in large part to his newfound ability to obliterate left-handed pitching.
The A's seemingly survived a tough battle with the Rangers for the AL West, and are doing it - as always - with a far from elite staff, relying on 14-year-olds like Sonny Gray to get them through games, and, as a west coast team, will be traditionally overlooked until it is no longer possible.
The AL West/Wild Card teams aren't just here to get eliminated by the Yankees in the first round anymore. Something about a team not oversaturating the market with endless exposure and A-Rod's face makes them so appealing.
Rays
You can count out the Rays, if you want, but then Joe Maddon is going to push his glasses up on his face, balance a few key match-ups, schedule a themed road trip, and somehow clinch a playoff berth while eating his cereal in the morning.
Their biggest downfall as the univesally appealing underdog is that they would have to get past the Orioles to do so, villifying them a bit. The Rays were just in the World Series a few years ago; they've made the playoffs in 2010 and 2011, playing a key role in that season's infamous Game 162. Their colors are not as foreign to see on national TV come October, making them more of a safe bet, and thusly eliminating them from this competition.
Yankees
Those poor, defenseless Yankees. They're just a bunch of hard-nosed veterans, hanging on for dear life, proving that baseball isn't about your "stats" or "talent." They're walking proof that all you need to contend in baseball; nay, in life; is that burning fire to win.
Also, steroids.
Isn't it just nice to see A-Rod smile again?
In conclusion, the underdog fan has to be rooting for a Pirates-Orioles World Series.
The narratives these teams have set up, combined with the futility of their recent past, makes them the teams who, by our perspective, want it the most ("wanting it" being an admittably unmeasureable statistic). They've struggled, stumbled, and celebrated all year long, and have forged the stars and strategies they need to compete.
Without a dog in the fight, you can just to sit back and watch whose got the momentum to win. And then yell, "HEY! STOP! This is HORRIBLE and ILLEGAL!" and save all the dogs and call the police.