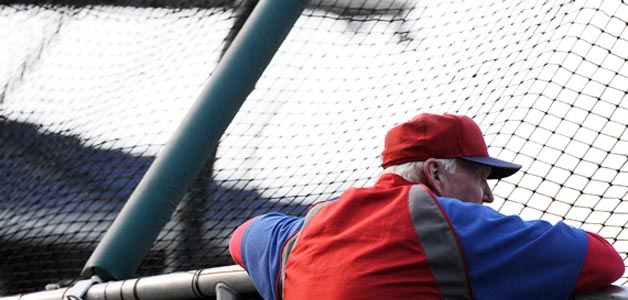 Shockingly, a ridiculous statement was made in Philadelphia sports media this morning: "Charlie Manuel is overrated."
Here's something to top even that: "Angelo Cataldi isn't wrong."
He's basically saying what we've all been saying: that the "manager" is a limited role to begin with, and Charlie Manuel's laid back approach put the success of his teams more on his roster than his managerial prowess. Cataldi is just "Cataldi"-ing his phrasing of this in order to get you to react to it.
Manuel was relaxed, got to know his players, and relied on their talents for success. But to call him "overrated" because of what the job of managing entails makes almost every successful manager in the history of baseball "overrated."
There are managers who achieve/have achieved success by being a little more proactive. They made more people roll their eyes, but they were hands-on managers, constantly tinkering, batting the pitcher eighth, etc. They'd try something, and if it worked, they looked like geniuses. And maybe a guy like that would have had some more prolonged success with the Phillies of the late 2000's to the early 2010's.
But it can't be said that no decision Charlie Manuel made in 2008 helped the team. He wasn't a non-entity, he just took a more relaxed approach. Maybe in a tenser clubhouse, players aren't loose enough to reach their potential. Maybe with a less upfront manager, Jayson Werth isn't as motivated to punch through his bench role. There has to be a reason why guys like Werth and Roy Oswalt will happily refer to him as the best manager they've ever had.
When you put coming up short of a World Series title in 2009, 2010, and 2011 all on Manuel's shoulders, you put aside things like everybody but Utley shuting down offensively in '09; Brian Wilson and Cody freaking Ross catching fire for the Giants in 2010; and Cliff Lee blowing the lead in game two of the '11 NLDS, among other things.
Sure, if you believed Charlie Manuel should pull Cliff Lee in the third inning of that game with a four-run lead for no reason, you can look back and be angry at Charlie. But you probably - hopefully - didn't.
His management may have been flawed - it was - but it's contradictory to say that when the team won, it was all due to the players, and when they lost, it was all on the manager. This has hardly been a team that has consistently performed at a championship-caliber level, with their sole obstable being the guy in the dugout.
"Overrated" is just a fun word to shout into a microphone (or put in a headline) that gets people to react. And at a time when we're all maybe still a bit vulnerable and nostalgic about Charlie, it takes advantage of that state by applying negative connotations to what we already think.
And honestly, if you want to lambast the only manager of a Philly team to win a world championship in the past three decades within a week of him leaving town, then it's hard to believe you're looking for anything but attention.