Archive: August, 2013
Justin Klugh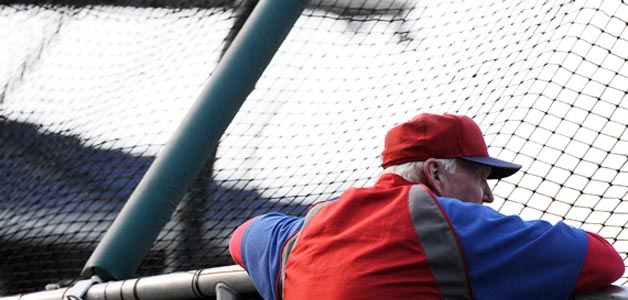 Shockingly, a ridiculous statement was made in Philadelphia sports media this morning: "Charlie Manuel is overrated."
Here's something to top even that: "Angelo Cataldi isn't wrong."
Justin Klugh
The night has finally arrived.
Some fan will be plucked from the stands at Coca-Cola Park during a beautiful evening in Allentown and reminded of their inevitable mortality.
It's Celebration of Life Night! Come out to Coca-Cola Park as we put the FUN back in funeral giveaway! http://t.co/q6Bk10p1Ct

— IronPigs (@IronPigs) August 20, 2013
Justin Klugh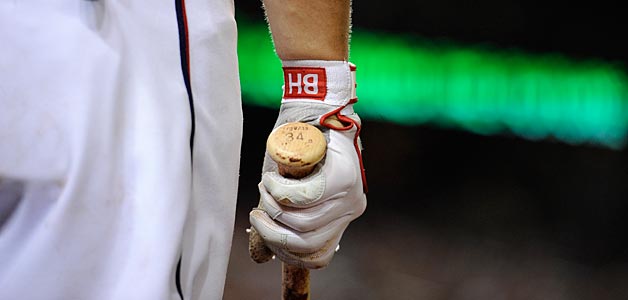 Something about Bryce Harper makes teams want to throw the ball at him.
Here was a brash, emotional young player wearing war paint, quickly ascending to the Majors who everyone was just salivating over for his first big league outburst.
Ryan Lawrence
As you may have read in the Daily News today, Jimmy Rollins is in a pretty lenghty slump.
How bad has it been?
Since the All-Star break, Rollins is hitting .214 with a .260 OBP. Entering Sunday, Rollins' .576 OPS ranked 195th out of the 220 major leaguers with at least 75 plate appearances since the break.
Matt Gelb
Jake Diekman froze. He looked around as home-plate umpire Jim Joyce instructed both Rockies runners to advance on a balk. The Phillies lefty did not say a word. It was a moment of clarity.
"If he was ever going to hit 100," Justin De Fratus said, "it was going to be after that."
Diekman threw two more pitches, each at 99 m.p.h. Nolan Arenado tipped the second one into Carlos Ruiz's mitt for the final out of the eighth inning. The Phillies won, 5-4, and it was because Diekman and De Fratus did not break.
Marc Narducci
Perci Garner certainly benefited from a change of scenery. After struggling during his last four starts at high Single-A Clearwater, the 24-year-old righthander was summoned for a start with the Triple-A Lehigh Valley IronPigs.
And Garner, the Phillies second round pick in 2010 from Ball State, responded with a solid performance.
Garner pitched 5 2/3 innings and allowed six hits, and two runs, both earned, in Monday's 8-2 win over Scranton/Wilkes-Barre before 10,100 at Coca-Cola Park. He struck out seven and walked two, throwing 92 pitches, 59 for strikes. All six hits he allowed were singles.
Matt Gelb
The Phillies will make a change to their starting rotation Tuesday, and it figures to be the first of many alterations in the coming days.
Tyler Cloyd will be recalled to start against Colorado. He replaces John Lannan, who could miss the remainder of the season with a knee injury. Meanwhile, Roy Halladay and Jonathan Pettibone will each make their second minor-league rehab starts Tuesday. Both could soon return.
Halladay, of course, is the arm everyone will watch. He makes a start for single-A Lakewood after throwing 87 pitches for the Gulf Coast League Phillies. He should approach 100 pitches in this start, but now it is less about stamina and more about results.
Bob Vetrone Jr.
Other than the two men who had at least partial ownership of their teams — Connie Mack (Athletics) and Eddie Gottlieb (Warriors) — Charlie Manuel lasted longer in his job after winning a title than any head coach who won a major pro championship in Philadelphia.
Here are those 10 coaches with their titles and how many season they lasted after first raising the trophy:
PHILLY'S TITLE-WINNING HEAD COACHES (And When They Left)

Coach

Team
1st
Title

Other Titles
Last
Season
After
1st Title
Connie Mack
Athletics
1910
1911, '13, '29, '30
1950
40
Eddie Gottlieb
Warriors
1946-47
—
1954-55
8
Charlie Manuel
Phillies
2008

—

2013
4.75
Fred Shero
Flyers
1973-74
1974-75
1977-78
4
George Senesky
Warriors
1955-56

—

1958-59
3
Greasy Neale
Eagles
1948
1949
1950
2
Billy Cunningham
Sixers
1982-83

—

1984-85
2
Alex Hannum
Sixers
1966-67

—

1967-68
1
Dallas Green
Phillies
1980

—

1981
1
Buck Shaw
Eagles
1960

—

1960
0