The place to be for the start of the third round of the U.S. Open at Merion Golf Club this afternoon was clearly the east side of Ardmore Avenue.
If this golf course — split in two by the road — was a huge boat, it would have capsized from the thousands on the first half of the course to watch as Phil Mickelson's grouping (with Luke Donald and Billy Horschel) and Tiger Woods' grouping (with Rory McIlroy and Gonzalo Fernandez-Castano) made their way through the course's fearsome first five holes.
Holes two through five run virtually parallel with each other, making the comfortably wide pathways perfect for staying in one spot and catching the two groups — which teed off about 30 minutes apart — as they wound their way back and forth for about 45 minutes.
At one point, as Phil walked down the second fairway, crowds began to cheer as Tiger hit his approach into the fourth green. The chants of "Let's go, Phil!" — which Woods could definitely hear — didn't phase the world's No. 1 golfer.
Both groups are still on the east side of Ardmore Avenue. But they're through the tough stretch of holes two through five.
Back on the west side of the road, golfers hit shots in relative calm. For proof of the difference, just check out the lines at the concession stands. On the Phil and Tiger side of Ardmore Ave: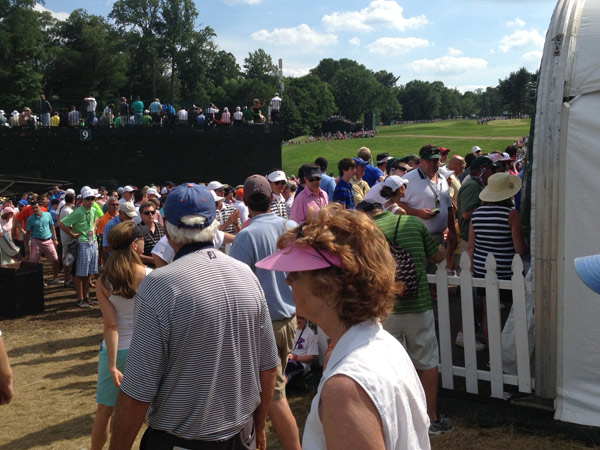 And on the west side of Ardmore Avenue opposite the Phil and Tiger galleries: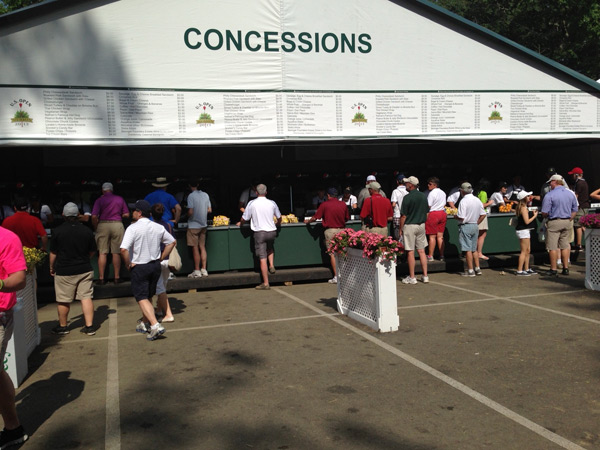 ---
CLICK HERE FOR COMPLETE COVERAGE OF THE U.S. OPEN AT MERION.