Vaughn Johnson
Jonathan Mahler of Bloomberg.com wrote a column Thursday asking one question: Is the NFL more hazardous than pro wrestling?
With the heightened awareness of concussions permeating in sports, it may be a fair question. Despite professional wrestling having the stigma of being "fake," the harsh effects it has to the performer's bodies are very real. And in some cases, worse than those who put their bodies on the line on any given Sunday.
In the specific cases of Chris Benoit and former Eagle Andre Waters, the effects can prove to be fatal. Mahler compared the damage that can be done to the bodies of the athletes on both sides of the fence.
Matt Mullin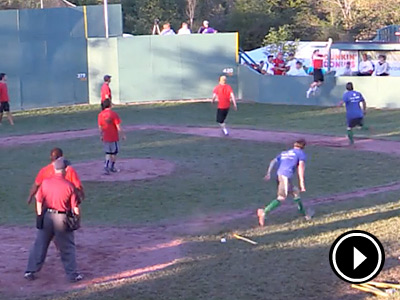 I don't have a ton of context for this video, but I do know that it comes from a Wiffle Ball tournament in Vermont and the field is a scaled-down Fenway Park.
I also know that at these tournaments - because I've played in one - that there are only seven innings in a game, meaning that if you look at the scoreboard in the upper left corner, this catch indeed ended the game.
But watch the umpire. He's signaling a home run. I also know from experience that it is indeed an out, but I imagine there was quite a bit of arguing before a final decision was made, especially after the umpire's initial reaction.
Matt Mullin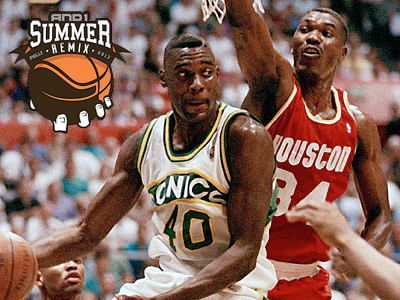 AND1, famous for their streetball mixtapes as much as their sneakers, was founded in Philadelphia 20 years ago, and to celebrate this anniversary, they have created the AND1 Summer Remix Basketball Tournament, where the winner will take home $100,000.
The finals, appropriately, will be held in Philadelphia over Labor Day weekend, at the Liacouras Center on the campus of Temple University. Leading up to the finals, AND1 will be hosting regional tryouts* to narrow the field down to just 12 teams.
"This event will celebrate our roots in Philadelphia, featuring high level basketball and incorporating music to give our fans what they've been missing these past few years," said AND1 marketing director Maurice Levy.
Philly.com Sports
Philadelphia Soul linebacker Brandon Perkins will take your questions in a live chat at 1 p.m. Wednesday.
On a mobile device? Click HERE to follow along and post questions.
In 2013, he has 22.0 tackles, 4.5 tackles-for-loss, and 3.5 sacks. He also had a fumble return for a touchdown against New Orleans, the same game he won Riddell Defensive Player of the Game. A six-year veteran, he is spending his third season with the Soul (2011-13). He currently sits at No. 4 all-time with 13.0 sacks total in franchise history. At Kansas, Perkins tied for third on the all-time school sack list with 20 during his 46 games at Kansas. He recorded five sacks in a single game his senior season against Louisiana Tech, a school single-game record (2005).
Philly.com Staff
Philadelphia Soul fullback Derrick Ross will take your questions in a live chat at 1:30 p.m. Wednesday.
On a mobile device? Click HERE to follow along and post questions.
Ross started 16 games and crushed the AFL record books in 2012 with the Soul; set league single-season record with 645 rushing yards, franchise single-season record with 146 rushing attempts, franchise single-season record with 32 rushing touchdowns, and franchise single-game record with 84 rushing yards. Set Soul single-game rushing yards record in week 13 with 84 yards, and set Soul single game carries record in week 12 with 21 carries. He earned AFL Playmaker of the Week, National Guard MVP Honors, and Offensive Player of the Year.
Matt Mullin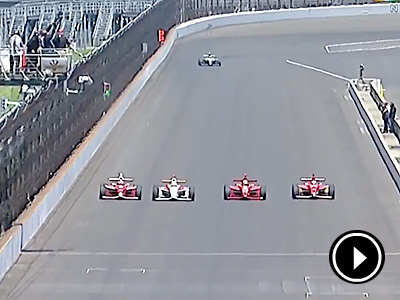 An Indy car video that doesn't involve a wreck? Just let me explain...
During today's 2013 Firestone Indy Lights Freedom 100, someone channeled his inner-Ricky Bobby, slingshoting past three other drivers to take the race in an epic four-wide photo finish by an unfathomable .0026 seconds.
Here's video, because you have to see it to believe it.
Matt Mullin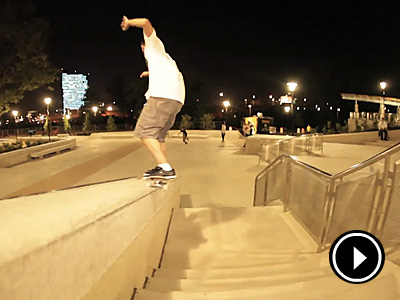 It may not be iconic Love Park, but after a first look at Philly's newest haven for skateboarders, Franklin's Paine Park, there's still plenty to love.
Wedged between the Schuylkill River and the Art Muesem, Paine Park offers plenty of ramps, rails, and pipes. It also boasts a great view, especially at night. But perhaps most importantly, the cops won't hassle you or kick you out.
The guys at Nocturnal Skate Shop filmed the following video there. Nocturnal is owned by pro skater Kerry Getz and is located at 533 South Street.
[h/t to Luke for the video]
Philly.com Staff
Overbrook native Nah-Shon Burrell fights Stephen Thompson on Saturday at UFC 160, but first he'll take on your questions during a live-chat on Wednesday at 1 p.m.
On a mobile device? Click here.