Two keys to Steve Mason's game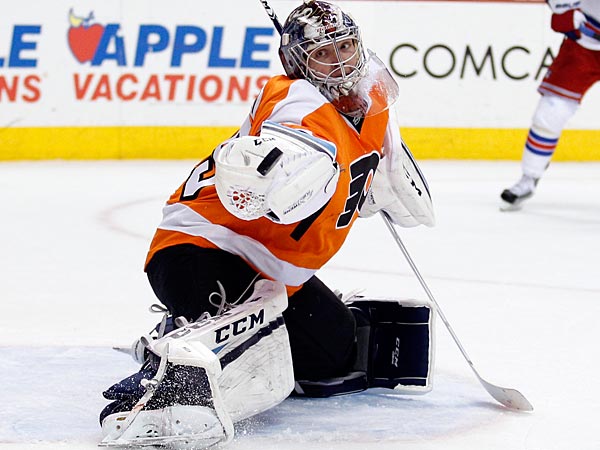 Flyers goaltender Steve Mason was lauded for his rebound control and puck-handling abilities after Tuesday's win.
Two keys to Steve Mason's game

The Flyers gathered for their annual team photo and did not practice, so there was no player availability. Steve Mason's impressive performance on Tuesday night still resonates, though, so let's stick with that theme.

It was a night of firsts for Mason. Not only did he capture a win in his first start at the Wells Fargo Center since joining the team on April 3, but he also netted his highest save total (38) in more than a full calendar year.
It was also the Flyers' first win of the season without Ilya Bryzgalov (18-16-3) in net. Michael Leighton was 0-1-0; Brian Boucher was 0-2-0.
After the game, Mason was lauded for two things that we haven't heard said often (if at all) about Bryzgalov this season: puck handling and rebound control.
"He's able to play the puck behind the net," Kimmo Timonen said. "He broke up a lot of plays like that. That's a big plus for us. He looked calm. When he looks like that, he makes hard shots look easy."
"Right now, I think he's in control of the net," Laviolette said. "He has a good glove. He seems to be seeing the puck really well, rebounds are going off to the side or none at all."

Just two things to watch moving forward.

Don't forget, this Flyers team is already pretty familiar with Mason. In addition to goaltending coach Jeff Reese tracking him, Jake Voracek was his teammate in Columbus for three seasons. Mason backstopped Team Canada to a World Junior Championship in 2008 with Claude Giroux, Luke Schenn and Wayne Simmonds.

For the latest updates, follow Frank Seravalli on Twitter: @DNFlyers