Flyers extend Steve Mason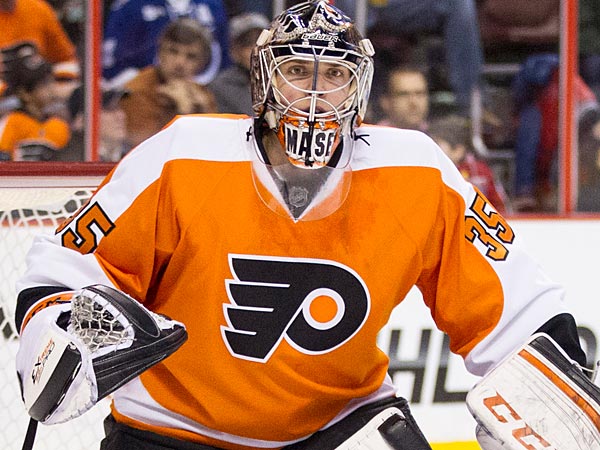 Steve Mason will earn an average of $4.1 million a year over the next three seasons with the Flyers.
Flyers extend Steve Mason

Steve Mason wanted to come to the goaltending graveyard.

Mason wanted to resurrect his career in Philadelphia, where many have gone to die. He wanted a fresh start. And he was willing to take less than half the amount of money he was being paid to prove he was capable.

His gamble has paid off.
Nine months later, Mason has proven himself a worthy No. 1 goaltender. He will now be paid like one again.
Mason and the Flyers agreed to a three-year, $12.3 million contract extension on Saturday, a source confirmed to the Daily News. The deal was first reported by ESPN.com's Pierre LeBrun.
Mason will earn $4.1 million per season through the 2016-17 season. For comparison's sake, Mason earned $3.2 million in his final year in Columbus. He is making $1.5 million this season with the Flyers.
It is a deal that seems to work for both Mason and the Flyers, who didn't want to sign a goaltender to a deal of more than three years, after being burnt by Ilya Bryzgalov's humongous, nine-year megadeal.
The Flyers clearly learned their lesson.

Flyers general manager Paul Holmgren will discuss Mason's contract extension in a press conference on Saturday night prior to his team's home game against the Islanders.

Mason, 25, does not have a no-trade feature in his new contract.

When the deal kicks in next season, Mason will have the 14th-highest salary cap hit among goaltenders. His $4.1 million cap hit will be less than half of Henrik Lundqvist's league-leading $8.5 million. Cam Ward ($6 million) and Kari Lehtonen ($5.9 million) - two goaltenders with significantly worse numbers than Mason this season - will both earn more. Mason will be in the same neighborhood as Winnipeg's Ondrej Pavelec ($3.9 million).

On the other hand, other goaltenders like Antti Niemi ($3.8 million) and Craig Anderson ($3.1 million) will be earning less, but they'll also be due extensions next season.
The salary cap is also expected to rise to the neighborhood of $71.1 million next season, making Mason's contract extension a low-risk move. In other words, by the time Mason's deal is up in 2017, others will have signed larger extensions, probably not even keeping Mason among the league's Top 20 paid goaltenders.

The timing of Mason's signing is interesting. With the help of his agent, Anton Thun, Mason was first eligible to sign a new deal with the Flyers on Jan. 1. It took them 17 days to work something out.
In the meantime, Mason's numbers have dropped a bit since the New Year. In Mason's six starts since Jan. 1, he has a 2.98 goals against-average and .888 save percentage (136-for-153) with a 3-2-1 record. In his first 37 appearances as a Flyer prior to Jan. 1, Mason was 20-11-4 with a 2.29 goals against-average and .926 save percentage. Only three goaltenders - Tuukka Rask (.935), Ben Bishop (.934) and Josh Harding (.930) - posted a better save percentage during that time (with a minimum of 20 appearances).

While the numbers are different, the New Year has provided just a small sample size. Over the long haul, Mason has resurrected his career and returned to the form that earned him a Calder Trophy in 2008-09.

Mason has solidified himself as the Flyers' No. 1 goaltender, completely overtaking Ray Emery in a competition that was expected to be a tandem. The number of points he has earned for the Flyers, and kept them afloat in the standings when the team wasn't performing so well in front of him, have made him extremely valuable.

For a small price - Michael Leighton and a third round pick at last year's trade deadline - the Flyers surprisingly found more stability in their net than they had in more than a decade. This deal keeps both Mason happy, but hungry enough to earn a deal even longer than three years and solidify a starting spot on the world's biggest hockey stage.

For the latest updates, follow Frank Seravalli on Twitter: @DNFlyers