Archive: July, 2013
Marc Narducci
The Flyers have issued qualifying offers to four restricted free agents - defensemen Erik Gustafsson, Oliver Lauridsen and Brandon Manning and forward Eric Wellwood. That means they will retain their negotiating rights.
The Flyers didn't make qualifying offers to defenseman Blake Kessel and forward Mitch Wahl, making them unrestricted free agents.
According to capgeek.com, these were the qualifying offers the Flyers had to make to the following players:
Marc Narducci
The Flyers have struck quickly, agreeing to terms with free agent center Vinny Lecavalier on a five-year $22.5 million contract according to Inquirer Flyers beat writer Sam Carchidi.
Lecavalier, 33, was bought out of the remaining $32 million plus of his contract with Tampa Bay. At 6-foot-4 and 208 pounds, Lecavalier gives the Flyers the big scoring center they were looking for.
Last year he had 10 goals and 22 assists in 39 games, but he has scored 383 career goals.
Rob Tornoe, Sports Cartoonist
It's time once again for you to write the caption to my latest sports cartoon. Post your best ideas in the comments below, and "like" the captions you think should win. I'll pick the best and announce the results on Friday.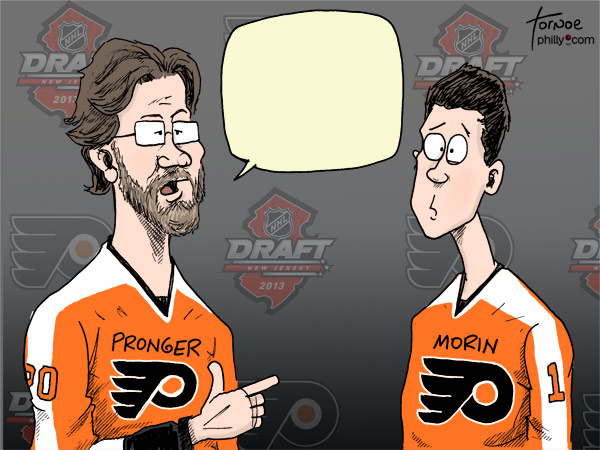 Check out last week's winner here.
Jerry Gaul
The Flyers secured the rights to six players, four defenseman, a center and a goaltender, in the 2013 NHL Draft Sunday.
Only time will tell if the Flyers made the correct selections, but that didn't stop writers from offerting their take on the picks.
But before you read their thoughts, make sure to have your say and hand out a grade for the Flyers' overall draft in our poll.
Poll: Flyers draft grade

(5522 votes)
Sam Carchidi
It sounds as if the Flyers will bring back popular left winger Simon Gagne only if the price is right.
Gagne, 33, who had five goals and 11 points in 27 games with the Flyers last year, can become an unrestricted free agent on Friday.
"We've had a couple of conversations with his agent, and we will continue to talk," GM Paul Holmgren said on Monday. "We have interest in bringing him back, but limited cap space."