With two weeks in the books, the NFL emotional rollercoaster is in full swing. The extreme joy of the Eagles Week 1 win over the Redskins was quelled by the realization/reminder that the defense is still a work in progress against the Chargers Week 2. Here's what they're saying...
Chip Kelly admitted he was wrong after Sunday's 33-30 loss when he said he couldn't call a timeout to re-insert quarterback Michael Vick late in the fourth quarter when the officials made VIck come out for a play. NFL rules say a player does not need to sit for a player if there's a charged timeout.
Had Kelly known the rule, he would have used a timeout and put Vick back into the game. Nick Foles threw an incomplete pass.
"When you look at it in hindsight, we didn't score (a touchdown), we kicked a field goal, so it was tied -- we wanted to try to score a touchdown and go up four, then make them have to drive the entire field ... obviously, if you look back at it, we probably should have run the clock down."
One league source maintains that the Eagles backed out of the proposed deal when they decided they would be able to draft Wisconsin quarterback Russell Wilson, whom they geared their whole draft around, league sources said. But then, just before Philadelphia could draft Wilson, the Seattle Seahawks selected him, leaving the Eagles to take Nick Foles, another quarterback they rated highly, though not nearly as high as Wilson.
So as it turned out, neither Kaepernick nor Wilson wound up in Philadelphia, though each came close in his own way.
It is possible the Eagles talked to the Niners about Kaepernick, but the Eagles had pick 46 and pick 51. SF had invested pick 36 in Kaepernick the year before. The Eagles weren't going to deal both 2′s. Were they going to throw in other picks? Was SF looking to dump Kaepernick and lose the value?
Seems fishy.
The part about focusing on Russell Wilson in the 3rd round is utterly ridiculous to me. If the Eagles made draft plans around Wilson, they would have taken him with pick 59, which they got when they moved down from 51 in a deal with the Packers. You don't build a draft plan around a 3rd round player. If you like someone that much, you take them in the 1st or 2nd round, especially as a QB.
I have a hard time believing this report as stated.
Brandon lists 11 missed opportunities.
Rivers was able to get the better of the Eagles pre-snap. Connor Barwin explained that the no-huddle attack that the Chargers deployed wasn't in the name of getting the snap off quickly. Instead, San Diego just sat at the line of scrimmage, allowed time to tick off the clock, and waited until the defense showed its hand. Once it did, the veteran quarterback made his adjustment and exploited the vulnerable area.
"We fell into it, showed our hand early, which I'm sure we'll look back on tape and say we should have figured it out earlier and stopped showing what we were coming with," said Barwin.
* Overall, I thought the offensive line played really well, especially in the second half when the Eagles scored points on four straight drives. There were hiccups here and there, but overall, a strong showing.
* Let's start with Jason Peters. The big man looked more dominant in the run game this week. Nice kick-out block on Brown's 8-yard run. Good down block on McCoy's 17-yarder. And Peters drove the linebacker to the ground on Vick's 9-yard zone read carry in the fourth. In the first, he was matched up against Dwight Freeney, who hit Vick as he threw, but it really looked more like Vick stepping into pressure than Peters getting beat. The Eagles used some more unbalanced lines. Peters set up at right tackle in the first, but missed his block on the safety on a red-zone run. Other than the one play I mentioned, he was flawless in pass protection. If you see a replay of the 61-yard Jackson TD run, check out Peters on Freeney. He shoved him about 10 yards upfield and completely out of the play.
Well, now that the Eagles' dreams of an unbeaten season have been dashed, how about we break down Sunday's loss to the Chargers:
Brace yourself, because this is the kind of season it's going to be. An explosive offense. A bad defense. A lot of 33-30 games like Sunday. Some they'll win. Some they'll lose. My preseason prediction of 8-8 still looks like a good bet.
If you're looking for hope, focus on the 2008 Cardinals, who beat the Eagles in the NFC Championship Game. They managed to make it to Super Bowl XLIII with a defense that gave up 26.7 points per game.
"I think Earl is growing, and we'll continue to grow him, but he's still making some mistakes out there," Kelly said on Monday. "I think they're bringing him along, and we're excited about what his future is, but we still don't feel he's ready to go the whole way."
Left cornerback Bradley Fletcher passed all of his concussion exams and practiced Tuesday as the Eagles face a short turnaround to get ready for their Thursday night showdown against Andy Reid and the unbeaten Chiefs.
More Chippah quirkiness. Interesting stuff.
***
Watch Jason Peters clear 300 pound Chargers DE Corey Liuget way off the line of scrimmage (h/t Reddit):
Watch Fletcher Cox deny Philip Rivers a helping hand back to his feet (h/t Reddit):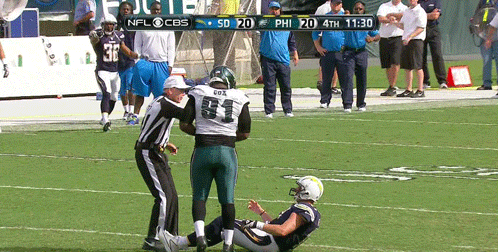 ***
Some random Eagles notes from my Twitter feed:
- The Eagles have the NFL's rushing and receiving leaders. LeSean McCoy has 237 rushing yards. DeSean Jackson has 297 receiving yards.
- The Giants have a turnover differential of -8. The next closest teams are the Jets and Steelers, at -4. From 2011 to 2012, the Eagles were -38.
- The Packers and Eagles are the #1 and #2 ranked offenses. They both played the Redskins.
- Andy Reid's Chiefs have burned 6 timeouts in "non-hurry-up" situations.
- The Buccaneers (26), 49ers (25), Eagles (23) and Broncos (23) are the NFL's most penalized teams.
- The Eagles most common lineup on offense is the following:
Michael Vick
LeSean McCoy
DeSean Jackson
Riley Cooper
Jason Avant
Brent Celek
Jason Peters
Evan Mathis
Jason Kelce
Todd Herremans
Lane Johnson
That grouping has been on the field for 57.04% of the Eagles' offensive snaps. That is the highest percentage for one unique lineup in the NFL. The next closest is the Buccaneers, who have a lineup that has been on the field for 46.96% of their snaps.
- Here are a couple interesting tweets by my friend Noah Becker on how rare it is for rookie tight ends to have big games:
Of the 6,720 games since 2000, there have been 8 that featured a 100 yard receiving performance by a rookie TE.

— Noah Becker (@Noah_Becker) September 17, 2013
Since 2000, RBs are 8 times more likely to rush for 200+ yards than a rookie TE is to have a 100+ yard performance.

— Noah Becker (@Noah_Becker) September 17, 2013
***
In case you missed it at the Red Zone...